Capitola, CA
July 1, 2006
Yesterday began a four-day party weekend here at Capitola with music on the end of the pier every afternoon. We decided we'd take in some of the party atmosphere yesterday and headed on over to the music. We were there not five minutes when we stumbled on a couple, the wife of which was from Melbourne, Australia so we of course hunkered down for the afternoon with great company. Earlier yesterday, just as we were getting ready to leave the boat, we had a guy dingy over and invite us to a party. He mentioned that he had raced against Warrior decades ago and that there would be people at the party who had actually sailed on her way back in 1971. So late yesterday afternoon we headed on over to the party and had a great evening interviewing people about the old girl's history. Robin sat there taking notes all night, scribbling away like a consumate reporter hot on the trail of a story. The info gleaned will eventually end up in some legible form (he first has to decipher the shorthand) on the history page of the website. Dyson and Luke came by in Pterodactyl on their way to start in the Half Moon Bay to Moss Landing race. Luke went diving and sand-papered the bottom of the boat in preparation! Must have worked since they subsequently took line honours.
| | | |
| --- | --- | --- |
| | | |
| Capitola in the Gloom | Capitola in the Sun | Bautiful Old Railway Bridge |
Santa Cruz, CA
July 5, 2006
We spent a great 4th of July with Ken and friends of his Adam and Toni, who came up from Moss Landing in Ken's motor launch, to spend a few days at Capitola. In addition to the usual fanfare of thousands of amateur firework displays along the beaches, the boat hire place on the wharf put on a great feed of free fish. The amount of fish they cooked was amazing with Tuna, a couple of different types of Salmon, Halibut and something they called Soupfin Shark that was truly excellent. We took the opportunity to practice launching flares that evening. Those 1,000 foot parachute ones are a bit scary.
Today we sailed up to Santa Cruz and our first anchoring experience off the Pier. Michelle suffered dementia wondering whether or not the anchor would hold us, including waking up a dozen times through the night to check. Larry (previously from our ex-condo) took this great pic of our boat anchored off the pier with the fun park along the beach front in the background. Our ex-condo is across the San Lorenzo River (mouth in front of cliff on right) hidden behind the big dipper. Thanks Larry. Mich and Steve (friends from the Seabright) came sailing with us on separate afternoons to give us more pointers. Did over 9 knots in a 20 knot breeze with Mich. Thanks Steve (chief SC rigger) for all your advice and help. Felt competent enough to take Jerry (from our ex-condo) on his first sail in a modest afternoon breeze.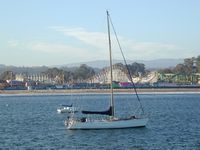 Yes I Stole this for the Main Site
Pillar Point, Half Moon Bay, CA
July 19, 2006
We finally left Santa Cruz today and headed up the coast to Pillar Point and one step closer to sailing under the Golden Gate Bridge. It was a slow sail with very little to no wind so we ended up motor sailing most of the way. Robin was so disappointed; I think he unrolled the jib eight times in the hopes he would finally catch a puff of air. surprisingly Pillar Point is a lovely quiet marina and being the cheap skates we are, we found plenty of room to anchor behind the rock wall, thus negating the need to pay for docking. There was also a good brew pub in walking distance which hosted a great blues band. After two weeks of getting used to rolling at the anchor (residual swell in Capitola and Santa Cruz was rarely with the wind) it felt odd for the boat to be completely still.
Pelicans at Dusk
We Couldn't Seem to Capture
the Sheer Number of Birds
San Francisco, CA
July 22, 2006
Left Pillar Point this morning early after 2 hectic days of giving the boat some spit and polish. It is unbelievable just how dirty the anchorage at Moss Landing and the red tide we encountered at Capitola were. The boat was almost unrecoverable from slime; even sea grass was growing on the paint along the waterline where one side of the boat is slightly lower in the water from Robin's tool box! (or Michelle's canned food). Robin was in his element today as he got to sail almost the entire way to San Francisco, the wind allowing us to average 5 knots most of the way. Sailing under the Golden Gate bridge was spectacular and definitely an experience worth sailing up the coast for. We had a glorious sail into the gateway and under the bridge until all hell broke loose on the other side when we suddenly hit the 25knot plus winds carousing around the bay. We had been expecting and looking for these outside the Gate and did not recognise the distant signs without the ocean swell. So there we were with both main and jib fully extended rapidly accelerating through 8 knots into what seemed like a myriad of other yachts (normal Saturday on the Bay). There were several options in hindsight - we settled for an emergency haul in of sails, started the motor, and headed the last mile around the corner to Sausalito where it turned out to be dead calm! We have since discovered that the Bay is just like that most of the time.
| | | |
| --- | --- | --- |
| | | |
| Approaching The Gate | A Bit Closer | Thar She Goes |
Sausalito, CA
July 23, 2006
Today was the most awesome day we've seen in eons. It was hot. Truly hot. Not a cloud in the sky. Almost every Bay Area resident was wilting under the onslaught of heat and we were going YES!! at last !! Heat~. After a leisurely stroll around the town we aimed for the nearest pub and caught up on the website while listening to a traditional brass jazz band. Of course we managed to do justice to a few long island ice teas while we were toiling away. Life's tough I tell ya.
Isn't he the cutest darn thing?
Although a sunny day the cold
fog bank is never far away
July 24, 2006
We got back to the boat last night and decided it was time to catch up with Judy (ex-Pub owner and still current beer connoisseur). So Robin got on the cell phone and dialed the number and updated her on our shinanigans over the past few months and she decided she'd come on down today for a sail.
Next morning we dropped the dinghy off at a pommy neighbouring boat (Trevor - he said his dinghy was pinched when left moored by itself) who was anchored just across from us and headed on out through Raccoon Straight and around the back of Angel Island. Other than getting slightly becalmed on the back side of Angel Island the morning sail went tremendously in increasing winds with Robin doing a spectacular tack right in front of Pier 39. We cruised on down the waterfront and then under the Bay Bridge (some sort of noisy stuff on top of it), Judy snapping photos the entire way.
| | |
| --- | --- |
| | |
| The glorious water front of | Downtown San Franciso |
Having worked hard for the last three hours the consensus was to see if South Beach Harbor had a temporary dock available for a couple of hours and we'd stroll up the street to a brew pub (21st Amendment) for a quick bite to eat.
Heading back to Sausalito at 3pm in the afternoon was another story entirely. Leaving South Beach Harbor and sailing back under the Bay Bridge in the protection of the city was fine but just as we headed out across the bay we found the wind was now gusting at over 30 knots. So after a few minutes of healing at over 20 degrees and almost giving Judy yet-another heart stoppage, Michelle says to Robin Ok enough!, Time to roll up the jib.
Rolling up the jib in those conditions proved a tad difficult though and after a spectacular jibe to downwind Robin got the jib reefed in 30% and decided he'd give it a go with that. It was still way too overpowered for the wind so we decided to roll the rest of it up but sadly the wind was just a bit too strong for the sacrificial cloth (supposedly UV resistant) on the outside and it started to disintegrate before our eyes. On much later inspection it turned out that the entire sewing thread up the sail's leach was beginning to fall to bits - obviously not UV resistant for a sail that dated from 2003.
The rest of the trip was a sad limp back to Sausalito in cold blustering conditions but as soon as we rounded the point into Sausalito Bay everything calmed down. Picked up the dinghy, with Robin doing a daring-looking (but quite safe) leap off the boat which impressed Judy no end and got re-anchored and settled down to enjoy the rest of the evening. Never a dull moment.
July 25, 2006
Judy stayed overnight with us and we all dinghied in to breakfast this morning then took a morning stroll up around the hillside. After seeing Judy off we decided to go exploring on the dinghy and pulled in to every nook and cranny along the waterfront into Richardson Bay. We finally found a place to tie up the dinghy near West Marine and walked over to Molly Stone's to do some much needed grocery shopping. One wonders how an entire day can disappear having achieved so little.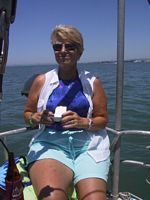 Judy was a brave brave girl
South Beach Harbor, CA.
July 28, 2006
The last few days were spent researching sail repair and running around trying to find a sail shop to stock up on all the supplies we figured we needed to repair the sail - basting tape, leach tape, dacron patches, thread, you name it we bought it.
This morning we up anchor'd and sailed over to South Beach Harbor where they were kind enough to allow us to dock for a few days so we can see about fixing the jib. The sail back across the Bay, other than being cold was very pleasant although I think Robin was quite put out that he had to use the staysail since the jib wasn't functioning. You could just hear him thinking real men don't use a staysail in a 10knot wind.
Since it was Friday we decided to take the rest of the afternoon off and headed for the showers (the facilities at South Beach are the nicest, cleanest we've encountered anywhere but then again they are brand new). After finally looking like human beings once again we headed out to see what kind of mischief we could get up to. The first bar we found opposite Barry's ball park was kind of ok but way overpriced so after a drink we headed on out and figured we'd better start looking for a place for dinner. We strolled around and around and around and couldn't really find too many places we were interested in and Robin finally said let's go back to a place a few blocks back. Michelle being the stubborn whench that she is at times said let's just see what's down here a bit further and Robin tagging along for want of nothing better to do was simply amazed to stumble upon an Irish Pub with nary a sign on the street to indicate it was there.
So we walk in, sit at the bar and wait for the bar staff to notice us so we can order a couple of drinks when a guy sitting at the bar looks up and says oh here we go ducky (normal SF lingo for a friendly bloke), we have some real people just arrived. We laughed and said hello etc and do they serve food? He says, 'Of course, would you like to eat?' It turns out he was the cook and he disappears into the kitchen comes back and says I'm going to feed you tonight, just sit back and relax this is my treat. So we were fed, entertained by stories of the cook's disfunctional family (we reminded him of his parents apparently, even tho' he was pushing 60 himself), and finished up the evening listening to a pretty neat band.
July 29, 2006
Today, our first sewing job was a large undertaking - a 55 foot sail. Fortunately we had an 8 foot wide dock with few pedestrians. We commenced by sweeping the dock clean, then fought the sail into a reasonably folded shape. Next we untangled the various bits and basted them back together along with 15 feet of leach tape to replace the piece that was at the bottom of the Bay. At least nothing was torn, just a little frayed by the wind after the stitching had given way. After feeling quite patting ourselves on the back we next put long sticky patches over the frayed areas. That only took 2 hours. Then the new sewing machine (previously purchased with some forsight at considerable expense by Michelle with much grumbling by Robin) was introduced to the dock. We got funny looks from passersby, with one guy mentioning "You know, you don't have to sew your own sails these days. There's people who'll do it for you", but then most people would not understand the potential need to know how to do this in the middle of the ocean. We sewed one enormous zig-zag line of stitching for the whole 55 feet. We ended up working the machine manually as it was better for control in the thick multilayers. There went an entire afternoon.
Next day we sewed once more up the leach then again in large 2 foot diagonals across the sacrificial cloth, about 150 feet in total. Did this on the boat deck so managed the large sail as we would have to do mid ocean. It all worked and now the sail is back to normal. At the end of the day we'd saved 500 dollars by sewing it ourselves which even Robin had to admit made a considerable dent in recovering the purchase cost of the sewing machine.
July 31, 2006
Small update today containing minor humor. We got up this morning rearing to put the jib back up and get underway as early as possible to avoid the usual afternoon gales which occupy the bay. So we get the jib positioned for feeding it back on the foil and start hoisting with Robin feeding and Michelle winching it up. We get it almost all the way to the top fighting intermittent gusts of wind (which is frightening when you are tied to a dock and a 65foot jib starts thrashing in the wind) when Robin decides he'd be quicker at the winching to get it up before the wind decides to pick us up and carry us off. So we swap places and Robin starts winching furiously and Michelle starts yelling Stop.. STOP.. STOP !!! and we hear riiiiiiiipppppppp. We caught one piece of cotton (not our sewing) along the luff and ripped a small hole in the tape so back down comes the jib, back out comes the sewing machine for yet another small repair. You can just imagine what Robin said at this point or maybe it's better that you don't. :D. By the time we got done we decided enough with fighting the wind and stayed put in South Beach Harbor for yet another night.