Zihautanejo, Mexico
Thursday February 1, 2007
On the agenda for this morning starting at 9:30am are the Sailfest Seminars. Volunteers have been garnered to share their experiences on sailing in the Sea of Cortez, the Central American countries of Guatamala through to Ecuador and lastly Westbound entailing the Pacific Island groups. Even though none of the lectures were up to university standard they were none the less informative if you could stay awake long enough to glean the odd gem. For each there was a CD with loads of info that will be worthwhile for our future travelling.
Having managed to survive 6.5 hrs of prattle, we took refuge in heading down to the malecon and downing a couple of supurb margaritas along with Tiritas, the specialty of the region here. They are raw fish, doused in lime juice and served up with thin slices of onion. Truly delicious. I'm gathering enough recipes to write an entire cookbook. Having revived ourselves sufficiently, our next jaunt was back to the Blue Mamou to pay tribute to all the local artists who had contributed to the music CD we were selling to help raise funds for Sailfest. The talent was amazing. It was a truly impressive musical gala.
Jimmy Mamou
Not only could this guy sing but damn he was drop dead gorgeous!
Some of the other great lineup of talent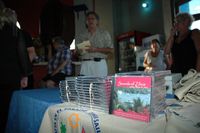 The Zihuatanejo CD
Friday February 2, 2007
Persuit Race day. This was a ton of fun with everyone given a handicap time, then the slowest boat left first to cover a predetermined course and the rest following along, trying to catch up and overtake the lead boat. We were assigned the 2nd lowest handicap since we had the largest monohull, the only other one starting after us was an enourmous Cat which was obviously much faster. We had three extra crew from other cruising boats who didn't want to sail their own boats in the event and two accompanying guests Chris and Phillip from Colorado who we had met a few days earlier and invited to join us for race day. Winds were light and we had no intention of flying a spinnaker so we did not expect to be very competitive. Never having raced before we nevertheless did well to be over the starting line within the first minute after our handicap time (after getting upclose and cuddly with Platinum - see picture). The navigator (that would be Michelle) was a touch recalcitrant and didn't write down the waypoint of the first buoy and then it was either called wrong the 2nd time or written down wrong. Anyway we followed most of the pack only to find that we should have pointed higher into the wind (and they couldn't), so we lost some potential advantage. Nevertheless we did not have to go too far past the line of the buoy to then do a single tack past it. This enabled us to make up alot of ground on the rest of the monohulls and we passed one. A third of the way through the 2nd leg we had caught up to all the monohulls and then the wind died substantially. Being the heaviest monohull it was like hitting a brick wall compared to the other lightweights and the race was all over for us. We came 2nd last just able to keep ahead of Kenna (Roger and Sally, see January).
A close call at the beginning of the race.
Platinum unfortunately had right of way and we had to turn away from the starting line (and lose momentum) to avoid a prang.
Saturday February 3, 2007
Chili cookoff day. We had asked about 12 people to define exactly what chili was and not one answer coincided with another. In the end we decided to just have fun and hence cooked up a pot of Emu White Bean Chili. It was a hit with the locals but the best part was the team name and table decoration. Robin had come up with the nomica Hot Down Under and thus Michelle decided to dress him up (under protest that merely adds to a long list) in a skimpy sarong just long enough to cover his tuch and Aussie Akubra hat - no shirt. He was definitely hot and a definite hit with the locals and cruisers both. Other cruisers and passing tourists pay a few dollars to sample the various varieties of chilli on offer with the money going to Sailfest.
This is the best I could do to grab a pic of Robin.
He seemed to be extremely camera shy today!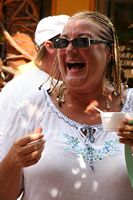 Oh boy not the three chins look !!
After the chili cookoff, a silent auction was held where items are laid out on tables and you walk around bidding on pieces of paper attached to said items. Usually what happened was you would walk around the entire room scanning various items, bidding on some, only to go back to the beginning and find someone had come along behind you and bid higher thus ensuring that you had to walk around the room yet again to outbid the gazumped bid. Quite a few people made it a game to walk around and outbid items they knew people wanted, thus raising the price but as it was all for a good cause it was done with much merriment and laughter.
Phillip and Chris invited us out for a meal and we headed to a restaurant a few blocks from the silent auction premises. After an evening of wining and dining, and much chitchat we said our farewells as they are headed back to the States tomorrow. What a truly fun couple. We really hope they have the opportunity to come and join us again sometime for more sailing fun. It seems all the fun people are always bidding us farewell!
Sunday February 4, 2007
Sail Parade Day. This was an opportunity for locals and tourists to pay $20 for a few hours on a sailing yacht with the funds going of course to the Sailfest school fund. We had 8 people onboard. More than 60 yachts were organised into 4 groups offshore that linked up into one big long line to sail five miles down the coast and then wander back in no particular order. Sadly little wind so everyone was motoring the whole time though almost all yachts were employing at least a mainsail. Speed was supposed to be kept down to 4 knots which would have been just fine. However the lead boat got carried away and soon the last boats in the long line were doing up to 6 knots to try and close up the gaps. We were in the last group and soon learnt (yet again) that Warrior is a sailboat with an auxiliary engine that is underpowered compared to most American cruising yachts. Even with the assistance of jib and main, in the light wind we could not keep up with everyone else powering along at 6 knots and more. (We understand, and hope, that the organisers intend to put the slowest boats first next year to suppress the speeding motorists). Still our guests enjoyed the day. After Sail Parade we headed over to Madeira Beach for the wrap up BBQ and were awarded, for coming 2nd last in the persuit race, a bull's gonad sack stuffed with a bottle of tequila and a voucher claiming dinner for two at Cafe Marina on the Malecon. The bull's gonad sack was the perfect touch. It now hangs in pride of place over one of our lights next to the companionway ladder.
| | |
| --- | --- |
| | |
Monday February 5, 2007
Wow Sailfest is finally over and we're both exhausted, not to mention Michelle is coming down with a very decent version of Robin's cold. Monday is definitely a "we're not getting off this boat day". The tally of funds raised so far is over US85,000 dollars. An awesome effort by everyone involved. This figure is bound to increase over the next few days as the rest of the funds trickle in. Maybe we can crack the 90k mark.
Tuesday February 6, 2007
Sally and Roger (Kenna), their two Aussie friends, and the crew of Nuage (also Australian) all decended on Warrior for dinner and we had a grand old time. Was kind of weird listening to so many Aussie accents, something we've not heard for some time.
Wednesday February 7, 2007
Got up this morning and prepared ourselves for our 5th trek to Immigration. Loaded ourselves into the dinghy and strolled to our favorite coffee shop for our requisite caffiene injection. We sat and read our books for an hour then figured we just couldn't put off immigration any longer, so headed to the bank, paid the late fees then on to La Migra. Michelle decided she better handle affairs today, Robin sat outside and pretended he was invisible. It was a relatively quick process, only 20mins, and then having handed over the remittence she was promptly told "come back Friday". 6 trips to immigration just to get a 90day extension, something which takes 20mins and a rubber stamp to complete in La Paz (so we have been told but maybe that is under stated). Remind us never to do Visa stuff down the bottom end of Mexico ever again.
We left immigration and headed back down to the Malecon, sat in the breeze under the coconut trees and had papaya drinks and read our books for another hour or so then headed on back to the boat. Michelle still isn't well, the flu hanging on dogedly so the rest of the day was spent in RnR.
Thursday February 8, 2007
Joy joy. Today we get to update the logs. This will literally wipe out Thursday so you may safely move on and peruse Friday without fear of missing out on some golden nugget of gossip.
Ah as it turns out we spent a lovely evening down on the Malecon this evening (we seem to have been there a lot lately) but we'd won a complimentary dinner including drinks at a restaurant down there so Robin decided this was as good a time as any to cash it in. The pizza was surprisingly excellent - thin crust, seafood pizza with 2 different condiments on the side. The margharita's added the finishing touch so we decided to have another. A perfect reward for writing logs all day. Pizza has definitely not been on the menu so it was a welcome change from the non stop Mexican fare we've been indulging in of late.
Friday February 9, 2007
YES SUCCESS. After six trips to immigration we finally got our visa extended another 90days. What an ordeal. Lesson learned is never do a visa extension for Mexico in this part of the country! And dammit they didn't even stamp our passports for all the effort. I feel totally gypped.
Saturday February 10, 2007
Steve Leddy from Santa Cruz arrived in town and brought with us a much anticipated SSB radio replacement that Walter had mailed to him from Portland. It was great catching up with him again, along with Billy, also an ex-SeaBright Brewery Santa Cruz associate . We have arranged to go for a sail on Wednesday. After that we headed back to the boat for a day of RnR. It was awesome to have a day off lazing around reading books and generally doing sweet FA.
Sunday February 11, 2007
Upanchored and took the boat for a sail to empty the holding tank, refresh the water maker, and to check out the state of the hull. Ugh it was a mess. There must be a few thousand barnacles on the bottom not to mention the inch long grass around the water line and covering the anchor chain. The barnacles have all grown in the nutrient-rich (treated sewerage outflow) water off the City. We are looking at some serious work. We let the boat drift a couple of miles offshore and jumped overboard and started cleaning the waterline and a foot down the hull. Took us the better part of 2 hours and dented the work somewhat. Robin free-dove (with snorkel) numerous times to scrape most of the hull down to the keel on one side. It looks like the prop is growing a coral reef, and the seagrass growing around the waterline is harboring an entire eco system, with tiny crabs and marine creatures scattering in all directions as we scrub. Visibility at anchor off Zeewha is not sufficient for this work, so will have to complete the job as we sail north. Most cruisers hire a diver to do it, but Robin figure that we have to get used to these jobs if we are going to be longterm cruisers. He just enjoys cracking the whip.
Monday February 12, 2007
Shopping day, reprovisioned some fresh food for the coming passages. Robin can't live without green bananas. Well he is quirky after all. Michelle spent the afternoon chasing some shorts and shirts for Robin as he's managed to wreck almost every pair of shorts he owns. No Robin, you can't change the engine oil in those new shorts sheesh !
Tuesday February 13, 2007
Last couple of days have been spent mainly doing boat maintenance in preparation for leaving Zihua. We thought we'd head into the Marina at Ixtapa for a couple of days but it turns out our draft is too deep for the marina so we can't go in. There's no way to even get to the fuel dock. Glad we don't really need to refuel at this point. We had planned to pick up Steve Leddy at Ixtapa for a day sail to Isla Grande but now can't do that and were also unable to contact Steve via our respective cell phones to make alternative arrangements.
Around this time Robin again investigated the rudder noise which had been evident for some months. Previously he had searched for anything peripheral and loose to the rudder cable, autopilot etc but had found nothing that would cause the moderate knocking noise evident with large following waves. There isn't much room under the cockpit floor and he can only just fit along the port side to reach around to the stern of the boat. He can't fit on the starboard side so if anything goes wrong there (eg the engine blower) we will have to employ a small person. We had emailed the previous owner, LLoyd, and armed with his description, Robin investigated the main rudder bearing though no-one really suggested that this could be the problem. He found that he could not use the very-large 5-sided wrench supplied to turn the 6 inch nuts on top of the main bearing because they had come loose by several turns allowing the rudder to drop half an inch so that there was insufficient space between the top nut and the rudder quadrant to be able to fit the wrench over the top nut. One of the set screws on the bottom nut was missing and the other was loose and of course the top locking nut had also come loose allowing both nuts to rotate. Eventually, if both had rotated completely off the thread the 500 pound rudder would have dropped down and been supported only by the rudder quadrant which of course is not designed for that purpose. We soon got the bottom nut back in place with Michelle turning the steering wheel while Robin held the nut using a screw driver as a lever in a set screw hole. Was then easy to lock everything back in place, and in the weeks following we have found the noise is much reduced. Its still not clear how the noise is generated but it seems the rudder is able to move in its bearing laterally, thus making the noise. From the grease mark on the top bearing it is obvious that the rudder can still be raised by another 1/8" and there is clearance under the boat of about 1/4" to allow this. We intend to experiment further in future to get it completely right. Its all a grey area though - how big were the waves and how loud was the noise compared to the next time we hear it, or is that now some other noise .....? Lots of things make a whole cacaphony of sounds when we are sailing in a good breeze and a moderate sea and it takes a while (like months) to get used to them all and figure out which ones are OK and which are not.
Isla Ixtapa, Mexico
Wednesday February 14, 2007
Today we said farewell to Zihua, our home for the last month. It was truly a special place and we are a little sad to be leaving it behind. We took the scenic route from Zihau Bay, around the peninsula and along the shore to Ixtapa, dodging the islands and arrived back at Isla Grande, the only place we've actually visited twice on this trip since entering Mexico. We're at the beginning of our return trip up the coast to the Sea of Cortez.
We arrived at the island at 3pm and immediately dove overboard and attempted to remove the rest of the barnacles from bottom of boat. Robin finished most of the 2nd side down to the keel but visibility was much less than we had expected. The total amount of barnacles to be removed is almost overwhelming. We have no idea how we're going to cope in tropical waters if this is what happens just after a few weeks. We will be investigating different bottom paint and expect to do a bit of cleaning each time we swim. Had expected clear water around the islands, but now suspect outflow from the several large hotels or maybe the cloudy water was from the estuary at Ixtapa a few miles around the corner. It doesn't have to be clear to be able to clean a bottom, but it makes the job much more pleasant. As Robin scraped he was quickly surrounded by a hundred 6" fish scrabbling for the bits. Then when he got out he found he was covered with a zillion sea lice, Ugh! It will all be much more pleasant in clear water away from unnatural nutrients.
Thursday February 15, 2007
Robin did about 10 dives to scrape the prop and drive shaft with a metal putty knife. Then attempted the barnacles on the keel. Did some of it but soon found it too tiring to dive 9 feet and then have enough stored breath to get more than a few scrapes in - he recalled that as a teeanager he could hold his breath for 3 minutes but is now down to less than half of that. Will save this job until we can borrow a hookah from a fellow cruiser. Later we donned snorkels and flippers again and swam ashore for lunch. One of the palapa guys (there are about 11 palapas along this stretch of beach) was there waiting for us to guide us to a table. Enterprising chappy.
After lunch we organized the boat, stowed the dinghy and prepared to leave for a night sail up to Lazarus Cardenas. The wind of course is being as fickle as hell and the outlook towards the north appears dreary with dark clouds and smog. Why are we heading back north? We will surely miss Zihua and the gloriously sun-filled days. Can't wait for summer to kick in in the north.
8:00 pm Thurs. It's only a 31NM jump up to Laz Card but we're only averaging 3 knots so this will take us roughly 10 hours to accomplish. Glad we're not in a hurry. But we are determined to motor as little as possible especially since we have no deadlines to meet. Of course we motored out of the anchorage and got our first lesson concerning unclean props. Robin had noticed that our engine water temperature had been slowly rising (from 150 to 180 degrees F) on our journey down to Zeewha and had assumed that was because of the sea temperature changing from 50 degrees off San Francisco to 80 to 90 degrees. Now suddenly the engine temperature was back to under 160 degrees. The barnacles on the prop did not make much difference to the speed we travel at constant revs but it certainly adds to the engine temperature and no doubt the fuel consumption because of extra water turbulence. Our steep learning curve continues!
Lazarus Cardenas, mexico
Friday February 16, 2007
Last night was one of our worst nights sailing. The wind would appear for 10 mins then completely vape only to reappear 15 mins later then vanish again. Robin got very little sleep. We finally arrived at Laz Cad at 9:00 am. We were met by the Harbor Patrol who asked us to radio in to the Port Captain then, having been granted permission to enter this commercial port, escorted us all the way to the Port Captain's office, 3 miles up the estuary. We anchored in the river, and the Port Captain and Navy officials jumped in a panga and headed on over to speak with us. We were asked for documents which Michelle quickly photocopied for them, and 2 Navy guys asked if they could do an inspection of the boat. We got the impression these guys had never done this before and were using us as a practice run. They were very unsure of what to do and what to look at. Robin left with the officals to finish clearing into the Port (even though he's not technically captain they couldn't imagine dealing with a woman!) and we were finally cleared in by 11:00am.
Alas, having gone to all that effort, we couldn't get the parts we were chasing so for the most part the venture was a waste of time. From one of the guide books we expected some chandleries and had assumed there would be a trawler fleet. But there was no fishing fleet at all and so no marine supplies. There were also zero tourists so we got our first look at a real Mexican city. We found some truly awesome street vendor fare, which consisted of beef tacos on a street corner. This was melt in your mouth beef, so tender it was falling apart. We then headed back to the boat and sailed out of the estuary on an afternoon breeze. Deployed the sails up in the last part of the estuary and Robin was in his element as Warrior really did cut an elegant exit, cruising at 6 knots.
We exited Laz Card at approx 2pm in the afternoon and set our course for Barra de Navidad, a 163NM hop back up the coast. The lovely wind we had leaving Laz Card died and by 8pm and we'd really only covered roughly 13NM in a straight line, as we'd had to tack back and forth, the wind being between 10 and 30 degrees wrong. This will make for a longish night.
Saturday February 17, 2007
By 8am this morning we'd covered a total of 38nm since leaving yesterday, averaging just over 2knots per hour, not one of our speediest of passages. Thankfully the lack of any kind of swell meant we could at least keep sailing under such poor wind conditions without the sails doing their loud flap dance. Robin really hates the engine that much he'll willingly sail at 2 knots rather than fire it up.
By 4pm we were just crawling our way past Maruata and were sorely tempted to stop and have a nap. All this time we had been sailing as close to the wind as possible and the tack we were on gradually brought us closer and closer to land to intersect right at Maruata. The anchorage looked inviting. But the wind seemed reasonable and maybe getting stronger and the coast ahead veered more easterly so maybe we can soon run parallel with it. With 100 miles still to cover we decided to keep going.
Barra Navidad, Mexico
Sunday February 18, 2007
Overnight was again fairly slow progress but with more wind than the previous night. Of course it gradually turned in front of us and paralleled the coast and we were off out to sea again at a 50 degree angle but at least we were sailing at a steady 5-6 knots. Robin's explanation: We can only motor into the wind at 3-4 knots so its better to sail at 50 degrees to the wind at 5-6 knots with forward progress of around 3 knots. But he got tired and it was Michelle's watch around midnight for the return tack back towards the coast 20 miles away. Michelle did all that and got the boat turned around again to tack off the coast. But by then she was a little depressed thinking we had spent many hours just getting back to the same point on the coast. In fact it just looked similar on the radar and when we plotted our chart position we had gained another 30 plus miles up the coast. Managed to finally parallel the coast around 3am and the wind turned gradually so that we had a beam reach most of the following day making some easy forward progress compared to the continual tacking back and forth we had been doing up the coast adding numerous miles to the journey. This turned out to be the only wind on the beam we had anywhere between Zeewha and Mazatlan, 450 miles (600 plus actual tacking miles) later. The rest of the time we sailed as close to the wind as we could. BUT WE DID NOT MOTOR (well only once for a few hours) and motor-sailed for about 10 hours total! Having talked to others who made the trip about the same time we later learnt that at least 80% of cruisers simply motor up the coast into the wind - or to put the stats another way, we heard of no-one who did not simply motor when the wind was on the nose. So we feel all the hard work is paying off. Our goal is to become competent enough that if we ever lose our engine we will have acquired enough skills to sail out of most situations.
By 4pm in the afternoon we were off Carrizal cove having breezed by Manzanillo Bay. Again we were tempted to stop and anchor but on getting closer we spotted at least 3 masts in this small cove so with a still-decent breeze, we pressed on towards Barra. Short wind waves were now at 2 feet with wind having climbed to a steady 15-20 knots, the most wind we'd seen for days. It seemed we would comfortably make Barra by 6 pm. But as we passed the north point of Manzanillo Bay the wind veered the wrong way and it was clear that we would have to tack out to sea at least 2 miles to round the last point before Barra. Time was now against us if we wanted to get into Barra in daylight and anchoring in the lagoon in the dark seemed a formidable undertaking. But we did not want to turn back to Carrizal and late afternoon was a good time tide-wise to go into Barra, so yet again we pressed on. We had been running under full mainsail and jib for max speed and now decided to run the engine at our usual cruising revs to get the extra knot. We had done little motor-sailing into the wind since San Francisco Bay so it was time to learn or relearn some lessons. From that afternoon/evening sail (and a few days later around Corrientes) we have found that motor sailing into the wind with Warrior is upside down compared to most cruisers. They motor into the wind with losts of engine power and put up a sail for stability and a little extra speed. We get max speed by setting the sails to point as high as possible (about 50-55 degrees to the wind) and then turn on the motor for the extra knot or so (especially if the wind is diving around close to the coast) and get our wind angle down only a little to about 45 degrees. We can sail closer to the wind if we wind up the jib but then we go slower even if with the motor going so gain nothing. Well we did all this and it got a little uncomfortable with heel angle but were now going to make it there before dark because we were doing a constant 6-7 knots in fickle gusting winds. No time to stop and unlash the dinghy so we could close the front hatch, so we were getting some spray down inside but we got some towels in place to stop most of that. Was a bit nerve wracking doing yet another 2 mile tack to get around the last point leaving enough room (half a mile) around the offshore rocks and hoping the increasing wind would drop inside the bay to lower the main and get into the Barra channel. It all worked out near enough, the wind did drop, there were no breakers at the channel entrance (and we knew it was near enough to high tide) and we got there right at dusk.
We arrived in the anchorage at about 8pm. Having been there before we negotiated the channel into the lagoon readily. But our previous anchoring spot was taken. There was only one available spot with just sufficient depth to permit a 3:1 anchor rode and stop us drifting back into shallower water - any further and we would have been like a beached whale in the mud. We were looking forward to a day of rest tomorrow but we won't be able to stay because there is a low low (negative tide) in the afternoon and we'll be sitting 2 feet into the mud.
Monday February 19, 2007
Got up early this morning, dashed into town to the French Bakery, tossed down some coffee and croissants, checked the weather forcast, grabbed some provisions because there won't be much eating ashore over the next few days, and headed on back to the boat. The Panga Taxi service made it easy on us as we didn't have to lower the dinghy and get it back up on deck, and stow the engine below, thus saving us some considerable time. We up-anchored and negotiated the shallow channel into the Pemex fuel dock (you motor 3 sides of an unmarked rectangle - thats the place where many boats run aground) and waited what seemed like an eternity for a huge mega yacht to finish refuelling. They dropped a cool $16,000 dollars on diesel. Glad we don't have their fuel bill. We got finished in time before the tide dropped too far.
Left the fuel dock with the main double reefed and staysail set into 20knots of wind. Wind.. wow what a pleasant change. We tacked out of Bahia Navidad to roughly 15NM offshore then back into Punta Hermanos, the northernmost point of Tenacatita Bay. Winds steadily increased through the afternoon and by 7:30pm we reefed the mainsail to the 3rd reef. By 8pm the wind was a steady 25knots gusting to 30knots. Tacked out 20NM offshore as close hauled to the wind as we could. It was a busy night and we had to be alert (as we twice tacked across the main shipping routes) for cruise ships and tankers plying the coast. Michelle chatted to one cruise ship by radio - they could not see us and asked us to shine a light on our sails, and then they changed course slightly and confirmed they would miss us by at least half a mile. At 11:30pm we made our final tack back towards the shore. The wind decreased when we were 10 miles offshore allowing us to slow down enough for a dawn entrance into Chamela Bay. The sun shining off the islands scattered in the center of the bay was the stuff you see on postcards. Robin had timed the final 20-mile tack to perfection taking us directly into the anchorage pointing as high into the wind as we could go - he still hasn't explained how he did that.
Overall we had covered about 61NM for a 31NM trip. We can be proud that we sailed the entire way though, even with the wind right on our nose. The day before we had heard a distant "Fantasia" (our old dock mates from Moss Landing) on the VHF and they reported thay were on their way into Chamela. So there they were as we mosied into the anchorage and we were soon on board for a chat and a snack. They hadn't decided whether to "puddle-jump" the Pacific this year or head back to California - votes appeared locked at 2:2. A week or two later they decided to go back to CA - maybe we'll see them again towards the end of the year on the way south or west?
Chamela, Mexico
Tuesday February 20, 2007
Michelle did the washing this morning. It always looks like international flag day by the time the washing is hung out to dry on the makeshift clothes line strung all around the boat. We really look like wayward gypsies on wash day. Went ashore and had lunch with a guy we hadn't seen since Matanchen Bay a few months back. After catching up with some gossip re: mutual friends, we went in search of the ever elusive bottles of beer for Robin. He finally got lucky on the 5th shop. Checked the weather to see how conditions were lining up for the passage around Corrientes, then strolled back along the beach and headed back to the boat.
Chamela didn't turn out to be as bad as we thought. Robin was obviously still in a state of dementia the last time we visited (see January's logs). It is home to four palapa restaurants which line the beach, along with the usual line up of pangas on the beach. There's not many gringos here other than the yachties and one RV park, so the place has more of a local Mexican feel. There's one main street which is mainly a dirt road lined with various shops, a couple of hotels and not much else. A pleasant restful place.
Ipala, Mexico
Wednesday February 21, 2007
Decided to leave tonight to make the run up the coast towards Corrientes. We haven't decided weather or not to pull into Ipala or head straight on around Corrientes. We will reassess as we get nearer. Corrientes can be a rough passage, and you feel like you're in a washing machine if the wind and currents aren't favorable.
So 9:30pm we upanchored and poked our nose out of the bay to see how the conditions were. There were probably 20 boats at least in the anchorage at Chamela and they were all sitting there like scared ducks because the forecast called for 25knots of wind. Don from Summer Passage in Oxnard, CA (an amateur at weather forecaster) provides a daily forcast for Mexico by radio but he seems to galvanize people into inactivity. Some of the boats were talking about a two-day weather window in a couple of days and then appeared to talk themselves out of it. (We have since decided that a weather-window for most cruisers means 5 knots of wind in calm seas that is perfect for motoring - it makes some sense if the prevailing winds are dead ahead). Robin decided he'd had enough of Don's doomsaying and went to check out the conditions for himself. As we headed out of the bay, seas were mildly rough, 5 feet at 5 seconds. Might be a bit of a roller coaster ride around Corrientes where conditions are traditionally worst, but we decided to see what it's like as we get away from the coast a bit and at the entrance to the PV bay. There wasn't much wind so we started off just motoring up the coast trying to cover as much ground as possible for a daylight or early am passage around corrientes.
By 3am the wind finally arrived out of the north. We could parallel the shore about 6.5miles out and run at around 6.5 knots. If this wind lasts we'll be able to scoot around Corrientes but there was signs of it weakening already.
By 7am the wind swung around to the NW and we slowed to 4knots. By 9am even though the wind was picking up again, we'd have to tack offshore to negotiate Corrientes so decided to pull into Ipala and have a relaxing afternoon instead. The afternoon is supposed to be worst around Corrientes - traditionally 35 knot winds and confused seas. Someone thought it was a good call as the wind all but died as we approached the coast. Robin muttered darkly about contradictory female logic but was happy to have a beer in the sun. We'll leave in the early am hours and round Corrientes at daybreak.
They had shifted the oyster pens when we arrived in Ipala and there was already a boat anchored in close, bow and stern anchored which left no room for anyone else to anchor easily. So we found a spot around the other side further towards the cliffs. Jumped over board for a swim and nearly died of cold. Things are certainly not warm yet up this neck of the woods. Oh how we miss the warmth of Zihua. The rest of the bottom cleaning will have to wait but then things may not grow as fast in the cooler temp.
Puerto Vallarta, Mexico
Friday February 23, 2007
3:30am. The last time we were here we left in the middle of the night. Seems to be a reoccurring theme. Refilled the oil first thing (must get that leak fixed soon), up anchored, raised the mainsail and headed on out. It's pitch black, calm seas, no wind (naturally) clear star filled sky and overall a beautiful morning. The wind picked up a little but we again decided to actually motor sail this stretch of the coast so we can arrive at the cape early morning and get into an anchorage in early afternoon. As we approached the cape we were doing almost 6.5knots with engine running on a close reach as usual. It's a 16NM hop up to the Corrientes Penisula and then a further 28nm into Puerto Vallarta itself. Not sure if we're heading into a marina or the anchorage at La Cruz yet.
We rounded Corrientes right at day break just a couple of miles off in mild seas. So far all the "dreaded capes" have treated us with mild or no wind and ordinary waves. I think we must have inspired some of the undecided boats we had left behind in Chemala, for they had decided to leave around midnight and we're travelling up the coast as well. Fantasia was already well into Banderras Bay. They chatted away on the radio - we listened occasionally. As we rounded the point into the bay we naturally found the wind to be straight out of the bay, but having had enough of motoring we turned off the engine and tacked across the bay on a course just inside the islands we could see in the distance. Michelle fell asleep, Robin decided a cruise liner would miss us easily and nodded off for a few minutes and reawoke to find that we would maybe hit the 2nd island. Tweaked things up to ensure a half-mile berth then as Warrior came adjacent to the first island at about 10:00 am we got a sudden wind shift in our favour and we were off directly to Nuevo Vallarta. No luck raising Southern Star, who are in Marina Vallarta, on the VHF as of yet. Called Paradise Village on VHF but no go on Marina availability. So we headed back into the anchorage at La Cruz to find Fantasia there already. Guess we won't be staying long if we don't get a slip as we have already spent considerable time at La Cruz. It's not a place where repairs can be done easily.
Saturday February 24, 2007
Michelle bussed into Marina Vallarta to check on Marina availablity. Were told no go and they'd put us on the waiting list. She stood there waiting and the guy says what? and she says well don't you at least want the boat name so you can put us on the waiting list..... like duh sure there's a waiting list sheesh !
Found Mark off Southern Star. Trekked on over to Cardea and met Jim and his son Ryan who are preparing to leave on the puddle-jump next month as well. Called Robin on the VHF and told him no go on the Marina and to bus into town and we'd all meet up for lunch. No Regrets guys are also here, Dave and his son Pat, who have also decided to jump the puddle this year. All our friends are abandoning us! Pat off Chetak has headed home to Canada. His boat looks so lonely sitting here on the pylons at Nuevo Vallarta.
The guys convinced Robin to come camp a dock which essential means to lay claim to a dock and keep moving until a slip becomes vacant and you start paying for it. You are more likely to be first in the queue if you are already there. Its all a bit confusing as there are several empty slips but yet officially they are all occupied. So after scouting out suitable slips to hole up in, Robin headed back on the bus to La Cruz to bring Warrior across from the anchorage. For the 1st time he did everything single-handed and sailed most of the way with just the jib in a nice afternoon breeze arriving before everyone expected and thoroughly enjoying not being told what to do by the missing "captain". If this ploy of docking first and asking permission second doesn't work, we'll be heading straight up to Mazatlan. All the boats coming in (like the five around Corrientes this morning) are also looking for slips. There is a severe shortage in this neck of the woods.
Sunday February 25, 2007
Marina security asked us to move the boat today from N24 to N14 but at least we're still here. Office opens tomorrow and Cuisine just informed us they're departing tomorrow so hopefully we can grab the spot. The lengths you have to go to.
Monday February 26, 2007
Success - we have our dock so will be spending the next few weeks here in Marina Vallarta, doing some much needed repairs and maintenance on the boat. Got a good dressing down from the harbour office and then when they were done Michelle says to them without missing a beat, so can we have the dock now that Cuisine just vacated. They didn't even know they'd left. It's truly impressive how unorganized these people are. Only hiccup was the dock was reached by passing through a really shallow spot in the marina which happened to be 2 feet shallower than everywhere else. We had to wait for the tide to come in and still ended up with just a foot of water under the boat as we went through. But beggars can't be choosers and we're happy we have a home.
Mark Southern Starhas a new 3 man crew for his Pacific adventure. They don't have much experience so we have that in common and they seem to have been chosen or chosen themselves on the basis of conviviality. So we have been enjoying their company for drinks, meals, playing cards etc along with guys on No Regrets and Cardea.
Tuesday February 27, 2007
Sucked in to doing a time share presentation. These Mexicans are so beguilling. They have a way of asking you which you just can't refuse. That is the last time we'll ever do one of those though. The high pressured selling is something that needs to be experienced but you only have enough time in your life for one of these before losing your mind. They did feed us a lovely breakfast though, the premises were delightfully situated overlooking Banderras Bay and they paid us $300 in cash for the effort so we shan't complain too bitterly.
After feeling like we'd been let out of jail, we headed on back to the Marina. Michelle headed up to the Marina Office and handed in all the documentation, such as crew lists, registration papers, import permits, liability insurance etc etc. It's amazing the paper work required for docking. They were all smiles today, chatting away like we were long lost friends.