Puerto Vallarta, Mexico
Thursday March 1, 2007
Well after having completed most of the March logs, Michelle had a program glitch on saving and it saved a blank page over the entire month's logs. So having pitched a slight tantrum, she decided she'd redo a precis of the month of March's highlights. I guess March is lucky to see the light of day at all given her mood for redoing everything.
Sunday March 6, 2007
Michelle sat for her Ham Radio exams today and passed so she's officially a ham. As if she ever needed accreditation in order to yap! She swatted for three days and had to sit two exams, first the Technician's License and having passed that she was then permitted to sit for the General License. Now all we need to do is get the SSB radio working which is another long story we shan't go into or Michelle will start having a brain seizure.
Wednesday March 7, 2007
Southern Star and No Regrets left today to begin their epic journey across the Pacific to the Marquesas. Robin took the SS crew out for an afternoon practice sail a few days before hand - not too much hands on experience amongst them. Part of us wishes we were tagging along but the other part of us doesn't want to miss out on Mexico and Central America so here we stay to enjoy the Eastern Pacific Coastline for a while longer. We will be following their trip as they post updates on their website and will hopefully learn from their experiences. Safe travels guys.
Thursday March 15, 2007
The last 3 weeks have mainly been spent doing some much needed boat maintenance. It was such an impressive list of repairs we've completely forgotten what we did. Nevertheless we were busy. Honest! Robin remembers epoxying the wooden swim steps that were falling apart, plus the boat oars that had fell apart and reattached the fender trim to the inflatable dinghy. We also decided to apply for FM3s which will allow us to be in Mexico for a year instead of having to present ourselves to immigration every 90days to renew our stay, and then having to leave and reenter after each 180-day period. Fingerprinting takes place tomorrow, Friday, and then we will depart PV tomorrow night. The documents will be forwarded on to Mazatlan - we hope. Always a risky thing to trust the mail in Mexico. Michelle paid a local bunch good $s to clean and rewax the stainless steel rails. It was a good investment since they subsequently stayed non-rusty for many weeks and were easy to reclean and wax - sometimes its best to learn from the professionals and we now know how to do it.
Friday march 16, 2007
Cooked a lamb dinner for Jim and Ryan on Cardea, said our farewells as we won't be seeing them for a few years since they are puddle jumping within the next week or so, undocked Warrior and headed out onto the big blue wobbly thing. It was good to be back sailing after 3 weeks of boat maintenance.
It was 7pm by the time we'd left the marina and Robin had yet again timed it perfectly. It was the most gorgeous sunset evening with just enough wind to fill the sails so we detoured along the Puerto Vallarta waterfront for a sunset sail. Finally we had to admit we'd squeezed as much light out of the day as we could, and began tacking out of Banderas Bay. Our next stop would be Matanchen Bay near San Blas.
Matanchen Bay, Mexico
Sunday March 18, 2007
Can't remember exactly how the sail went, except that we sailed if there was wind usually pointing as high as possible into the wind, and only motored when the wind dropped entirely. We arrived into Matanchen Bay yesterday around 2pm, had a drink, and a snack and promptly fell asleep. Michelle slept for 16hours. San Blas and Matanchen Bay are well known for their Sand Flies (aka as no-see-ums by the Americans and jejenes by the Mexicans. They are near enough the same as those we knew well in Townville Australia and are actually quite easy to see being up to 1/16" long - Robin promptly labelled the unobservant yanks to be "no-look-ems". Fortunately our resistance we had built up to reacting to bites in tropical Australia is still good - plenty of flies but no lumps on us! They were certainly being a tad bothersome with teir miniscule but sharply irritating nips requiring us to slather on the bug spray for the first time since we began travelling. They are traditionally supposed to be around at dusk but these guys feasted all night. We were anchored about half a mile off shore - next time we will go for the recommended minimum of 1 mile.
This morning we decided to head into the fishing town of San Blas and since it was a relatively calm day, we decided to dinghy a few miles around the water front and up into the estuary. It has maintained its small town charm since land access is via a dirt, heavily vegetation-lined track which makes it difficult for a lot of cars to navigate. It is possible to anchor in the estuary but we would have to be careful with tides etc given our 9 foot draft and the jejenes were not encouraging. Nevertheless a fine place and we would stop there again.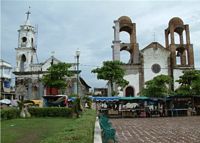 After doing some reprovisioning (that would be grocery shopping in plain speak) at the local market, we met up with Diane and Larry, Summerwind, Beth and Leonard, Godspeed and Ron and Tam from The Boat and headed to a restaurant for a spot of brunch. A few refreshing ales and some good tucker later, we headed back to the dinghy. The wind was now a good deal stronger and it was more of a chore navigating along the shore and around the final point into Matanchen Bay. Sadly we hit a large lump of wood floating in the water and it looks like we have another patch to do on the dinghy now as it's taking in water.
Monday March 19, 2007
We did a rare side trip today which involved paying for a sightseeing tour but it was well worth it. Usually we like to do our own sightseeing outside of organized tours for reasons best not put into print. We are always skeptical of such tours. However today our destination was La Tovara, a freshwater spring at the top of the San Cristobal Estuary and we wouldn't be disappointed. For a little more money you can detour to a crocodile farm before La Tovara which is what we opted for. The trip is taken via pangas which hold about 12 people at a squeeze although we only had 8 which was most comfortable. The trip itself wound its way through a swampy creek lined with dense mangroves, which as we headed further inland became brackish water lined with gnarled trees and river grasses and then entirely fresh water, lined with ferns, trees and much denser undergrowth. The different vegetation marked the different regions quite distinctly.
The entire estuary is a protected ecosystem, teeming with wildlife, and we saw crocodiles (of course not nearly as large and dangerous as Ozzy salties), white egrets, herons, eagles, turtles, iguanas, butterflies and fish. We had a wonderful panga driver who took it nice and slow, pointing out various wildlife, backing up and allowing us to observe different creatures and stopping long enough for photos to be taken. Compared to some of the other drivers we saw haring around the bends we were blessed by the easy pace our driver set. Michelle spied a rather large crocodile (what we thought was large until we got to the crocodile farm) and pointed it out to the little boy sitting behind her. It was pure comedy to see his face register what he was seeing.
Seņor crocodillo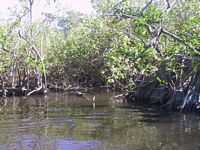 A wannabe senor crocodillo - he definitely had attitude though
If you look hard you can see him...
Broadbilled Herons, a Snake Bird, Iguana and turtles were all captured by the lens.
The turtles were so camera shy though, ducking under the water as soon as they sound of the outboard motor approached.
Rounding one corner of the estuary, we came upon some small huts on stilts. When asked what they were the guide replied that these were part of the movie set for the film, "Cabeza de Vaca", Cow's Head. This was a local film, and he said was popular internationally. Sadly we'd never heard of it.
The crodocile farm was a surprise also. It is dedicated to preserving this species of crocodile native to the San Blas area. It has a structured breeding program and reintroduces the crocs back into the wild around the area. The entire farm was immaculately kept and had a few surprises other than crocs. Athough the crocs weren't quite as big as the Aussie Salties, I still wouldn't like to meet one anytime soon.
Why is it we can never smile at the crocodile but he can smile at us !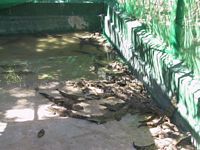 Do we really need this many crocs reintruced into the wilds?
A few of the other surprises at the farm
After the excitement of the crocodile farm, we all piled back into the panga and headed on over to La Tovara itself, a natural spring. There was a restuarant and a deep swimming hole which was absolutely something off a picture postcard. Robin immediately stripped off and jumped in via a swing rope - boys!.
After all that excitement we headed back through the tiny village, snapping some pics of the local church on the way, then stopped to buy some fish (mullet) we saw earlier that morning being cooked. We talked the chef into posing for a picture for us, much to the delight of the rest of his family who were heckling him soundly and roundly. Fish being grilled over charcoal fires is very popular in this region. The other speciality is banana bread. There must have been at least a dozen stalls all along the side of the road selling various pastries, cakes and bread, along with dried strips of banana.
good tucker hans!
The local parish is chappel sized.
Mazatlan, Mexico
Wednesday March 21, 2007
We had an amazing run up the coast to Mazatlan. Yesterday morning Robin was in sandfly hell so we'd up-anchored and were planning on taking a swim as soon as we got out into clear water (it's kind of murky and muddy around Matanchen Bay being very shallow). By the time we'd escaped most of the murk though the wind had increased to 15knots so we just kept on going. We tacked offshore a few times in order to miss the first major point. The wind was very light all night but for the most part we continued on then Robin hove to around 8am and we cooked breakfast and took a quick nap making sure there was nothing on the radar for miles around before we did so. 30 mins later we were underway again and by 11am the wind had kicked up to a steady 10knots. A few whale sightings and a few turtles kept us company but otherwise it was a very sedate morning. Then by 1pm there was some steady wind at around 20knots and gusting higher and Warrior took off. Amazingly the wind was that extra 10 degrees to one side so that we were not forced to point as high as possible - that was only the 2nd time since we left Zeewha hundreds of miles south. It was one of the nicest 5 hours we'd had sailing, and Warrior did a steady 8.5 knots with full main and jib and a 20-30 degree heel. Michelle relented on the 20 degree limit since it was not rough and she was enjoying flying along. We pulled into El Cid in Marina Mazatlan about 7pm only to find the Stormcat had left a few days earlier. Nelson has had to return to Canada to have an operation on his back for bone spurs. We were so sad to have missed them. It will be September-ish before they are back in the Sea of Cortez.
Friday March 23, 2007
Yesterday we'd gone in search of Serge Kolea over in Marina Mazatlan but he was in dry dock to have some work done on his boat. We ran into Karen off Chessie who we hadn't seen since we left PV the first time back in December, and invited her over to the happy hour they have for Cruisers over at El Cid Marina bar. We had a fun night of laughter. It was so good to catch up with her again. Richard was away in San Diego but we're sure to catch up with him when he returns on Sunday.
Friday March 30, 2007
Michelle woke up this morning with the bright idea that she'd like to get the microwave which we've been carrying around since San Diego, (last October) installed and functional since the Sea of Cortez is going to be extremely hot and microwaving is definitely a plus in reducing heat inside the boat. What all this really meant was Robin gets to plan out the next couple of days work since he has to saw out some wood in the kitchen and do some fiddling to get it installed. Thus he's kept occupied, off the streets and out of trouble.