Isla Salsipuedes, Mexico
Sunday July 1, 2007
We decided to spend another day here in North Cove on Salsipuedes as the wind is blowing a steady 20 knots gusting to 25. The wind generator in addition to the solar panels made so much electricity that Michelle could run the laptop all day and work on the logs and photos for the web getting almost everything updated. What a gal! The swell this morning was really starting to swing around into the bay so we upanchored and moved slowly further into the cove, and dropped the hook in 15 feet of water. The cove narrows significantly here so we'll need to watch if the wind drops and the boat starts to swing sideways. But at the moment and for the last 24 hours it's been a steady gale coming from the south and straight over the sandbar separating the two coves on the island. The tide difference here is 10feet so Michelle's job all day will be to let chain out and bring it in so that we don't have too much out and through inattention accidently swing into a rock wall. There's really not too much room in here for a 50foot yacht.
Robin jumped overboard and tried snorkelling for a bit but the water was too stirred up to see much. The rest of the day passed by doing odd chores. Robin worked on the fresh water foot pump on the sink. It turned out to be a blocked filter. He cleaned out the water filter container, put in a new filter and voila, perfect pressure again. What a lad!
The wind died slightly overnight which caused a little bit of concern as we were constantly getting up to monitor the anchorage conditions and boat alignment. But as soon as Warrior began to swing, the wind would get up again and orient her back to lengthways along the cove. Nevertheless it will be nice to get a good nights sleep.
Isla Partida (Midriff Islands), Mexico
Monday July 2, 2007
We finally decided we'd had enough of the blustery conditions in Salsipuedes and thought maybe if we head on up to Isla Partida (yes another Partida - their naming conventions down here are consistently repetitive) we would find some calmer conditions. So we ate breakfast, stowed the dinghy on deck and lashed it down and got underway by 9am to ensure we have a favorable slack to flood tide while heading north. The next island is only 11 nm north but currents and rips can be tricky around here. We sailed past Isla Raza and then too a slight detour to check out the residents of Raza Rock. There were a myriad of birdlife and sealions covering the rock. We were cruising by at 6knots though, which was very trying for the photographer.
Can you spot the sea lion half way up the cliff in the 2nd photo?
From Raza it was a further 6nm hop, the wind abaft at 20knots or so and we cruised quietly around to the anchorage, admiring the craggyness of the shoreline on the north west side of the island. We dropped anchor, sharing the anchorage with 3 other charter fishing boats, each towing about 7 dinghies behind. Over the course of the day some would come and go and I think we saw a total of 7 different vessels. They seem to be doing a roaring trade taking the gringos fishing. We tried a bit of our own fishing, i.e. snorkelling with the spear gun, but the wind and current conditions made the water choppy and difficult to navigate. After 20 mins we finally gave up having been unsucessful yet again. We are now out of fish, a tragic set of circumstances. Fancy having to resort to eating beef in black bean and garlic sauce for dinner instead of fresh fish! Life is tough lol.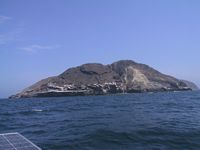 The back side of Isla Partida
The vista comming around the north western end of isla partida.
Tuesday July 3, 2007
We still have wind today but it was nice not having to worry about hitting rock walls due to a wind shift, the bay here being large enough to anchor 50 boats comfortably. We slept quite well, the first night in three nights we've really been able to relax properly.
View from inside the anchorage
Bay of Las Angeles - Puerto Don Juan, Mexico
Friday July 6, 2007
Time flies when you're having fun. Let's see what's happened over the last three days. We left Isla Partida on Wednesday the 4th July and headed on over to the Baja mainland to Puerto Don Juan. We managed to sail almost the entire way but not quite. We arrived in the late afternoon and dropped anchor in the bay where there were already four other boats anchored. We anchored perfectly with a view out what they call the "window" giving us a vista of the islands of Bahia Los Angeles. We'd just gotten ourselves organized when we got hailed on the radio to join a 4th July party on the beach in 30mins. Short notice but Michelle managed to cook up Pizzas, we grabbed a couple of bottles of the old red vino and headed to the beach. There were a couple from Switzerland, 2 Pieces of 8 from Canada and the other two boats were American, Monday's Off and Equinox. The bees eventually called an early halt to the party and Robin and I dinghied over to another wee patch of sand we saw off to the side which turned out to be a great spot. We sat and finished our bottle of wine and watched the sun set on a very peaceful, no fireworks 4th of July.
The narrow entrance into Don Juan lagoon and the view out the "window"
Yesterday we thought we were going to do some revarnishing work but the wind picked up at about 8:30am and blew for most of the day at around 15knots gusting to 20. Robin went snorkelling for a bit, found a few clams and came back so cold he lay in bed shivering for an hour to warm up.

Dry parched landscape of Puerto Don Juan
Today the wind held off and we finally got our brightwork done. The back seat had weathered badly so Michelle put 3 new coats of Ole on it. It should keep the weathering at bay until we can do it properly when we get back from Aus. Robin then went snorkelling again and caught the humdinger of all humdinger clams. It was the size of his hand. Alas it was tough eating so we're not sure it's worth collecting more of that sort. He gathered a few more chocolates and some butter clams so it will be a clam feast for dinner. After he got back he decided to attack the transom which had also detiorated badly. A bit of sanding, some wood stain, a touch of varnish and it almost looks as good as new. Well if you don't look too closely. Hopefully it will preseve it until September when we'll get a proper chance to look at it again.
Bay of Las Angeles - Punta Arena, Mexico
Saturday July 7, 2007
This morning we got up to the attack of the killer bees or at least it felt like it. The bees around here are seriously demented. Yesterday morning there was half an inch of dew all over the decks but were they interested in it? Hell no they wanted to come inside and crawl all over a wet dishcloth. This morning there was very little dew on the decks so we had 50 bees all scrounging for the nonexistent droplets of water on deck. Like uh? Whoever said that bees are very clever have never watched this lot in action. Robin went on a killing spree in the end he was so sick of them and then finally we upanchored and headed on over to the village called LA Bay (Population 550) where we figured there would be plenty of water around and they wouldn't bother visiting a boat. There's not much to the village over here, it being mainly a tourist spot for RVers, fishermen and a few retired gringos, but we could get fresh produce, some chicken and apparently there's an internet cafe we didn't make it to. Tomorrow being a Sunday it won't be open so we'll have to duck in early Monday morning before we upanchor and head further north into the bay. The Bay itself has numerous scattered islands and as many anchorages so we will spend a week exploring this area before moving on to Puerto Refugio at the top of Isla Angel de Guardia (Guardian Angel Island). We have just 20 days left before we need to be back in Santa Rosalia where the boat will be prepared for leaving it while in Aus.
We will most likely be out of email contact entirely for the next 20days until we return to Santa Rosalia.
Bay of Las Angeles - Isla Ventana, Mexico
Monday July 9, 2007
Rain! Well a sprinkle but you can forgive us for getting excited since we've seen not a hair of rain since we left Santa Cruz, CA over a year ago. Yesterday it was overcast and we thought we may get a drop or two but it was broken promises. Today it finally managed to release a few drops in our direction. If it gets much harder we'll be able to have a fresh water rain shower - now that will be a serious luxury.
We finally got going around midday and jumped over to Isla Ventana. The rain never materialised but it remained overcast the entire afternoon. We anchored in a bay at the North West end of the island and went ashore to scout around. The scenery was pretty speccy with all the tiny rocks, islands dotted around cascading behind each other, with Isla Guardia de Angel forming a huge backdrop in the distance. Look 180 degrees back to Baja and more mountains greeted you. It's severly dry and barren though, probably the driest we've seen or maybe the dry hot winds just make it appear that way. We climbed the hill, checked out the cacti, an empty nest which may have been an osprey's nest but we've not seen any sign of them yet although they are sposed to breed on this island. Michelle then climbed down one side of the island while Robin went back for the dinghy (actually he'd left his beer can behind so had to retrace his steps) and then we scouted out potential snorkelling spots around Isla Ventana and the 2 smaller islands to the north, Bota and Pata. The entire area seemed a wee bit desolate for fish. We then headed over to Islas Llave and Carreja and there we at least saw some signs of life. We will check it tomorrow.
Bay of Las Angeles - Punta La Gringa, Mexico
Tuesday July 10, 2007
We had a slow start this morning relaxing over coffee then Michelle decided to marinade some chicken in a cumin, chili, black pepper spice rub that is one of her favorites. She opened the fridge where the meat is kept and wondered why everything seemed odd. Suddenly she realized that Robin had inadvertently left the fridge switch off for the last 2 days. So with mega sighs she pulled all the meat out of the fridge and worked through cooking it all up so that we wouldn't lose it. So 6 meals later she finally got done thus got rid of the best part of a day. Just as we were getting ready to dish up dinner a strong westerly wind got up blowing 25knots gusting to 30knots. The anchorage was completely open to the west and a lee shore was not the place to be so we quickly pulled up the anchor and headed over to Punta La Gringa where we would have just wind to deal with but no waves. It was tricky getting out of the anchorage but Robin got the staysail up in record time and he navigated the rocky reefs and across the channel to the anchorage without breaking a sweat. Ok maybe a small one. We got ourselves reanchored and settled down to eat dinner finally. The hot wind of the mountains blew off and on all night with some pretty strong gusts.
Bay of Las Angeles - Isla Mitlan, Mexico
Wednesday July 11, 2007
The days are counting down to the end of our 1st cruising season. We have just 16days left before we need to be back in Santa Rosalia. Today we headed just a couple miles further north to an anchorage at the base of a huge volcano, tucked in behind a wee island, Isla Mitlan. There was quite a current running up the channel today and it was fun watching Warrior skid sideways crossing it. We got the anchor down, had lunch and jumped in the dinghy to check out the snorkelling. We were disappointed. The water was so cloudy it was hard to determine what fish you were looking at. We swam around to small rocky islands just south of Isla Mitlan with no luck. We hopped back in the dinghy, collected the fishing rod and headed a mile back down along the shore to a lagoon we'd read about in the guidebook. It was a lovely lagoon, the home to hundreds of stingrays but no fish other than bait fish. We trolled a few times and having no success went back out and along the shoreline back towards Warrior but the gods were on the side of the fish today. We have too much prepared food anyway at the moment but a fish for breakfast would have been welcome.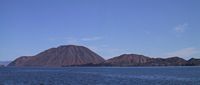 Alcatraz Bay, Mexico
Thursday July 12, 2007
An easterly kicked up overnight and as we turned we heard the anchor chain grating across rocks. The sound is about 100times worse than someone grinding their teeth. When we lifted the anchor this morning though to head out, we found the anchor chain completely wrapped around the anchor. Not good and I'm not sure if we'd had a serious Chubasco wind that the anchor would have held. It certainly gave us food for thought. We headed 10miles further north today to a bay where we could find some easterly protection since that is where the wind is coming from today. Tucked into the bay behind the headland and were presently surprised to be welcomed by a pristine white sandy beach. We've not seen many sand beaches, mostly they are pebbles. The wind blew a constant 25knots this afternoon so we made sure we'd anchored well and set plenty of scope. The storms on the Mainland side of the Sea of Cortez were sending their remnants across our way. No rain but plenty of clouds and wind. The plus side is we've made so much electricity today between solar panels and wind generator that we've been making water all afternoon, and running a computer and the fridges and we're still on 0 amp hours used. Nice one!
Friday July 13, 2007
We got up early today and headed on over to the beach to clam in the low tide, the tide dropping 10feet overnight. We had no luck so decided to take the dingy and do some trolling around the rocky beach areas. It turned out to be a very black friday for the fish as we caught five. We were so excited. Michelle drove the dinghy this time and decided to slow right down and that seemed to be the key. Robin is too much the preditor and the fish seem to sense it. Even when he goes spear fishing they run a mile. Michelle can have them swimming all around her within arms reach. Somehow they just know she's the one without the gun. We dinghied quite a way today, stopping to scout out the other two coves in this enormous bay. The rays were again numerous, there being the abundant california ray and the occasional majestic bat ray which always looks like a ballerina in the water. We drove through a pod of dolphins who completely ignored us, and a group of seals, about 20 or so who all poked their heads up and circled round checking us out. They were a bit standoffish but nonetheless very inquisitive. We probably could have snorkelled with them but by this time the wind and current were conspiring against us. The rock out in the middle of the bay seemed like a nesting ground for cormorants, and as we approached there was a mass exodus into the water with their young in tow. Was quite funny to watch. They didn't wander far, just far enough to make sure they could maintain their personal space. We had such a lovely morning we decided to stay here another day inspite of the constant 15 to 30knot gale that is never ending. We are well sheltered from any wave action though so the wind isn't that much of a bother. The coyotes seranaded us during the night.
Fish is on the menu for lunch!
We haven't seen sight nor sign of another boat for days now. Tonight we headed ashore with our meal, a bottle of wine. We scouted the beach for firewood and built a very cozy fire and enjoyed the sunset, the meal, the stars and playing with the fire. We were having too good a time and almost stranded ourselves. The tides change so rapidly in this part of the world and the water had receded a few feet when we realized if we didn't act now we'd never get the dinghy in the water and would be spending the night on the beach. We saw one coyote in the distance but he didn't come close enough to say hello.
Isla Angel De Guarda - Puerto Refugio, Mexico
Saturday July 14, 2007
We headed out again first thing this morning to see if we could catch a few more fish before we left this great little spot. We won't be sorry to say goodbye to the continuous gale but it was certainly a good spot to reprovision the larder. We succeeded in catching another six fish this morning and were content. We got them cleaned, the dinghy stowed and everything organized and upanchored around 11:30am to head up to the top of Isla Angel de la Guardia to Puerto Refugio, an area of a couple of miles encompassing a few islands, with many choices of anchorage. The wind held in Ballena Channel for most of the trip and added to a favorable current of a few knots we made good time. After scouting out West Bay we decided to drop the anchor in Mejilla Cove. The hills and islands around us were covered in cactus, a welcome change from dry barren hills. And sitting perched on top of a point on Isla Mejilla was the tiniest chapel we've ever seen. The wind died completely in the anchorage and we had our first calm night in what seems like weeks of windy conditions.
Sunday July 15, 2007
We headed out in the dinghy just after low tide this morning, fishing rod in tow and explored the area. The water was the absolute clearest we've seen it, and the various rocky reefs and their inhabitants were visible even 30feet down. We circumnavigated the entire island of Mejilla, enthralled by the schools of Trigger Fish numbering in the thousands. We arrived back to find a panga boat with 4 fisherman onboard waiting for us. They offered us fresh scallops and a giant octopus and we exchanged two bottles of beer. They again asked for soda but we didn't have any. Their eyes lit up though when we offered them Cerveza. We ceviched the scallops and Michelle cooked the octopus in a red wine sauce, the recipe being from Cyprus. It was very rich but truly excellent eating. We are finally living off the fat of the land.
Late this afternoon two pangas arrived carrying 9 people between them. They pulled up on the beach and started tossing out all their gear. We were amazed at just how much equipment they travelled over with. We presume they must have come from the mainland side. It's just 49 miles to the nearest point across the Sea of Cortez and they could easily cover that distance in a couple of hours. They threw a few guys ashore to establish the camp, the two boats heading out in opposite directions to catch dinner, and lay out their nets. They were back just on dark.
Monday July 16, 2007
It is a gorgous spot here but the damn jejenes drive you bonkers all night. Finally had to apply lotion to chase them off. It's just too hot to sleep even with a sheet on but if you don't cover yourself, the fierce little critters soon make a meal of you. We cleaned the rest of the hull first thing this morning while we had some energy. The fisherman came past around lunch time to show us their proud catch - an enormous hammerhead shark. He was a beauty.
This evening we went around into East Bay as the wind got up a bit from the west howling into the entrance of the bay so we decided to play it safe so as not to have to move later on if it increased. Went fishing again but we caught nothing until the very last pass back to Warrior where Michelle hooked a cabrilla. She's becoming quite the fisherwoman.
Tuesday July 17, 2007
Went fishing first thing this morning and caught one more sea bass so we now have another meal. By 11:30am we had decided to attempt a run down to Pulpito Cove. At first we made headway but after a couple of hours we'd only gained 5nm towards our destination and decided between the wind gusting to 25knots and the 2knot current against us we just weren't going to make it around the point. So finally admitting defeat we headed back to Refugio. We will attempt a very early morning departure in the wee hours of tomorrow when even the sun thinks it's in insult to wake up. We arrived back to Refugio to a howling wind from the west which was blazingly hot. We had taken down all our canopies for sailing, even our rear one as it interferes with the running back stays so for the next 3 hours we baked in the relentless heat, swam, baked, swam.... Hopefully we can make it down the coast tomorrow.
Isla Angel De Guarda - Caleta Pulpito, Mexico
Wednesday July 18, 2007
Success. We left the anchorage at 3:30am this morning in pitch black conditions and made our way slowly out of the East entrance to the bay and worked our way down the coast. We had more luck this morning and were just five miles from Pulpito Point when we hit the roughest of conditions. We held on for a wild ride pointing the boat as high as possible to make headway, the current abetting us slightly. Around Pulpito point was the hardest and probably in hindsight aptly named, Little Octopus. It seems as you round it the wind follows you and the tide grabs you and wants to draw you into it. It was an amazing experience and Michelle didn't complain about the heal until we got to 35degrees and then she pulled the pin and told Robin to get some control back in the boat. Anyway the first of the two most difficult legs has been accomplished. The second part we will attempt in the dawn hours of tomorrow using the same strategy of ebb tide to help push us down the coast. These passages are certainly making us think about sailing again. We've had it too easy for ages now, the wind and seas following us all the way up the coast. And as the saying goes, fair winds a good sailor maketh not.
We had a panga full of fisherman pull up and it turned out to be the same guys who were camped up at Refugio. They asked them if they had any fish for sale and they had come over to ask us if we could spare some water. So have officially entered the barter system. Hunter gathering and bartering for staples. Does this mean we're regressing? This evening we watched a huge thunderstom over on the mainland side of the Gulfo de California. The lightening display was spectacular but we were very happy not to be over there. Some of the huge spikes lasted for 6 seconds. Whatever the target was for those strikes wouldn't have stood a chance of coming through unscathed. The sheet lightening was also pretty impressive with some of the jumps travelling over 50 miles and that's just what we could see from our vantage point. Who needs firework displays.
Thursday July 19, 2007
We were awoken at 5:30 am this morning to a hefty wind blowing through the anchorage from the South. Thankfully the beach was south so we a. could only be blown out of the bay and b. we weren't on a lee shore. The winds increased as we watched dark clouds and lightning storm over us. The whole thing lasted for a couple of hours then suddenly died to nothing. A wee bit of excitement for the morning. A panga returned later in the day and asked if we could give them some more water. They traded us more fish for another five gallons of water. They are making us lazy. We haven't left the boat for days now but then again the windy conditions tend to make you boatbound. They also informed us that mucho mucho viento (lots of wind) would be the forecast for tomorrow morning as well. We were hoping to hop down the coast to Isla Estanque tomorrow. We will have to see.
Isla Angel De Guarda - Isla Estanque, Mexico
Friday July 20, 2007
The moral to todays story is never doubt a Mexican fisherman. Robin woke up at 4:30 this morning, looked outside and decided there wasn't much of a storm around so we may as well use the tide to move 22nm further down the coast. 22nm doesn't seem far until you try and do it against adverse wind and current conditions. So Michelle shook the cobwebs of sleep out of her head, got the anchor up and off we trot seven miles out towards Punta Roca which we needed to round before we could make our way south. Just as we got there dawn was starting to make an appearance and what Robin thought was clear sky turned out to be huge stormy clouds and they were bearing down on us fast. We quickly scuttled back to an anchorage not quite as far back as our original one which turned out to be surprisingly well protected and rode out the wind for the next seven hours. It was almost midday when the last of the storm clouds seemed to be light enough for us to attempt the passage again. Sadly by this time we had the current and wind against us but we really needed to try and move further south if we could. We did well at first until we got out around Punta Roca where the wind tended to circle back into the southern part of the coast pulling you around with it. We tacked out almost 5miles offshore and fought our way bit by bit down the coast, sometimes tacking intowards it and then back out again when we couldn't make any further headway. We finally crawled into the anchorage at 6pm. Six hours to travel such a small distance but we made it. Michelle made a snack for dinner and Robin made cocktails and we were fast asleep by 8pm.
Saturday July 21, 2007
Off to a slow start this morning for Robin. He couldn't seem to wake up and get going. Michelle listened to the weather reports on the morning Radio Net and we figured that we should do the crossing over to Tiburon Island on the mainland side tonight while there is favorable current and winds. Having decided upon that course of action, Robin made us breakfast, then we tossed the dinghy in the water and went to scout out the area. It was nice to actually get off the boat, the first time in what seemed like a week. First we went straight to the shore and climbed up over the cobble beach to check out the lagoon which lay behind the beach. These cobblestone beaches are simply amazing. This one must have been over 20feet high. One wonders at the forces involved to move that much rock around. Then just as quickly one doesn't want to be around when those forces come into play. After that we dinghied over to what they call the "pond", a small protected bay on Isla Estanque itself. To enter though was way too tricky for us to deal with. The entrance was only 7 feet when we went over it so we'd have to enter at high tide, then you are stuck in there until the next high tide before you can leave. It is well sheltered though on all sides and we think it would probably make pretty good shelter in all but tropical force gales. We dinghied up to the end of the sheltered bay and found another small lagoon which the dinghy only just made it across to enter and discovered the home of what seemed like a few hundred rays. They were three different varieties, the bullseye ray, the diamond stingray and the guitarfish, the first we'd seen. After that we headed back to a small cove called Tiny Cove just north of where we'd anchored and were surprised to see a sandy beach. Again there were numerous rays in the shallow water and some looked just like rocks until they moved. We walked along the beach, found an oystershell with a tiny pearl still attached to it and annoyed the oystercatcher birds, which chattered at us as we commandeered their turf.
Tiburon Island - Punta Willard, Mexico
We got ourselves organized, cooked dinner, listened to the weather and upanchored and headed for Tiburon Island over on the mainland side. It was a beautiful evening sunset cruise and all went absolutely perfectly until we got halfway across. Then suddenly out of nowhere we got kicked with a current and the rest of the crossing was a struggle. Robin with his mathmaticians head worked out the vectors and took us south so that we could turn downwind with a trailing current which would allow us to get around Punta Willard and into the anchorage 1.5 miles back along the shoreline. The wind at this point was blowing a good 20knots but we needed to have the jib out in order to make any ground at all in the conditions which meant a steady heal of 25degrees and at odd times 30degrees. Not Michelle's most comfortable point of sail but we made it into the anchorage around 1:30am, where peace and quiet reigned and we fell into bed.
Sunday July 22, 2007
We decided to stay put today and montior what the tides were really doing so that we didn't have too adverse a current while transversing this next leg of our journey. The San Estaban Channel is purportedly the most difficult of the Midriff Island Channels to navigate so we plan on at least making it as easy on ourselves as possible. Other than that we got sidetracked in readjusting the radar and working out a few more functions with regards the GPS. This basically dealt with 75% of the day.
Tiburon Island - Dog Bay, Mexico
Monday July 23, 2007
Upanchored and got underway before breakfast this morning as we wanted to make some headway before the winds picked up too strongly from the South East, their relentless direction of late. Since the channel also lay SE to NW we were naturally trying to sail straight into the wind. What a surprise ! We actually did very well, one tack out around Punta Willard, one back across to Tiburon, one over to Isla Estaban and we had enough leeway to make it around Isla Taylor at the bottom of the channel. The wind by this stage was starting to kick up to 25knots and the seas were quite a mess. It was so nice to turn around Isla Turner and head downwind for a bit around Dog Point and into the anchorage. On the way we also caught a Bonito Tuna. Sushi for dinner !
At first we anchored in the middle of the cove but as the afternoon wore on to early evening the wind swung around bring the swell with it into the anchorage, so we upanchored and crawled as close to the Southern cliff wall as was feasible. Sadly we couldn't snug in as tight as we would have liked as the bottom was very rocky with no purchase for the anchor. It finally grabbed about 75 feet back from where we'd like to have been but we were at least a little more shelterd. Then we listened to Summer Passage's weather report on the SSB radio and were very uncertain as to whether we should stay or not. He called for a Chubasco straight over the top of Tiburon and the anchorage we were in was no place to ride out a Chubasco wind capable of 50knots or so. Anyway we went outside, examined the sky carefully and determined that most of the Convection was to the north of us and what was coming from the south had no kick to it. The wind which had been blowing constantly at around 20knots died completely around 9:30pm and we started to relax. Nevertheless sleep tonight will be patchy no doubt.
Kino, Mexico
Tuesday July 24, 2007
We can safely announce that we survived the night unscathed, with nary the breath of a Chubasco to be seen. Robin cooked up the flaps of the Tuna we caught yesterday for breakfast, then we got ourselves underway to Kino. There was about 4knots of wind straight out of the East this morning which of course you can guess where... straight on the nose! It's a given. So we motored sailed slightly offcourse and made our way the 15nm over to Kino area. We took a short tour of the beach area but decided it really wasn't the place to anchor so we headed over to Isla Patos in the middle of the Bay and snugged up behind there. Not quite sheltered from the South but if the wind swings around from the southeast or east tonight we will be comfortable indeed. If it comes from the west we'll head on out and probably begin our Northern Crossing back towards Santa Rosalia. Our plan was to be back there by the 27th so not much time left of our time in the Sea of Cortez this summer.
Wednesday July 25, 2007
Shook the cobwebs from wooly heads very early this morning, and were in the dinghy heading for shore by 8:30am. The dinghy trip was almost 2 miles, quite a trip in a dinghy. We headed for the grocery store, asking directions on the way and found it to still be closed. So we were walking around aimlessly exploring the little village a bit when the friendly Mexican we'd asked directions from pulled up beside us in his van and asked if we were lost. We told him no the store was still shut so we were just sightseeing and he said, jump in the van we'll take you to another store further out of town. So we piled in and headed to a very well stocked little tienda complete with meat market. We thanked him profusely said what we thought were our good byes and headed on in to shop. 15minutes later we emerge to find him sitting there waiting for us to take us back to our dinghy. The Mexican people never stop amazing us. They have to be the nicest, friendliest most helpful people on earth. They are so much different from the constant negative image you garner from the North Americans re: Mexico and the Mexican people. Living amongst them has been a truly wonderful experience and we consider ourselves blessed to have been able to enjoy their hospitality over the past 8 months.
We were only gone just on an hour but already the wind was starting to kick up tiny wind waves. We picked our way back across the water, keeping in the lee of Pelican Island as much as possible while making our way back to Warrior. We just got back to the boat when the wind truly began to blow and we knew it was time to up anchor and head on out. It took us just another 30mins to stow the dinghy motor below, tie the dinghy on deck and get ourselves organized for an overnight crossing. We upanchored, headed on out past the shelter of Pelican Island and Robin had just got the mainsail raised when we noticed that the engine water temperature was flatlining red. Not good since we weren't really far enough offshore from very shallow water and the wind was of course, you guessed it, right on the nose! We got the staysail raised, the wind already blowing 20knots and slowly crawled our way offshore. Robin went below, wedged himself in, since there was a 6 foot swell tossing us around, and proceeded to pull the heat exchanger apart to see what the problem was. Turns out there was a small pinprick of a hole which had rusted through allowing the coolant to leak out. He filled it with epoxy, wrapped rubber and a ring clamp around it and prayed it would hold long enough for us to be able to dock the boat once we got back to Santa Rosalia.
Thank God we are used to making ourselves sail in all weather conditions as now we virtually had no engine. Or so we thought anyway. (Turns out Robin's fix was perfect and it will probably hold for another 5 years lol.) So as Michelle was coping with sailing the boat under double reefed main and staysail, Robin sat downstairs for another couple of hours working on the water maker motor. By the time he was done Michelle had been singlehandedly sailing the boat for 7hours and was getting tired. We noticed that we weren't making good headway around Isla Matir Pedro, a small chunck of land sticking up in the middle of the Sea of Cortez just South of Isla Tiburon. So finally we decided to pull out the big jib for a while even though it meant healing at 30 degrees and made enough ground into the wind to miss the island. We furled the jib again, and had 20mins in which to relax in when Robin decided to head downstairs to fix a quick bite to eat. Suddenly Michelle looks up just as she head a huge ripping sound. The mainsail had wripped shear across from just above the 2nd reef point. Sheesh. We have no engine and now a torn mainsail. We don't do things by halves! So we quickly reefed down to the 3rd reef, which would mean a very slow trip not heading as high into the wind as we'd have liked. Nevertheless we didn't need to pull the sail off, and we could still sail which was a very good thing.
Thursday July 26, 2007
We made good time really, arriving 25 miles north of Santa Rosalia around daybreak. The wind was still blowing around 25knots gusting to 30 and the sea conditions were quite a mess. It would take us another 6 hours to clear Punta Virgenes and get down to Santa Rosalia, the staysail and tripled reef main making progress slow. We finally began to clear the very confused seas around Punta Virgenes and decided to unfurl the jib to run down the coast into Santa Rosalia. Warrior took off racing along the coast at 8 1/2 knots and we covered the last 12 miles very quickly. Sailed in as close as we dared to the marina entrance, dropped the sails, turned on the engine and held our breath, hoping that Robin's fix would hold long enough to get us into the dock. It went perfectly with not a sign of a leak, the water temperature gauge telling us all was fine with the world. We tied up to the dock and literally passed out with tiredness.
Friday July 27, 2007
We were invited to a Cruiser's potluck barbeque tonight. We were delighted to discover that there were at least six boats docked in the new marina which we'd met along the way. Southern Bell arrived back later today and docked right beside us. We had drinks in the afternoon catching up on what they'd been doing over the last few weeks since we'd left each other in Loretto. Sweet Loraine was also docked and Jenny who'd we'd last seen in Zihuatanejo. The potluck was a lot of fun and became quite crazy when after a few bottles of wine and dinner, a few of us pulled out guitars and proceeded to entertain the masses. We were utterly shocked to discover that hours had flown by and it was 2:30am by the time we headed to bed.
Tuesday July 31, 2007
The last few days has been hard work. We've managed to pull all the sails off the boat and get them washed and stowed, clean the dinghy, and numerous other jobs which had to be done before we could leave. The weather is so hot here that we hose ourselves down every half hour just to cool off. Running around in the middle of the day is definitely not an option. We're terrified that we're running out of time and won't get everything done before we leave. We still have the spare mainsail to fix, it needs a new headboard and the boltrope resewn in one section, and a few more measurements need to be taken so we can order a new mainsail. Robin has to go up the mast to check LED fittings, fridges need to be cleaned and turned off etc etc. No doubt we'll get it all done but it seems a daunting task. Thank goodness we won't have to leave the boat in hurricane prone areas too often. I can't image how long it's going to take us to get everything back in order when we get back.