La Paz, Mexico
Tuesday October 2, 2007
Juliette has dissipated with no ill effects anywhere. Yesterday morning we headed over to the marina office and they were so happy to see us again. We felt like long lost friends returning. I am amazed they can remember people with the amount of boats that come through. We caught up with Jerry off Destarte last night while we had a bite to eat. It was wonderful to catch up on all the news over the last few months since we last saw each other. Jerry is always entertainment personified with many a good yarn to tell. Today Robin began work on the heat exchanger yet again. Turned out the exhaust elbow was choked full of carbon which was as hard as a diamond. He sat on the dock and chipped away for hours. Maybe this time we can solve the exhaust problem and keep a boot intact.
Wednesday October 3, 2007
Michelle attempted to make a sock for the broken boot today and it was a perfect fit except Robin decided he didn't like the stretchy fabric. So he began the process again using sunbrella. Many layers of 5200 and the sunbrella sock and he decided that sock wouldn't burst under the pressure from an atomic bomb. It was quite a sight for sore eyes.
Saturday October 6, 2007
It was a blue moon tonight. A real one. Just goes to show once in a blue moon can happen.
Passage to Mazatlan
Friday October 5, 2007.
We finally got underway this morning to Mazatlan a lot later than we'd planned. Michelle had misplaced her glasses in the bathrooms a couple of nights back. There were no lights and we were groping our way in the dark. We went back about an hour later to find them and they were nowhere to be seen. Security had picked them up and put them "somewhere" for safe keeping. It took 3 days and finally a call to the supervisor of security at the marina to get them back. Then Michelle asked Robin if he wanted to refuel and he said we had plenty, we'd fill up in Mazatlan. He was still working on trying to clean the fuel in the tanks so we were keeping it low. Michelle looked at him sceptically but figured he knew what he was doing so didn't press the issue. This would provide pure comedy later on in the trip.
The trip back through Lorenzo Channel was uneventful. We decided to head outside of Cerralvo Island this time and give Cerralvo Channel a miss. We'd already navigated it 3 times. It still seemed a litle deja vu-ish as we cleared the bottom of Isla Cerralvo just on dusk reminding us of the crossing we did the previous year. However tonight there were massive storms brewing with much thunder and lightening over on the mainland side. The heavens were putting on quite a show for us. We spent most of the night skirting around squalls and thankfully had the room to do so. They were quite isolated and scattered which gave us plenty of room to maneouver. Looking back over our tracking history on the GPS, it looks like a series of giant letter Z's back and forth. Nevertheless this was preferable to being struck by lightening, a horror story waiting to happen. One of our friends wasn't so lucky and he lost over 30,000 dollars of equipment including every piece of electrical equipment on the boat from Radars, GPS, SSB and VHF radios, handhelds, his IPOD and laptop computer. We were lucky and would continue to be so all the way down to Puerto Vallarta. In 12 hours we'd progressed just 50nm towards our destination but we'd covered almost 65nm over the water.
The next 12hours would prove much slower. As the storms cleared away for the day the wind went with it. We covered only 38nms during the day in very light fickle winds. We were only averaging about 3knots, not optimal progress but nevertheless at least we were progressing forward. All during the day we noticed the giant convection clouds building over the mainland, towering some 30,000 feet into the air. They are a truly awesome sight and are quite daunting as you just know the power these things can unleash against you. Last night the lightening in the distance was magnificent with huge forked lightening striking the water for up to 3 seconds at a time. One really does feel insignificant in these environs. Tonight would be interesting if any of those squalls head our way. As luck would have it though, we had a fairly uneventful night with most of the storms skirting us this time. However we covered only 13nms from 8pm last night to 5:30am this morning.
Sunday October 7, 2007>
Sunrise this morning was spectacular with the sun rising behind storm clouds. We continued to bob along at a frustring 2knots or less and Michelle was starting to grumble under her breath. Finally about 8am when the last of the storms for the day had passed over us and the wind had totally died, Robin decides to turn on the engine for a bit as we needed to charge the housebank anyway. He looks at the diesel gauge and mutters, "hmmm maybe the fuel is a little lower than I figured". So off comes the inspection panels in the top of the tanks, a measurement taken and some quick calculations done and he then figures we have about five hours of fuel. Michelle was not terribly impressed by this news. Five hours of fuel with at least 12 hours of motoring to go. Ok guess we're going to be doing a lot of flopping around at 2knots which is exactly what we did. Finally around 4pm we finally drifted into some wind. It was certainly a long slow trip.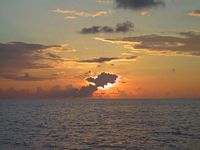 Michelle seems to have this uncanny knack of having animals come cheer her up when she's flopping around going nowhere. The last time it was a Marlin in the middle of the crossing to La Paz. This time it was a finch. It landed on the back of the wind monitor while Robin was up on the bow checking things out up there. She started talking to this little bird and it wandered up the driving rope towards her. Just as he hopped on the deck Robin comes back to the cockpit and frightens him and Michelle scolds him and tells him to sit still. "Watch this bird, he'll come say hello to you", she says. Robin looks at her as if she's gone loco. Anyway he sits still and Michelle starts talking to Sir Finch again and sure enough he comes right up onto the back transom and starts hopping around the exhaust vents. He looked like a cheery little fellow and Michelle just keeps talking to him and he starts wandering around not at all scared of us. He wanders past Robin and around the side up past the winches, comes back then suddenly jumps onto Robin's shoulder. Robin's face told a thousand pictures, the best one being, "this can't possibly be happening to me". Michelle was just a bit too slow in grabbing the camera as when she got back the finch was back down on the deck. He continued to entertain us for about an hour until we needed to reef down for the evening as the wind had truly started to pick up and was now gusting. Typical, first no wind then too much. So we begin reefing and shouting at each other to be heard over the wind and the finch suddenly gets all upset and lands in Michelle's hair and flutters around trying to work out what all the commotion is about. We finally got everything organized and sat back in the cockpit and the finch perches itself on Michelle's shoulder for 20minutes. We think he was trying to get out of the wind. Anyway finally we picked him up and put him on a bundle of rope which provided a wee bit of shelter for him and he promptly fell asleep. There he sat until we were about 10nm off shore when he suddenly got a whiff of land and off he went. What a fun little chap to have around for a few hours. Robin was quick enough to snap these couple of pics.
| | | |
| --- | --- | --- |
| | | |
| Mr Finch feeling a little shy | Smiling for the camera | Finch on Michelle's shoulder |
Monday October 8, 2007
We finally started to see the lights of Mazatlan around 9pm last night. The tide was all wrong for a night entry into the marina so we opted for anchoring behind Isla Venado, a mile past the marina entrance and about half a mile offshore. We dropped anchor around 1am just in front of a fishing trawler and grabbed a few hours sleep. High tide would be at 6am so we needed to be up early. We weighed anchor, navigated the entrance which was reasonably calm and noticed there was a lot more water under the keel than when we were last here. It was too early for the marina office to be open so we opted for selecting our own slip and got ourselves organized. Serge off Kolea was still in Mazatlan just a few boats down from us, so that was our first port of call and we were very happy to catch up with all the gossip of the last eight months. Chris and Dani off Kinshipwere also in Mazatlan and we caught up on their tale of woe about spending the entire summer here with engine troubles. They were so looking forward to cruising the Sea of Cortez and didn't make it. Looks like they may miss out as they plan to head south into Central America early next year. But all cruiser's plans seem to be written in the sand at low tide so who knows. The only chore we got done today was to wash the boat and tidy up after the 3 day crossing. We spent the rest of the day resting.
Friday October 12, 2007
We had a fairly busy week. Robin and Serge broke open the life raft and did an inspection. Everything looked fabulous. It was totally dry inside which was a very good sign. The life raft is quite large, extremely comfortable for two people and easily capable of housing a family of four. We packed some of our personal belongings in there, including a pack of cards, updated some of the flares and medical supplies and resealed it. An interesting chore accomplished and essentially our purpose for stopping in Mazatlan in the first place as Serge is a qualified Life Raft Inspection Officer. Michelle's job this week was to organize the Ipod music collection. It was kind of in a mess. 9,600 songs later and she has everything in order and totally classified.
Tonight Dani threw a party for all the cruisers who were in Mazatlan, most of whom had been holed up there over the hot, humid summer. The food was terrific, some people having participated in a shrimp cookoff competition. Dani, ever the comic, handed out looney gifts as a thankyou to various people who she claimed kept her sane over the months they had to spend holed up in one place while everyone else was out exploring the Sea of Cortez over the summer months. It was a very fun evening with lots of laughs.
Saturday October 13, 2007
We left Mazatlan today around 11am. There wasn't a lot of wind so we slipped in close and had a wonderful sail along the waterfront of the city, always one of Michelle's favorite sights. It was a lovely way to farewell the city as we won't be back this way again and Mazatlan is one of her favorite places.
Sunday October 14, 2007
An island is chasing us! Well that is the short version. The long version goes something like this. Michelle was on watch, dodging various thunderstorms and squalls and saw this solid blip on the radar which she figured must be Isla Isabella. We knew that the charts have the island marked wrong but it seemed that it shouldn't be quite where it was showing up. However having checked and rechecked she figured oh well I guess it must be it. So she tacks off slightly to keep away from the island but for some reason it seems the island is getting closer. Robin wakes up right about this time and sees the blip on the radar and goes what the hell are you doing so close to the island. She tries to explain that we are heading in this direction which is now virtually 90 degrees to the island and heading straight to the mainland but he's just gone into panic mode for a few seconds. Then he looks up and sees the huge lightening storm and realizes for the first time that it's a rain squall showing up on the radar. Then he bursts out laughing and says, I couldn't work out why this island was chasing us. He honestly thought for a few seconds we'd been caught in a current and we're being swept towards it somehow. Provided some lighthearted entertainment for a couple of hours. It was another fairly slow trip, the only wind being associated with the various rain squalls coming overhead. We figured out how to skirt around the edges of them, keeping the wind on the beam for almost 180 degrees before losing it as the storms continued on their way. Other than the squalls overnight, we mostly just bobbed along not really worrying about much at all. What a life.
Monday October 15, 2007
We reached the entrance to Banderas Bay around midnight and decided to just anchor overnight at Punta Mita, the first bay just around the corner after entering the bay. Got up early and Robin dove on the boat but it was cold and not a nice job. He was shivering after just a few minutes. We headed on in towards Paradise Village and radioed in to see if we could come in a day early as we had reservations at the marina from the 16th, and were given the green light to come on in. The entrance to Paradise Village was shallow but it was a couple of hours before low tide so we made it over the bar without too much difficulty. We managed to squeeze Warrior into her slip between a 50 foot yacht off her port bow and a 15foot yacht right behind. Robin must have been a ship pilot in a previous life as he pulled off that little manoeuver without a hitch. Reversing out should prove interesting.
Paradise Village is quite something. It's an enormous five-star resort situated on an estuary. The marina features 200 slips which stretch along the banks of the river and house some impressive mega yachts, a couple of which were almost 150 feet long. The resort itself has 3 or 4 swimming pools, jacuzi's, saunas and any service you can dream of and wish to spend money on. The main swimming pool has two water slides in the shape of enormous iguanas and you come shooting out of the iguana's mouth into the water. Anyway, it's a different world we've found ourselves in although it doesn't resemble Mexico at all. You could be in any major resort area anywhere in the world.
Thursday October 18, 2007
We spent the last couple of days resting, relaxing in the various swimming pools and doing odd little jobs. Finally caught up with Richared and Karen off Chessie. We had expected them to be here by the time we arrived in PV but they were late. They dropped by the boat for drinks last night and then we ended up doing dinner and having the usual great time we always have in their company.
Friday October 19, 2007
We got up this morning and asked ourselves what the hell we are doing in Paradise Village. It is lovely, no doubt about it but it's a long way out of town, away from the ferreteria's, supermarkets, markets, and marine services and everything was super expensive, being geared around rich tourists. It wasn't anything like the Mexico we've come to love. So Michelle decided to jump on a bus and head on down to Marina Vallarta, (much closer to down town area and surrounded by numerous shops of various sorts) and ask if they had room for us. We figured they would probably be totally booked out for the season but we decided there would be no harm in asking. It was a good decision as when she entered the office they immediately recognised her from last March and asked her why she'd forsaken them. She couldn't figure out what they were talking about until she realized she was wearing the Paradise Village key around her neck. So she said yes we were out there but we didn't like it and had come on down to ask if they had a slip available for a few months. Christian said for you, of course and immediately booked us in for the 22nd. I hate to think who got bumped off the list so that we could have a home for the next couple of months. Anyway we will be moving down to Marina Vallarta next Monday.
Monday October 22, 2007
We spent the weekend alternating between working on installing the SSB Radio which has digressed into an enormous job and relaxing with Richard and Karen who will be leaving us soon to head back to Mazatlan. We will miss them terribly as Karen and Michelle seem to be sisters separated at birth. The SSB installation has been put on hold until we get the wiring cabnet organized. There is what looks like 37 years of old wiring, old equipment some of which no longer works, mold, dirt, a computer which we've decided to pull out and give away to the indigenous school in Zihuatanejo, etc etc. It's going to take us a while to get this chore done.
This morning we got underway from Paradise Village about 10am and headed over to Marina Vallarta. Richard and Karen came with for the ride but there was not a breath of wind so it was a motor ride over. There's not much fun in that. We pulled up in front of the dock they had assigned us and all looked at each other and said there is no way in hell we are going to fit in there so we diverged to an empty slip and Michelle went over to the marina office to get another slip assignment. We scored a wonderful slip in front of a turn around basin with plenty of room and a great view. This will be our home for the next few months. After getting settled in we headed over to one of our favorite mexican restaurants and scoffed some great lunch in honor of Robin's birthday. He will be having a few days of birthday celebrations as Richard and Karen want to take him out to dinner at a posh Italian restaurant tomorrow night. Michelle thinks he's totally spoilt.
Wednesday October 31, 2007.
It's been a hectic 9 days mostly spent with our head inside a tiny cupboard. But it's certainly starting to pay off. The whole interior has been redone, painted, it's clean and tidy, all the wiring tidied up and tied down. Now to get the radio installed, the original task.
We spent every other night dining with Richard and Karen, and ate some truly supurb food at outrageous prices as far as Mexico goes. But they really like to eat well and we really loved their company. We told them we'd be glad to see them go as it will definitely stop the hole that's appeared in our wallets. We will miss them terribly. They have agreed to fly in and meet up with us at whatever exotic places we end up. We're keeping them to that promise too :)