Zihautanejo, Mexico
Saturday March 1, 2008
Most of today was spent stripping paint off the hatch. It leaked pretty badly on the way down so the boys stripped the workings out and we all started chipping away at the paint to get it ready for epoxying. Mel and Aaron lasted about 1hour 30 mins then got a call from Sweet Loraine who were heading into shore. They jumped at the offer to get off the boat and decided to head over to Playa Las Gatos and do some snorkelling. No stamina for work the youth of today! No they´ve earned a day off. Tonight Jimmy Mamou is playing at Rick´s Bar so that´s where we can be found. Jimmy is always such a pleasure to watch let alone being skilled in numerous instruments and having a great voice. So much talent in one bundle.
Sunday March 2, 2008
Continued work on the Hatch. Mel and Aaron cleaned the bottom of the boat, a challenging job in the five foot swell we have coming through the anchorage at the moment. We have enormous waves breaking about 500 meters behind us onto the shore. We´ve been fine through the days though as the wind holds us facing into the swell. Still five foot waves makes for continuous movement, especially when added to the refraction from the shore, which doesn´t make a pleasant working environment. Robin endures like a trooper. Tonight we have the first day of Guitar Fest which is what we stayed the two extra days for. We are just doing the opening event as we need to get underway. The evening starts at 6pm and showcases all the artists who will be playing over the next 10days. Should be a very entertaining evening especially since Michelle´s favorite performer from last year will be there. San Luis Cabo will also be playing and we enjoy him immensely. We even have his CD which we purchased last year when we were here. We´ve been in Mexico so long we know the local talent.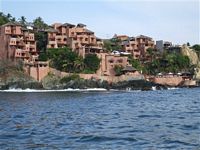 Zihuatanejo Shoreline right behind the boat!
Monday March 3, 2008
This morning we are finishing up the hatch, provisioning the boat and checking out with the port captain. It´s the usual cleaning, stowing, preparing day, getting ready to sail tomorrow. Mel and Aaron present Michelle with a new camera as the old one has been playing up recently so she has a new toy to play with now. Stand by for some interesting pics in the weeks to come. We made Aaron pose for this shot. Should we sell this pic?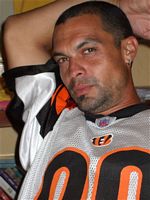 Aaron striking a pose
We said goodbye to Aaron this evening. He caught the bus back to Puerto Vallarta and back to work. We will miss him as he´s been a ton of fun, not to mention a great help. No doubt Mel will miss him too as they were of an age to get up to much mischief together. We leave for Acapulco tomorrow. Finally the next leg of our adventure is about to begin. From now on we get to see new sights. The last time we saw something new was San Carlos/Guymas area last September after we returned from Australia. Since then all we´ve done is retrace our steps and done boat maintenance. So as you can imagine we´re pretty excited to get going again.
Tuesday March 4, 2008
We finally got going around midday today. We got the hatch cover reassembled, and got prepared to head on out. Robin ran ashore quickly to pick up some muriatic acid which was supposed to be delivered this morning but when he got there of course they said those famous mexican words, "manana". We dropped some DVDs off at Sweet Loraine, said our goodbyes and lifted the anchor. We were finally off. We motored out of the bay, raised the mainsail, aimed at Roca Negra and recalibrated the radar as we´d noticed it was about 10 degrees out on our sail down from Puerto Vallarta. With that done we set our sights for Rocas Potosi, a group of islands six miles south which span a mile west off the coast. There´s deep water on all sides so we opted to pass between the first one and the mainland, a small pleasant diversion, even though there was considerable haze. The rest of the trip down to Acapulco was fairly uneventful. There was very little wind the entire trip, and I think we managed to sail about 10 hours of the 20 hours total voyage. Sealife was abundant with numerous turtles, dolphins, boobies, and a new bird we hadn´t seen before, a White Tailed Tropic Bird with a gorgeous long tail which, when floating on the water arches up like a roosters tail. There was still quite a considerable swell although being out on the ocean it wasn´t too noticeable. The waves breaking on the shore though were spectacular, bursting many meters into the air. We were able to travel just two miles offshore along this stretch of sandy beach coast, as there were no hazards, so the shore break provided quite the show for miles on end.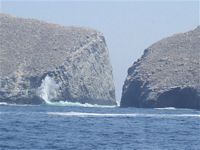 Potosi Rocks through the haze - nice wave break!
We all did three hour shifts overnight, Robin taking the first shift 9pm to midnight although Michelle actually let him sleep till 10pm, Mel took over at midnight til 3am and then Michelle did 3am till 6am. The extra person for night duty really makes a difference. We weren´t nearly as tired the next day.
Acapulco, Mexico
Wednesday March 5, 2008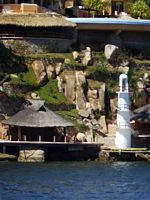 Fancy Garden Light
Such excitement today although we could seriously do with a bit less of it in our lives. We arrived outside of Acapulco Bay around 2:30pm this afternoon, enjoying the view of urban sprawl up the sides of the mountains, the numerous hotels and freeways crisscrossing across the hills which line the shore. We entered Boca Chica, a small channel between Isla Rogueta and the shore on the North East side of the Bay. We came around the corner, watching a cliff diver jump and suddenly our transmission totally died. We now had no engine YET AGAIN. Sigh. So Robin reefs the mainsail down unfurls the jib and sails across the bay towards the cruise ship terminal, tacks back further into the anchorage area, around moored boats and anchored vessels, furls the jib, Michelle drops the anchor and calls back the mainsail. Robin looks at Melissa and goes, ummm, I dunno what that means but suddenly he figures it out and we fall backwards and the anchor grabs and we´d done our first perfect anchor under sail in the middle of a busy harbor. We were in 75 feet of water, and it was about as good as we could get as the rest of the anchorage is taken up with mooring balls. We just hope the anchor holds as a good 15knot breeze, that very wind we were chasing all the way down the coast and never caught, has arrived in the anchorage now that we have no engine. There shall be no dragging allowed.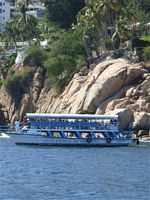 If you look closely you can see the cliff diver about to jump
We sat on the boat for a good hour making sure we were securely set. Robin dinghied over to a few boats to ask questions and mechanics, mooring balls etc and finally we decided the boat wasn´t going anywhere and we could head ashore for a bit. As we climbed in the dinghy, a sailboat arrived which was having trouble picking up their mooring so we stopped by to give them a helping hand and then headed on in for a refreshing margherita and some information gathering. We had a couple of drinks ashore, questioning the barman who spoke vary little english and a mechanic arrived who made an appointment to see us in the morning. That having been settled, we decided to head back to the boat, cook dinner and promptly fell into bed. Looks like we´ll be in Acapulco a little longer than we planned. Life is never dull.
Thursday March 6, 2008
We went ashore this morning to the Yacht Club to see if we could arrange a mooring ball, some showers and internet access. We got a very unpleasant surprise at the cost. They wanted 50 US dollars per day (that was discounted down from 75) for the mooring ball, another 30 US dollars a day for the dinghy dock, which did include use of showers and swimming pool, and another 10 US dollars per day for internet. Robin looked at Michelle and said we´ll stay anchored thank you very much. They must think you are insane to pay those kind of prices. A dock in Puerto Vallarta, complete with electricity and water, showers and swimming pool access was only 25 US dollars per day. There´s no way in hell we´d pay 90 US dollars a day for a mooring ball.
We arrived back at the boat to find Vincente waiting for us, a local Mexican with some of his own mooring balls. He could give us a mooring for 10 US dollars per day, free dinghy access, a ton of local information and a cheery smile. How could we resist such an offer. So we lifted the anchor, Robin and Vincente in two dinghies guided us towards the mooring which wasn´t far, Melissa steered and Michelle picked up the mooring. It all went without a hitch. So now we feel a little safer and can relax without worrying about dragging. It was nice to note when we lifted the anchor that it had dug in nicely. So there probably wasn´t much to worry about anyway.
Robin stayed on the boat for the rest of the day working on the Transmission. He figured he´d better check the strainer to see if it was blocked as that could possibly cause a loss of fluid to the hydraulics. It was not to be the problem so tomorrow we have a mechanic coming out to remove it and pull it apart and see what is wrong. Michelle and Melissa dropped the laundry off and went exploring the lay of the land. We discovered the biggest market we´ve yet seen in Mexico. There were fruit stalls in amongst hardware shops, clothes shops, kitchenware, flower stalls, cheese and dairy, and hot food stalls. The only place that was separate was the meat section. It was quite the voyage of discovery trying to work out where everything was as there seemed to be no rhyme nor reason to the place. It was just simply amazing. We spent about an hour wandering the market then headed back down to the waterfront to find an information booth. We then hiked all the way from the cruiseship terminal around the bay to a tiny bay opposite Isla Roqueta called Bahia Caleta. It is lined with palapa restaurants and as it was 3pm we decided a couple of refreshing ales and a quick snack was in order. We caught the bus back to where we´d left the dinghy and headed back to Warrior where we collapsed for the evening. Michelle cooked a chicken curry, we cracked a bottle of red and relaxed outside gazing on the millions of lights ringing the bay.
Friday March 7, 2008
Michelle and Mel went ashore first thing this morning to clear in with the port captain who is also the harbor master for the Yacht Club Marina. He was not at all impressed that we managed to score a mooring ball for 10 dollars a day. Tough! We cleared in, then headed back to the boat in time for the mechanic to arrive and the boys began removing the Transmission. Two and a half hours later the verdict was the Vibration Damper had gone. It was a mangled mess actually. After this little chore was achieved we all headed in for much needed and much welcomed showers. How enjoyable are the simple things in life, those things you take for granted as a landlubber.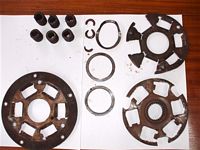 The mangled parts of the Vibration Damper
Tonight we hiked over to La Quebrada to watch the cliff divers (clavadistas). There were seven clavadistas in total, all of various skill, some as young as 14 by the looks of it, and they jumped from spotlit ledges at various heights on the cliffs into the swirling surf below. We may go back again and sit in the restuarant overlooking the dive sit as they were truly skillful to watch. After the performance we wandered down the hill into the city centro, visited the Moorish-looking cathedral, complete with onion-shaped blue bulb and yellow spires that dominates the main plaza (Plaza Alvarez). The guide book says that the cathedral was actually constructed from parts of an uncompleted movie theatre. The fig-tree shaded main square was packed with activity, dramas, clowns performing and a Mayan refugee from the past popped his head in for the show. There was life music, mariachi, people sitting watching people, a very happening place. We found a restaurant upstairs overlooking the plaza, the cruiseship terminal and the part of the Bay of Acapulco and spent the remainder of the evening watching the festivities.
| | | |
| --- | --- | --- |
| | | |
| Cliffside Statue! | Dive Site! | Dude! |
Saturday March 8, 2008
Mel dragged Robin to the Mercado Central this afternoon as he wanted to visit the Ferreteria´s there. The wandered around generally getting up to mischief and arrived back with 2kilos of the freshest prawns we´ve seen in quite a while. Not a stitch of Meta nor blackleg in them. So it was garlic prawns, white wine and a wonderful relaxing evening spent on the boat. Ah life can be so good.
Sunday March 9, 2008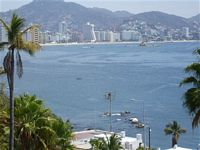 Acapulco Bay
We decided to play tourist again today. We got up early this morning, Mel made us all coffee and we headed off to the zocolo for a quick bite to eat, before hiking up to the old Fuerte de San Diego, a fully restored five-sided fort originally built in 1616 atop a hill to protect the trade galleons from pirates. One of those pirates was the reknowned Sir Francis Drake. The fort had to be rebuilt after the 1776 earthquake, which damaged most of Acapulco. Apparently it remains basically unchanged today for the most part although I can´t imagine the posh doors and white-wash and yellow-wash paint was part of the original structure.
The fort also houses the Museo Historico de Acapulco which just happened to have free entry on Sundays. Bonus. We wandered around the 15 rooms, learning about the Yopes and Tepuztecos, the native inhabitants at the time of the Spanish arrival in the early 16th Century. Then there was a history lesson on Acapulco´s historical importance as a port, with exhibits explaining the tornavuelta (the fastest return route from Manilla to Nueva Espana), exhibits of the galleons and the treasure they carried and a bit of history concerning the famous buccaneers and pirates who tried and often succeeded in robbing the ships. Overall an hour and a half well spent.
| | | |
| --- | --- | --- |
| | | |
| One of the Natives | Galleon San Pedro de Cardena | Food Storage Cave |
Next we hiked a few hundred steps back downhill and dropped in at the Casa de las Mascaras, a mask museum. They had quite a variety of masks, some most unusual but Michelle was diasppointed they didn´t have many based on the Mayan civilizations which were heavily into silver. Nevertheless it was interesting.
Our next stop was the Mercado de Artesenias but mostly it was just tourist stalls with very little in the way of local handcrafts which were the basis of the stalls in Zihuatanejo. We thought since we were drawing closer to the state of Oaxaca they´re would be more in the way of handmade goods. Feeling defeated we trundled off back to the Zocolo where we sat at Cafe Astoria, watched a Mexican version of the Punch and Judy show, complete with puppets weilding baseball bats and knives, and enjoyed a local drink called horchata, a cold sweetened rice water drink. It was delicious. A very enjoyable morning and time to head back to the boat for the afternoon siesta.
| | |
| --- | --- |
| | |
| Animal inspired masks | Mel conversing with the dead |
Monday March 10, 2008
Señor mechanico arrived at lunchtime today and Robin still wasn´t quite ready for him. He was slightly cursing the girls for having sidetracked him yesterday, even though we all know he enjoyed himself. The new vibration damper was shown around and appropriate ooohs and aaaahs were given. It looks like nice work. I guess time will tell if it works or not. It never ceases to amaze us what Mexico can fabricate. Can you imagine walking into a lathe shop in Australia or America these days and asking someone to make you a vibration damper? It just wouldn´t happen. A couple of hours later all was reinstalled, the engine turned on, the gearbox engaged and hey presto it works. Hopefully it will stay fixed.
Michelle has spent the last week or so working hard on the logs. She figured it was about time the site got back on track. So with new gusto she got to work and redesigned everything, swapping it all over to cascading style sheets instead of the old fashioned coding and voila it´s getting there. We hope you like the new look. It certainly makes it much easier to manage the overall site.
Tuesday March 11, 2008
Mel finally got a dose of Montezuma´s Revenge. The poor girl vomited with such force she almost hit the boat on the next mooring ball beside us. After a few bouts of clearing out the top end, the bottom end kicked in and the rest of the night and early morning was spent on the ship´s head. She has perked up tonight though so all she needed was a good 24hr cleansing. This reminds us we must seriously examine our medical supply kit before venturing too far off the beaten track.
Robin decided since he had the raw water intake for the engine pulled apart anyway yesterday that he may as well reroute the refrigerator intake over to the watermaker as the continuous flushing of the water intake allows barnacles to grow in the pipe (read previous history back in September last year) and thus being one of the causes of engine overheating, something to be avoided at all cost. So today he began that little chore which of course necessitated half the floorboards in the boat to be pulled up, work tools everywhere and well you can imagine, basically mess from one end of the boat to the other. He assures us he´ll have it finished for an early morning departure tomorrow but looking at it one wonders how it could be possible. By 3pm Michelle still had her doubts but figured he must know what he´s talking about so off she goes to clear out from the Port Captain, then off to do some provisioning so we have some food for the next 275nm jump down the coast. She arrives back from the supermercado to find Robin yelling and screaming and throwing a mild tantrum. It appears the water pump impeller for the fridge decided to quit right then so he had to pull the other half of the boat apart to get to the spare one which was buried somewhere in the nether regions. Maybe we´ll put of leaving for another day.
Wednesday March 12, 2008
We did some last minute chores today including another run back to the supermercado because we forgot the most essential item to be found on a boat... coffee of course! Robin ran around to a few ferreterias for last minute plumbing valves and we were finally ready to let loose the mooring lines around 3pm. We had decided to motor around to Isla de la Roqueta and anchor overnight there and get the boat in order for a dawn depature. Isla dela Roqueta is situated at the entrance to Acapulco Bay and is about a 40-minute trip around the corner from where we were moored. Just as we got there, Robin went to slow down and poof, no transmission again. ARGGHHHH!!!! We quickly dropped the anchor and it grabbed with just a 2 to 1 rode out. We couldn´t pay out any more than that as there was a boat directly behind us and behind and off to the side, a rocky reef. Robin quickly figured all we could do was sail back to the anchorage in Acapulco. We dinghied over to Surf Ride anchored behind us and asked them to help turn the stern of the boat around so we could quickly get the jib pulled out into the wind. There was quite a stiff breeze blowing and as the jib unfurled Warrior started to take off and Michelle didn´t quite have all the anchor chain in. It was a race to see if we could get it in but get it in we did and Warrior glided out of the anchorage in picture perfect form. We sailed back around to the main anchorage and again got to practice anchoring under sail. A few observers thought we were showing off but one wise chap figured we´d no engine again as anchoring under sail amongst a mooring field of 50 boats isn´t usually something one does for sport. Anyway we got the hook down and felt it bite well, this time in 50 feet of water. We decided to just stay on the hook this time rather than move to a mooring ball. The mechanic will be back tomorrow to see what exactly happened. Just another fun day in our world of cruising.
Thursday March 13, 2008
The mechanic arrived this morning to find the screws on the vibration damper had literally unwound themselves. We´re not sure at this point if there´s some further problem with the transmission, the crank shaft is misaligned or whether the vibration damper just wasn´t aligned properly. Anyway a few hours of work later and it had all been taken back out and the work redone all over again. Looks like we don´t get it back till Monday so we will be spending the weekend in Acapulco.
Michelle and Mel decided to go shopping today (what else do girls do when the going gets tough?). We caught a bus that said Walmart and knew that it was going to head somewhere in the direction of the other side of the bay. It was a lovely run along the esplanade of the bay and for the first time we found ourselves in the tourist area of Acapulco, completely different from the bustling commercial center with it´s dirty sidewalks, suicidal taxi drivers and buses. Around the curve of the bay we were suddenly confronted with an arc of beautiful beaches, high-rise hotels, discos, shopping plazas and numerous restuarants. We decided to check out Walmart for want of anything better to do and out of curiosity to see if we could pick up a few hard to find items that are almost impossible to locate in Mexico. To our utter delight we found Robin´s favorite chocolate, Lindtt 85% cocoa dark bitter chocolate. We bought him 8 bars of it which should keep him happy for a while. We grabbed a few other things including an new hurricane lamp which have proven extremely useful out in the cockpit, and a couple of new nonstick frypans because Mel has been complaining about having to cook in our old ones which were no longer nonstick. After that we headed back to a restaurant right on the beach overlooking the bay which was basically an open air verandah perched on top of the sand dune and enjoyed a refreshing marguerita and a quick snack. Next we needed to hunt down some ferreterias for Robin as he was still short on some plumbing fittings he wasn´t able to procure the other day. We jumped on a bus back towards the old part of Acapulco, and had to have a good laugh at the decoration of this one bus. All buses in Mexico have some kind of personal touch to them, be it curtains, items dangling from headboards, signs written over the walls etc but this one took the prize. It was decorated across the headboard with about 50 different types of disney characters but interspersed between the stuffed toys were women´s G-strings. Cheap entertainment.
Friday March 14, 2008>
The girls decided to go shopping again today (they are seriously gluttons for punishment). First stop today was the pharmacy as we decided to finally get our ship medicine stores in order. Jerry Destarte (an ex Navy doctor) had kindly written us up a list of essential medications for ship life, especially for cruisers who are going to find themselves in isolated situations off the beaten track, and we worked through the list getting it down to absolutely must haves versus those we could safely live without. We lined up at the counter and Michelle started going through the list and the staff didn´t bat an eyelid at handing over medical supplies which, anywhere else in the world, would require a doctor´s prescription. Well at least in America and Australia anyway. The next pleasant surprise was the entire list of antibiotics, creams, etc only came to $104.00 US. We couldn´t believe how cheap it was. We were expecting to spend at least $350 dollars on medicines. Bonus. Since we´d saved so much money we then decided to spend a little on some new clothes for Robin. He seems to go through shorts and bathers in 3 months down here.
We were to meet up with Robin at Molcajetes, another bar restuarant along the waters edge and right next door to the 50m-high bungee tower where we sat and watched those brave souls throwing themselves from the platform to land inches from the sand below. We had a couple of drinks then walked back along the beach towards the commercial district and found a palapa restaurant right on the beach, and the only one left open after dark. Most of these restuarants only open during the day and cater to the beach crowd. The setting was supurb, the food delicious traditional Mexican cuisine.
Sunday March 16, 2008
Spent the day lounging by the pool today. Mel still hasn´t been 100% so we gave her a dose of Levo. Hopefully that will set her aright. The crews of Surf Rider and Joel from Paradise Bound joined us at the pool and afterwards we joined them for dinner and then went hairing around Acapulco in herbie taxis trying to find a Karaoke Bar as Joel wanted to sing. Finally locating one he handed in his CDs sang a handful of songs until the club began filling up with locals whereby all Karaoke ceased and the place turned into a nightclub. The look on Joel´s face when he discovered there´d be no more glory that night was priceless. We called it quits at a reasonably early hour as we needed to be alert for tomorrow in case we are able to leave. We´re crossing our fingers anyway.
Monday March 17, 2008
Arturo the mechanic arrived around 11am this morning just as Michelle was throwing up over the side of the boat. She had finally succumbed to whatever bug Mel has been fighting the last few days. Robin isn´t feeling too crash hot either. Robin and Arturo began the process of reinstalling the transmission. There was some muttering about whether or not the crank shaft was actually at fault but in the end all was declared ok. Arturo had to run off and collect his daughter from the airport and while he was gone Robin succumbed to the virus, throwing up and trying to grab a wee nap before Arturo returned. On his return we upanchored and motored around the bay for 3/4 hour and finally everyone decided all was in order. So we dropped him back at the docks, lifted the dinghy, stowed everything in sight, lifted the anchor and headed on out. It was 7pm and we had 240nm to traverse and there was wind to be had so we took advantage of it. Michelle isn´t feeling too bad so she and Mel are going to cover the night shift tonight and give Robin a chance to rest up.
Huatulco
Thursday March 20, 2008
The passage down to Huatulco too 3 nights and 3 days. Other than a few pods of dolphins, an humungous school of jellyfish and a few eels, a few thousand turtles and a wee bit of birdlife it was a quiet trip down. We passed by a small fishing village on the shore and through the binoculars it could have been a village straight out of the South Pacific with it´s thatched roofs and gorgeous white sand beach. We had alternating glassy seas, no wind then wind and 5 foot swells, with enormous breaking waves on the seemingly endless beaches. The hardest sail was coming into Huatulco itself where we saw about a 2 knot current against us with quite significant swell and the wind behind us. We were planning on spending a couple of days in the little bays around Huatulco but the swell was so big we couldn´t decide whether or not to go in and explore and finally we settled on heading to the main bay of Huatulco where Southern Bell was anchored. We motored into the anchorage to a warm shout of hello from Tao 8 and had the hook down by about 5:30pm. The girls decided they really wanted to go ashore and had the dinghy in the water in record time. Robin decided bed looked infinitely more appealing and begged off. Whimp!
Sunday March 23, 2008
The last few days we´ve spent alternating between doing chores and hanging out with fellow cruisers. Huatulco is a very pretty place with quite a different feel to it. Apparently Italians arrived here some time back and you can definitely see the influence in building style, cobblestone paths, lots of parks and plants intermingled with palapa roofs. The darsena is extremely well organized with pangas and a few large touring cats lined up bow to stern along every inch of the walls circling the marina. Everything is clean and everyone friendly. It was quite a welcome change after Acapulco. In the middle of the shady plaza is a little kiosk which roasts it´s own coffee and quickly became one of our favorite haunts.
Friday afternoon we spent time with George, Melinda and Joshua off Southern Bell as they will be leaving tomorrow. They have a very narrow window of just 2 days to get across the Tehuantepec which is way too narrow for us so we´re waiting this one out. George took us over towards the marina area, we checked out the local resort which has a couple of swimming pools, great food and free internet access. Then we continued on to a lovely bar where we had a couple of refreshing ales, hiked over to the marina and checked the lay of the land then walked back to a hamburger place which had cheap beers and great food. It´s the first place in Mexico that we´ve honestly seen a real different offering of cuisine. Next door they had a fondue restaurant, downtown we saw Chinese restaurants, Sushi Restaurnts, Italian Restaurants. It was nice to have variety again. Saturday we spent doing a few more chores then Mel and Michelle hiked back over to the marina Saturday night to spend some RnR with a few cruisers there. Robin still wasn´t feeling 100% so he decided to have a quiet night on the boat minus chattering females. The evening was really enjoyable especially when a few of the cruisers broke out the musical instruments and an impromptu jam session evolved. We had the fiddle, spanish guitar and bass guitar and Michelle sang, and others sang and it was amazing the varied talent of everyone. Robin really did miss a treat even if he enjoyed his peace and quiet.
Today we spent relaxing at the beach resort. We finally managed to get all our email and Michelle wrote a little more on the logs. She held out on posting it in case Robin got a bee in his bonnet and decided to add his few cents worth but don´t you all go holding your breath on that one :). Afterwards we caught a taxi into downtown area and attempted the sushi restaurant. Well of course we have no idea why we bothered as we´ve come from the sushi capital of the world - California. The was definitely nothing to write home about so on that note today´s logs are at an end.
Monday March 24, 2008.
We have decided or the weather has decided that Thursday looks like the day to start our epic journey across the Tehuantepec. We have read and heard so much about this dreaded bay that we really have no idea what to expect or maybe we have too many ideas on what to expect. Basically the winds go something like this. There´s a gap in the mountains that flows from the Gulf of Mexico into Bahia de Tehuantepec and as the wind is funnelled through it intensifies and creates a shotgun blast of wind originating from the 30-mile wide oepning on the Pacific side, and spreads out in a cone shape as it moves offshore. If the wind is 20 knots on the Atlantic side it can be up to 3 times stronger on the Pacific side so you end up with 60knot gale force winds. The most dangerous aspect is the extremely steep seas that develop which can rapidly build to 10 or 15 feet at 5 to 6 seconds. These waves combined with the wind push even large ships hundreds of miles offshore and into an area with more fetch and even larger waves. So after reading all this and listening to all the cruisers stories, we figure we´ll just hope for the best and try and pick the calmest conditions and hug the shore line even those it´s an extra 55 miles around the bay. The theory is that hugging the shoreline keeps you out of the worst of the waves as they don´t get a chance to build in close to shore. Anyway by the looks of things we have a 5 day weather window starting Thursday which we will take advantage of. A weather window means you will only get winds to 15knots unless something unforseen happens over on the Atlantic side.
So the problem with when to leave solved, we decided to begin the process of checking out of Mexico. Everyone said it takes two days so Michelle figured she´d start today which means the process will be done tomorrow, we can leave and anchor in one of the bays further down the coast to scrub the keel on Wednesday and then head to Salina Cruz, the home of the gap winds on Thursday. Of course Michelle just can´t be like everyone else and she gets done with everything in one day. The process of checking out involves going to the Port Captain, filling out mega paperwork, collecting a form, going to the bank, paying the exit fees which were 18 dollars, going back to the Port Captain, getting the forms which need to be stamped by 2 more official bodies, going to Immigration, getting a stamp on said forms, catching a taxi 18km to the Airport, getting a stamp from customs who are apparently supposed to come and inspect your boat but being Australian they said thanks for coming see ya later, then heading back to the Port Captain via taxi, handing in stamped piece of paper of which the duplicates have disappeared in the 2 previous stops, and then being told to come back in 20 minutes for the official piece of paper which declares you have left. You have to declare which county and the name of the port you´re going to next although you don´t necessarily have to go there, and this is all printed up on a very pretty exit paper called a Zarpe. If you´re exhausted reading that imagine how Michelle felt. It only took 6 hours and apparently that´s a record. After that it was off to the supermarket to grab some food and the hardware store for Robin who always seems to need something else that he doesn´t have.
We had been invited over to Tao 8 tonight for drinks and snacks and it was good to finally be able to relax. It´s always great to catch up with Larry and Angie. They are always a great resource for outlandish yarns as well as helpful advice. We hope to catch them again somewhere further along in our travels.
Tuesday March 25, 2008
We were going to head on out to a bay today. We up anchored and headed out of our anchorage and looked out to sea about half a mile and went wow look at those waves. As we crawled out towards the point we saw those little white soldiers marching our way and we figured we don´t need to do this today. So we turned around and motored back into our anchorage. We picked a different spot this time which was more in the sand with better holding. The bottom here has scattered rock and coral and a deep trench runs down beside the piers where the cruiseships dock. Right along the trench is shallower than the rest of the anchorage so one can only assume they dug out the trench and stuck the diggings up over the edge. We couldn´t get a hold at first so finally we tossed the anchor over the side into the deep trench and backed back so it grabbed up and over the ledge. This worked perfectly and would continue to do so as long as the wind held in the same direction. The only problem was the noise of the chain grating back and forth across the rock. It was annoying and then it was more annoying and then... yes you get the picture. So tonight we at least get a restful sleep. Larry and Angie saw us head back in and decided to stay put themselves so we all gathered on Warrior for supper, Michelle cooking one of her famous curries. Maybe tomorrow the wind will die down a bit. We got to see just how brisk things can get in a mild Tuhantepecker as the winds are called.
An epic journey
Wednesday March 26, 2008
We had just planned on heading down to Conejos Bay, the last of the string of bays in this area to clean the keel and get ourselves ready for crossing the Tpec. We crawled in slowly not having a very good official chart for this area, just a couple of hand drawn maps. We decided to toss the dinghy overboard and sound out the bay before we took Warrior in as we just weren´t sure enough of the rock positions or depth. Robin sounded out the entire anchorage and picked out a great possie for us to sit in for a couple of hours although we weren´t happy about spending the night here. We cleaned the keel, got the boat organized, put the dinghy back on board, check the wind and wave conditions and shrugged at each other and went, well looks like things are calming down so let´s just head to Salina Cruz. So that´s what we did. Just like that. There´s just no telling what Aussies will do next.
We had a great sail following the shoreline although we did have a bit of work cut out for us when the wind died a couple of times when we got protection from various points. If we coasted too far offshore though we suddenly found ourselves in a 6 foot messy swell so we had to figure it just right to stay in the wind but out of the waves. This continued to work well as we worked our way ever closer to that larger-than-life gap which we were half dreading. We continued plodding along thusly and figured we´d get into Salina Cruz and drop the hook off the beach around midnight and get a good nights sleep before actually crossing the gap in the morning. 11 pm suddenly saw us fighting current and wind right on our nose. Robin worked hard tacking back and forth until finally he said we just have to head across the bay in order to be able to tack back into the anchorage. We noticed on the charts these odd mooring lights as well which we needed to miss and were having trouble spotting against the thousands of lights onshore for the city of Salina Cruz. Huge tankers were anchored outside the port which we also needed to miss. Michelle saw a shooting star and asked please could we have a favorable wind shift. Funnily enough our last tack out across the bay saw the wind continue to come around to the point we sailed right into the anchorage. The waves breaking on the shore were huge and we crept in to the 40 foot line outside the breaking swell and dropped the hook. The noise was unbelievable. We laid out plenty of chain put the snubber on and sat admiring the view for 20 mins. It was 2am. So much for our midnight arrival and good nights sleep. Oh well a few hours is better than nothing.
Thusday March 27, 2008
We got up this morning around 6pm, scoffed some breakfast, raised the mainsail and upanchored. Just as the hook had let go Robin yelled we have company coming and Michelle turned round to see a Navy skiff complete with armed personnel careening towards us at a very fast rate of knots. We sighed and figured we´d have to go through and inspection so let the sail flog a little so we wouldn´t take off. Funnily enough they get to a point where they can see our flag and stop pointing and suddenly slowed and veered off. Then they got curious and kind of did a tour around both sides of the boat and waved and then off they went. Guess Aussies aren´t the flavor of the month. So we raised the staysail, trimmed the sails and off we went to begin the crossing of the dreaded Tehuantepec. We had some good steady wind blowing about 25knots but with the main reefed and the staysail set, Warrior just ate that for breakfast. We still had the long period swell with us from yesterday which was about 5 feet from the SW and these were breaking with enormous force on the beaches. We were hoping to be able to stop and check out one of the lagoons along the way but with this swell it won´t be an option. There are sandbars that we have to be careful of along this stretch of coast, Boca de San Francisco shoal and Boca de Tonala Shoal. Other than that there are zero obstacles in our path and we can stay as close as 1/4 mile off the beach if we have to. Thankfully today we don´t need to be anywhere near that close.
The 25knot wind lasted until we were past the first sand bar, around 11:30am. The wind died down around 11pm that night until we were doing just 3.5 knots, and then died altogether by midnight. Michelle came on watch at 4:00am and saw that we´d covered 7.5nm in the last 5 hours. She took one look at the wind conditions and turned on the engine. At this rate it would take us a week to cross the Tehuantepec. What were they thinking? Well they said they were trying to keep it quiet so she could sleep. Oops !
Friday March 28, 2008
9am this morning saw us still motoring on absolutely glassy seas although the swell was still with us. It was such a long period swell, 16 seconds today that you hardly saw the lift and fall from it. We were only 90 miles from Puerto Madero which marks the end of the Tehuantepec crossing. It was going to be a very passive crossing. We were thankful but could have wished for a little more wind. We decided since not much was happening we´d stop the boat and go for a swim. Two of us at a time got in the water and swam in the clearest water we´ve seen by far. It was so refreshing and then we all showered on the bow first in salt water with shampoo and condition then a fresh water rinse. We felt wonderful. See it really is all about the simple pleasures in life. The wind finally decided to get out of bed around midday and we had a wonderful afternoons sail. We were averaging 7.5 knots undersail. We caught a Dorado today so Robin cooked fish for lunch. It´s been so long since we had Dorado we were drooling. Fresh fish. Nothing better. Mel nearly fell out of her chair to discover Robin can cook. First time she´s seen him in the galley. She has been our chief cook and bottle wash since arriving at the boat and she´s been such an amazing help. Last night we´d cruised about 15miles offshore and today decided we´d stay closer to shore and see if there was any offshore breeze overnight. Our gamble paid off and as the afternoon onshore breeze died off the offshore breeze picked up and we were able to sail the entire night. It wasn´t fast, sometimes only 2.5knots but at least we were moving foreward without the noise of the dredged engine. Dotted along this shore line is the odd village, the lights shining at night. We have seen a few trawlers in the distance but nothing came remotely close to us, putting a dent in yet another cruiser horror story aobut trawlers stalking them. The odd turtle has swam by, our only real company so far.
Puerto Madero
Saturday March 29, 2008
We arrived in Puerto Madero this morning after sailing all night again for the second night in a row. We are quite happy as everyone else who cut straight across from Huatulco to Guatemala has been motoring non stop with zero wind. Michelle checks in on the SSB Radio each morning and rubs it in slightly since most of the cruisers who get this far really do hate motoring. As we drew close to Puerto Madero, Michelle calls the Port Captain and says we are a sailing boat from Australia on our way to Guatemala and can we enter the port to take on diesel. All this she says in Spanish which was a major accomplishment. Anyway he says come on in, but stop by so he can check our paperwork. Ok no problem so we drop the sails, motor on in, drop the hook outside his office and Michelle goes ashore with all the necessary documentation. Then he says, I´m sorry but the Pemex Station is closed on Saturdays and the office that takes the tax is closed. You would have to stay till Monday and because you´will be here till Monday you will have to recheck into and back out of the country and you will have to use an agent. Like uh? But sir why didn´t you just say the fuel depot was closed. Ok we will just push on without fuel. No problem we are a sailboat we´ll sail. Then he says ok but you will need to wait to get a Navy inspection before leaving then you can go. 3 hours later the Navy finally arrives after Robin starts to sound threatening on the radio. They arrive complete with dog, are very courteous, go through the paper work, dog sniffs the boat, three young ones corner Melissa out the back and have a grand old chat and then it´s all smiles and we can leave. We finally got back out of there at midday. Moral to the story, don´t bother with Puerto Madero, it´s just not worth the effort.
By 3pm this afternoon we had crossed the border into Guatemala. We shouted, hollered, bells were run and then we discovered well maybe it´s another mile but who cares we´re close right! There wasn´t a Navy picket in sight but there was supposed to be and other cruisers following us later said it they were stopped but we managed to at least escape that one. We have actually decided not to stop in Puerto Quetzal, Guatemala because of the expense. They want US 150 dollars to check in and out of the country and it´s compulsory to put your boat in the Marina. The marina wants US2 dollars per foot per day for dock fees. US100 dollars per day ? Do you think we´re insane. No thanks we can go to El Salvador where it costs us US10 dollars to check into the country and US5 dollars per day for a mooring ball or you can anchor for free. No brainer there.
Sunday March 30, 2008
We dodged rain squalls and lightening overnight which at least kept us awake and occupied. By 1pm today we were waving at Puerto Quetzal. It was just 67nm to Acajutla which is in El Salvador and then another 67 to Bahia del Sol our ultimate destination. We saw a pod of 4 whales today which gave us a few minutes excitement and we stopped to have a swim and clean the bottom of the keel in the still amazingly clear water. Then this afternoon there were a flock of birds flying round and round the boat, flying up in front of the jib and out and round again to do the same thing. We guess they were getting a lift of the jib and having a ton of fun. We finally realized, being a little slow these days, that we´d never seen them before and quickly grabbed the birdbook. They turned out to be Audubon Shearwaters. Wow the guide book said they were difficult to observe up close as they weren´t the type of bird to follow boats looking for food like the other sea birds. They didn´t count on this group being so bored that playing with a jib sail allowed us to observe them for a few hours up close and personal. Michelle and her birds! And to top off the day we caught another Dorado. Life is good.
Bahia Jaltepeque, El Salvador
Monday March 31, 2008
The theme of todays conversation is squalls. Robin takes first watch which usually lasts till 11pm. Then Melissa takes second watch through till 2 or 3am then Michelle takes last watch through to daylight where she then plonks down in front of the SSB radio and checks the weather, logs into the various radio nets, listens to the gossip then falls into a coma. Last night things were a little different. Robin and Melissa worked double shifts dodging numerous squalls, one which developed right over there heads. Melissa watched it form as a wee green dot on the radar then grow to a full blown rain squall 6nm long within 15mins. She almost couldn´t believe what they were seeing. Midnight saw them clearing Punta Rememdios the last Point before heading to our waypoint off the entrance to Bahia del Sol. By the time Michelle got up she didn´t see what all the fuss had been about. Rain squalls. The sky was full of stars. Wind? What wind? 4:34am she started the engine. The last shift in the morning is usually the hardest as there´s normally 5 wind changes and you´re constantly tweaking sails this way and that way. The last couple of mornings there´s been no wind to tweak sails with. Turn on engine and do exercises. Ok what else is there to do let´s see.... boring as. The other shift had worked so hard it was almost comical. 8:30am saw us tacking back into shore to keep sight of the gorgeous mountains we were passing by. 11:41am we caught 2 black skipjacks which the fishing book said were excellent eating. The flesh is very dark red but the flavor and texture were truly supurb. Robin declares them some of the best eating he has ever had. By 1pm we were tacking back out away from the coast so as to make one last tack back into the anchorage. The wind had come around right from the direction we needed to go, naturally, which necessitated the two extra tacks. Nevertheless it was great sailing, healed at 25degrees, Warrior taking off at almost 8knots. We finally arrived outside Bahia Jaltepeque aka Bahia del Sol (the name of the resort). The anchorage outside the bar is something every cruiser´s guide in Mexico tells you not to anchor in. Suddenly you get to El Salvador and every cruiser´s guide says it´s more than fine to anchor in 5 foot swells. We had to laugh. There were already 3 boats anchored when we arrived and we made the fourth. The swells were significant and it was interesting to note the 3 of us who had fin keels weren´t pitching nearly as bad as the boat with the full keel. They were doing a serious dance and actually nose diving into the swell. It couldn´t have been comfortable and this was going to be an overnight stay before we can cross the bar into the river estuary. Tomorrow will be interesting as we need to navigate a sand bar with breaking waves. We´re a little nervous but it´s also exciting to be stretching our experience.