Bahia Jaltepeque, El Salvador
Tuesday April 1, 2008
Bar crossing day. April Fool´s Day. Great timing! Bahia Jaltapeque is really a complex river estuary system and not a bay but well who´s to argue with the natives. There are breakers 1/4 mile offshore which mark the beginning of the shoal and Volcan San Vicente rises 7,157 feet 18 miles in the distance. Because the shoal shifts continually you need a pilot service to cross and preferably the tide needs to be high and slack. This entrance can range from flat calm to 15foot standing waves. We are praying for flat calm. We won´t get it but it doesn´t look too bad. There´s about a 5foot swell as we prepare the boat. Our pilot arrives at 10:30am and starts taking the four sailboats through one at a time. It takes about 10minutes to navigate the bar and slip into the river estuary. It´s not quite at the top of the tide but we´re going last to make sure there´s plenty of water under the keel.
The first boat to enter is Wintertrek and it was a pretty good run. They skewed around a little but otherwise all went well. Yohela went next, and although they had a few breaking waves it was a cynch. Rogla followed and they had the best run of all. They had the absolute perfect wave set where all was calm. Now our turn. Hmm should we wait just a bit longer Robin, says Michelle. I´m not sure there´s quite enough water yet. We´ll be fine he says. Ok. So off we go. The wave set definitely wasn´t the easiest and the panga even had to race out of the way of getting swamped. We did touch bottom briefly, twice, but without any real drama. Waves broke around us but Robin kept the boat straight. Each wave picked us up and carried us foreward and we went surfing on in. Fun fun. Wobbly legs were definitely along for the ride though and it was the quietest we´d ever heard Mel. She was too scared to speak lol.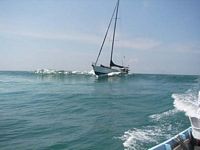 Warrior goes surfing
Bahia del Sol is the name of the resort here and they have docks, mooring balls, showers, swimming pools, bars, restaurant, quite civilized really. We were instructed to come up to the dock and tie up and immigration and the navy would be right along to collect our ship documentation, passports, US10 dollars each entry fee and after that was done we were free to go ashore. Now that´s service! We all congregated at the bar at the end of the docks, Miguel welcomed us and gave us all a free beer and it was just good to have arrived somewhere different. We registered our credit card at the front desk which effectively means we can just bill everything to the card without carrying around cash... no doubt a trap but a very convenient one as there are no banks anywhere around here. Beers are $1 each. The currency here is US dollars. Can´t beat beer for a buck. There´s also internet but it´s not free. Along the estuary are dotted various other eating establishments including the much touted Pupusarias. Everyone decided that a pupusaria up the road would be the place to gather for dinner and so that´s what we did around 5pm. A pupusa is either a masa ball or rice ball, stuffed with a filling which can range from simply cheese, beans and cheese, chicken, pork, prawns, vegetables, a mixture of some or all of the above depending on the area of El Salvador you are in. Once stuffed, they are squashed flat into the shape of roughly a thick tortilla and then quickly fried on a griddle. These are then served with a cabbage mixture which closely resembles sourkraut and a spicey tomato sauce. The choice of fillings in this area were just plain cheese, cheese and beans, or pork fat, cheese and beans called reveultos. Each pupusa cost a whopping 30cents. 3 pupusas and you were completely stuffed. Michelle made it through 2. The beer of El Salvador is called Pilsener but it´s a lager. Not confusing at all after your second beer.
All the establishments along the river estuary have their own little boarding docks, often tin-roofed covered platforms with stairs leading down to the water. The island in the center of the estuary, (although to us it looks like the other side of the river), has a community of pleasant sulf-sufficient people. Along the south side is a walking trail to the next shore which we must explore. The closest grocery store is 4miles up the river estuary via a convoluted set of waypoint directions and which can only be navigated at a reasonably high tide or you get stuck in the shallows. The next closest town is Zacatecalouca where a bank can be found, or into San Salvador itself. So for the first time since the top end of the Sea of Cortez we find ourselves fairly, though not entirely, isolated other than for the local hotel and eateries. It´s a wonderful feeling.
Monday April 7, 2008
We have had a semi-relaxing week. We try to do one chore a day, then we get to swim in the pool for a bit and either cook dinner on the boat using up the last of our provisions or we grab a bite to eat ashore. Mel has been stuffing herself on Pupusas, she just can´t seem to get enough of them. Robin has managed to do the limber plugs, fit some more fans throughout the boat, as we are definitely in tropical weather now, fiddled with the engine some more, the girls did the laundry, cleaned some more mould out of the forepeak where the garage holds our numerous sails, ropes, fenders, cleaning supplies etc etc. We won´t bore you with too many of the details. We erected both canopies for the first time and the boat is cool and looking very homely at the moment.
Mel has decided this is as far as she is coming as it´s going to cost her too much to get back to the States in July to do a course she wants to do. So there´s a group of young people who are heading back up the coast and she will be travelling with them to Mazatlan, then on to La Paz for a bit before heading back to the States. Time flies so quickly it seems no time at all since she arrived. Michelle is seriously pouting but Robin no doubt will be glad to gain his sanity back from having a boat full of yacking women not to mention clothes won´t be enforced anymore. Men! It will definitely be quiet without Mel around.
We are going to head out on Wednesday to do a trip back to Guatemala. We have been trying to rent a car but it´s almost impossible to get insurance or to gain permission to take a car from El Salvador into Guatemala so we´ve given up the idea and will bus it. Antigua will be our first stop, a city in the middle of 3 volcanoes and then we will decide our itinerary from there. We have our trusty Lonely Planet guide with us so no doubt we´ll find some mischief to get into. We won´t be taking the computers with us so will be out of touch until we get back. The boat is on a mooring ball which will hopefully be safe enough in the 3 to 5 knot current that roars through here and fellow cruisers will be keeping an eye on her. It´s a shame Mel couldn´t hang around another couple of weeks to enjoy this side trip with us but the opportunity to travel back with a group of people rather than on her own was too good to pass up.
Acajutla, El Salvador
Wednesday April 9, 2008
We said our lat farewells to Melissa and left Bahia del Sol around 11am on the local chicken bus and this would be our mode of transport for the next two days. Our first local bus took us to Los Arcos, about 3/4 of an hours ride, where we got off, climbed up the embankment to the overpass and caught the next bus to Comalapa. Here we climbed up another embankment to the overpass above and hopped a ride to La Libertad. The buses were full of locals bearing baskets of fish, machedes, axes, market items, school kids going home at midday, and everyday life unfolded around us as we wended our way up the coast.
At La Libertad we walked down to the waterfront and grabbed a bit to eat at a restaurant overlooking a very rocky black stretch of beach. The proprietor was quite substantial and jocular and after entertaining us during lunch directed us to catch bus 107 which would carry us towards Acajutla. This of course turned out to be bus 192.. close I guess. Bus 192 took us all the way to the turnoff to Teocalute where we jumped off and sat on a couple of rocks under the shady trees beside the road for a couple of hours waiting for the next connection. A couple of local Salvadorian surfers kept us company and tried as best he could to regale us with the local gossip. Communication was difficult mainly due to the different dialect which Michelle was having trouble with. The words all seem slurred together compared to Mexican Spanish but one of the boys really persevered bless his heart. We bought us all some refreshing ales from the local tienda and time disappeared. We caught the next bus around 3:30pm in the afternoon and rounded the bend at the top of the hill where there sitting on the cliff overlooking the ocean was a great little restaurant. If only we´d known!
The route followed the coast where we had alternate glimpses of beaches, coves, cliffs, farmland, sugarcane crops, tropical trees, bananas, coconut palms, and scrub similar to North Queensland, Australia minus the Eucalypts. And then right after commenting on this fact, there was some Eucaplypts as well. We could have almost been home in Aus.
Our last bus for today dropped us on the highway that ran between Sonsonate and Acajutla where we caught our last mode of transport for the day, a minivan crammed to the gills with warm bodies, the rest of the way into town. A number of locals on the buses, and the young boys we spent a couple of hours with on the side of the road, had mentioned the Acajutla wasn´t too safe especially after dark and again on the last leg we sat next to an elderly lady who asked us where we were going. She then immediately spoke to the "conductor" who, at our destination, jumped off the bus with us and escorted us to a hotel overlooking the beach area. He advised we eat at the restaurant and stay put for the evening and don´t go walkabout till the morning. We figured not many tourists come here as we were quite the sideshow walking through town and since the locals were taking such care of us we´d better take their words to heart. We stayed put in the hotel/restaurant for the evening even though we were itching to go explore.
Antigua, Gautemala
Thursday Arpil 10, 2008
We did a quick tour of Acajutla and then caught an early bus to Kilo, then another direct bus to the "Frontera", the Guatemalan border. At the checkpoint the officers corrected a small error in our passports then smiled and waved us through. We began walking across the bridge and right below us was a bullock cart, the driver urging the cattle to wade up the river. The Guatemalan border police drew up along side us and offered us a lift in the back of their pickup which turned out to be a good deed as it was a good ways to cross noman´s land. They dropped us off where the buses were parked and directed us to a first class coach but we pointed to the old yellow school bus and said way more fun this way. They just smiled and waved us goodbye.
There were a few anxious moments when the bus wouldn´t start though. 15 minutes later everyone gave up trying to fix whatever was wrong and just push-started it. All the bus drivers, both in El Salvador and Guatemala work with a partner who not only collects the money but shouts out for business, watches out for passengers helping them on and off the bus with their goods, whistles for the driver to get going, tosses luggage etc up on the roof, climbs up and over and back down into the front door of the bus all while the bus is tearing down the road at 60 kph. It´s like comedy central watching them work. Vendors clammer through the bus when it stops selling papusas, fried chicken, fruit, juice, drinks on ice, candies, nuts, all manner of things. They all yell together and vie for a sale which can make it quite noisy and boisterous.
The 2nd last bus of the day dropped us at Escuintla where we had a massive 2 minute wait and were off again on the last leg of the journey to Antigua. The road climbed it´s way through mountain passes and the temperature dropped dramatically as we left the hot humid coastal area.
We found a hotel with little difficulty, using our trusty lonely planet guide, dropped off our gear and were back out on the streets. Our aim was to find a bar mentioned in the tour guide which was on a rooftop which allowed unhindered views of the 3 volcanoes surrounding Antigua. We got there in time to see one poking it´s head out through the clouds, the other two lost in obscurity. Robin rounded out the day by realizing that he´d lost both his reading glasses and his Aussie Akubra hat. He needs looking after.. constantly!
Friday April 11, 2008
Today´s highlight was a trip to Pacaya an active volcano. We crammed into a minibus, all 15 of us including the driver and endured a 90-minute drive to the volcano site with our knees wrapped around our tonsils. From the drop off point it was then a three-kilometer hike to the current lava flow which was just a month old. Michelle rode a horse up the extremely steep incline but Robin decided he needed to stretch his legs and proved yet again he´s somehow related to a mountain goat, beating even the horses to the top. We passed by trees laden with bromiliads and orchids and navigated past an enormous old lava flow which was just two years old. Reaching the top of a plateau we arrived at the current site of the lava flow, still aprox 1,000 feet below the steaming summit. It was too dangerous to climb higher but there was plenty to see right here.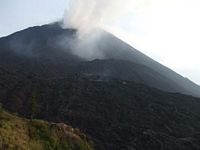 We were soon lead out across the lava field to where the lava was actually flowing. The heat was as intense as a blast furnace. As we stood there watching, the lava river moved majestically down the valley, crackling like crumpled tin foil. There were a few spots of cold rain, a striking contrast. We played around on the lava field for about 45mins and then it was time to head back down. By now it was almost completely dark and the decent was done via flashlight, and on foot.
Saturday April 12, 2008
We slowly got moving this morning, organized a rental car for the coming week, then grabbed a coffee and made our way to breakfast. The bread in Antigua is wonderful, you can really see the German influence, and Robin has been stuffing himself since he´s so fed up with tortillas.
After breakfast we stumbled upon a very well stocked bookshop and only managed to escape after splurging on road maps, spanish books, more tourist guides for South America and a sudoku book to keep Robin amused and out of trouble. We headed back to the hotel for a couple of hours rest then it was back out to educate ourselves a little about the city of Antigua. Founded in 1543 it was the capital for 233 years until an earthquake in 1773 did extensive damage to the city. They slowly rebuilt the town keeping much of the traditional character and it became a World Heritage Site in 1979. Armed with this info we set out and investigated a melange of old churches, museums, ruins, and the odd pub for refreshment.
San Pedro de Laguna, Guatemala
Sunday 13th April, 2008
Picked up the rental car first thing this morning, scoffed some brekkie quickly and we were off. Found our way out of town and onto CA-1 with almost no effort. We realized 30 minutes later we´d forgotten to go to the bank so a quick check on the map had us attempting to find an ATM in Chimaltenango. Oh my god it reminded one of China on it´s busiest market day. There were people everywhere, with advertising signs and shops crammed into tiny cobblestone streets wide enough for one way traffic only. The crowds kind of parted and we reabsorbed us the car inched its way through. After failing to find a working ATM machine after 4 attempts we finally gave up and decided to push on to Panajachel, a small town bordering Lago Atitlan.
Highway 1 to Los Encuentros junction was an intriguing mixture of farmland, vegetable paddies, rain forest. We drove through soaring mountains covered in cloudy mist, a sprinkle of rain, then plunged down to Lake level at Panajachel and the sun shining out over the water. Lago Atitlán is a collapsed volacanic cone (caldera) filled with shimmering waters to a depth of 320m. The lake stretches over 128sq km and three towering volcanoes loom over the landscape: Volcán Tolimán (3158m), Volcán Atitlán (3537m) and Volcán San Pedro (3020m). We found ourselves, in the midst of this incredible vista, in probably one of the noisiest restaurants along the waterfront with blaring music coming from the tour boats and nonstop peddlars swinging by to beg you to buy something. It seemed like chaos. After downing a quick lunch we headed around the lake alternately climbing and descending as we wound our way towards San Pedro. We passed adobe houses with roofs of thatch or sometimes tin, with chickens cackling, dogs barking and villagers (almost always just the women and girls) dressed in beautiful native dress. After passing through San Lucas Tolimán we found ourselves on 8km of dirt road but everyone was super friendly and graders were working on getting the road ready for paving. The roads have been in great repair for the most part.
We arrived in San Pedro de Laguna around 4pm and found a hotel which would take the car into the yard. It was important not to leave it out on the street if possible because we´d been told insignias and radios amongst other things go missing. The hotel room was basic but clean which is all that mattered and we dumped our gear and headed on out. The little town itself turned out to be very bohemian. We found out quite a significant alternative lifestyle group hole up here. There are also a few language schools which bring in foreigners as well and no doubt augments the local economy. So instead of finding a little Guatemalan village in the middle of nowhere, we find a mishmash of foreign people and funky cafes in garden settings. We sat sipping Mojitos in a leafy garden courtyard on wooden furniture with scatter cushions, candles in bottles for lighting, french lounge music playing from the stereo, and snippets of every english dialect imaginable floating in the air. Michelle finally got to show Robin what a Monsterio Delicio was as one was growing right there in the garden complete with fruit on it. Our next quest is to find a ripe one for him to try.
Fuentes Georgina, Guatemala
Monday 14th April, 2008
The bed in the hotel room turned out to be as hard as cement but it was the pillow that took the prize. It was like a bundle of hesion scraps all scrunched up in a sack. However the room did only cost us $8.00 US so one can´t complain too loudly. We went for a very early morning walk and there was quite a stiff breeze on the lake, creating wind waves of about 15knots. The fishermen in their tiny canoes were really having a hard time of it. It was quite cold this morning but there was a coupe of Mayan women already down at the lake doing their washing standing thigh deep in the water. Robin shivered for them. We found the remains of coffee husks piled up around the town and they have a particular smell, much like manure but more sour.
We were back on the road around 9am this morning and slowly wound our way up and out of the caldera with more magnificient views interspersed with areas of coffee plants and the occasional glimpse way down the mountain side of the lake. We seemed to climb up out of the caldera for eons and finally emerged at the top and stopped to have a rest and a chat with three local men who had the best seats in the house, perched on a grassy mound overlooking Lago Atitlán.
We made our way back to CA-1 where roadworks held us up for about 30minutes. We missed the turnoff for Zunil that we wanted which would have had us bypassing Xela so we found ourselves navigating through the middle of an incredibly busy city with no road signs. We only got lost once and a friendly policeman told us we were about as lost as we could get. We backtracked and found our way immediately so we really weren´t too lost afterall. We made it to Zunil then consulted the lonely planet guide only to really end up confused and lost this time. While this travel guide is good for backpackers, it makes things difficult by car. We finally found the turn off we were looking for after going in circles for 15minutes and driving 11kms out of our way and having to backtrack again. We drove the next 8kms through wonderful market gardens in tiny plots all beautifully tended and extremely tidy.
After organizing a log cabin for the night we made our way to the pools and they were just what the doctor ordered. Water was cascading down a limestone cliff and out from a small cave and steam was rising. The water was wonderfully HOT! and we whiled away a couple of hours around the pools then started to think about dinner. We´d stopped earlier in the day and grabbed some meat, potatoes, onions, tomatoes, avocado and garlic and tin foil and when we arrived we´d ordered in an extra stack of wood for the fireplace. We got the fire started, wrapped all the food in individual foil packets and cooked it over the hot coals. We cracked a bottle of red which we´d procured in Antigua and settled in for a very relaxed evening. Well actually the cracking of the red took a bit of effort as we´d forgotten a cork screw. As it was a plastic cork our usual trick of shoving the cork in the bottle with the car keys didn´t work. We couldn´t budge that cork for anything. Finally we had to get out the small travel knife we had with us and pierce the cork to let air in. Robin worked on that cork for 15 minutes and Michelle would have admitted defeat had it been any other person. No way Robin was going to miss out on his wine though! It was a very chilly evening so the fire was very welcome and we actually burned the entire stack of wood over the course of the night. There were just enough coals left in the early morning to warm your hands on. We felt kind of guilty to have burnt so much wood but it was either that or get very very cold. Just before we´d turned out the lights we had one last surprise to top off the evening. An pretty significant earthquake which lasted a good 30 seconds gave everything a pretty decent shake. We had no way of really knowing how strong it was but we just hoped it hadn´t caused any major damage anywhere.
| | |
| --- | --- |
| | |
Nebaj, Guatemala
Tuesday April 15, 2008
We crawled out of bed slowly this morning as it was quite cool, packed up the car and drove a wee bit down the road to find a patch of sun in which to break our fast. We found a picturesque spot overlooking a vegetable farm and feasted on rockmelon.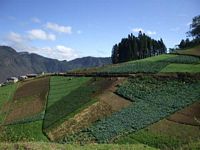 We wound our way slowly back to CA-1 and arrived at Huehuetenango, 90km to the north around 12:30. The center of Huehue (pronounced whe-whe) was another one of those cities which is an insane medly of mass humanity, cars, streets wide enough for 1 1/2 cars max, and a one way street system designed to never let you leave. We found a parking yard for the car by sheer luck and left it to the caretaker to do as he would with it, consulted our trusty lonely planet guide and headed for a spot where we could hopefully procure that wonderful black stuff which makes you feel oh so good - that would be coffee. It´s odd how a country can grow so much coffee and yet not drink any of it and when they do it´s usually Nescafe instant caca which is imported.
We finally managed to wend our way out of Huehue through a massive traffic snarl and climbed towards Aguacatán where we found a much drier terrain than we´ve been seeing. Scraggly pine trees covered the high slopes. We traversed ridge after ridge catching glimpses of fertile valleys way below us. We came down into one valley and noticed the crystal clear water in the streams, a nice suprise. The Mayan´s traditional dress changed again in this area. We blew through Sacapulas and meandered up sadly deforested slopes. We turned off the main road and headed up into the highlands, destination Nebaj.
Nebaj is at an elevation of 1900m high among the Cuchumatanes Mountains and is home to yet another group of Mayans called the Ixil. There are three main villages up here, Nebaj, Chajul and Cotzal but we decided to just hit the first one as we didn´t want to have to backtrack too far. The scenery on the drive up was breathtaking, and the local people wear yet another different huipile (traditional dress). Handicrafts here are beautiful and one of the reasons we came was to see their beautifully hand done textiles. We located our hotel and again we got lucky as they brought the car inside their courtyard. We headed out for a walk and immediately stumbled upon the Artesenia building and thus idled away an hour looking at some exquisite handicrafts. Michelle ended up buying a traditional skirt and we plan on returning tomorrow to see if we can buy an item from each of the women. An elderly woman sat handweaving a beautiful shawl and was delighted to show us how it was done. She explained the entire process in detail in a very slow deliberate Spanish which was obviously not her first language but made it very easy for Michelle to understand. Next we trod through the very muddy market which was still in motion although showing signs of packing up, the vegetables looked fantastic, and chickens fresh, plump and smelling sweet. We´ve found it hard to buy chicken in Mexico which smelled like it was about to walk out the door and bury itself. We made our way finally to El Desanso, a cafe/bar/lounge where all the proceeds go to supplying the local lending library with boods for children and young adults.
Cobán, Guatemala
Wednesday April 16, 2008
We had some kind of ham and cheese croissant thingy for breakfast this morning which we´d bought yesterday and which really wasn´t very good and then went in search of coffee and failed miserably. After 30 minutes of trapsing around a dusty, noisy town we gave up and headed back to the Artesenia building. Yesterday they said they would open at 9am but it seems they are on Mexican time even in Guatemala because by 9:30 they still hadn´t arrived. Robin the ever patient one declared enough and headed back towards the hotel to prepare to leave. Michelle dawdled along behind slowly then ducked into a breadshop looking for supplies for his nib´s lunch when the woman behind the counter asked if she wasn´t cold. How could she possibly be walking around without a shawl. And she asked if she wanted one of the local shawls. It was beautifully woven and so a price was eventually haggled over and agreed upon whereby Michelle had to go back to the car to fetch some money. As she did this it occurred to her maybe the woman in the breadshop would enjoy seeing the shawl made by the Tarahumara Indians in Northern Mexico so she grabbed it and took it with her. Through a painstaking description Michelle finally managed to convey where it was from and suddenly grandma appeared from out back and another woman appeared through the front and they all started to inspect the shawl closely. They poured over the weave, discussed the colours then did what all women the world over do. They put it on and paraded around the shop asking each other how they looked. It was a ton of fun to watch them and participate in their enjoyment. The shawl from the Ixil won´t be worn as it´s way too heavy but will be used as a table runner.
After that we headed back the way we´d come winding our way back down the mountains to Usupatán. There wasn´t a straight stretch of road for miles. After Usupatán things got a little hairy. We climbed up a hill to be met with a dirt road and then immediately after massive excavation and road works. We had a 15min wait then were allowed to continue and it was a very interesting, slightly challenging in a non four-wheel drive vehicle, rough muddy road for the next 25kms to Cobán. The tiny villages and farming communities dotted the way with yet another change to the huipile, the skirts suddenly becoming full circle in style and so utterly different from the A-line dark red woven wool skirts of the Ixil.
We arrived in Cobán and had some difficulty locating the car rental agency where we needed to collect papers allowing us to take the car into El Salvador. We finally gave up and found our hotel of choice, installed ourselves in our room then went back to the reception desk to ask the location of the elusive car rental office. It turns out it was right there we were, we´d driven right passed it, not to mention there was an enormous advertising sign half a city block. Like how could we have missed it? We spoke to Jorge and oganized the paperwork to be delivered to the hotel as it wouldn´t be arriving till 4:30 today. Jorge regaled us with tales and pictures of his latest fishing expedition which took place on the river Usumacinta which forms the border between Guatemala and Mexico and runs into the Carribean. He caught three enormous Robolo, 18, 10 and 16lbs respectively. Robin would later order it for dinner and declared it truly delicious.
Walking back to towards the hotel we noticed a coffee processing plant and determined to come check it out tomorrow. We headed to a local bar, Bakátar, a couple of doors down from the hotel which seemed to have a Jewish influence. We had a couple of snacks with a true Meditteranean bent and washed it down with Moza´s, the dark beer of Guatemala. We spent a couple of hours reading about the area and working out our plan of attack for tomorrow, then headed back to the hotel restuarant to enjoy a bottle of red in front of a pot-belly stove. It´s still amazingly cool weather and we´ve been a little on the cold side for days now.
Thursday April 17, 2008
Fresh fruit and yoghurt for breakfast and one of the best cups of coffee we´ve found for a while right at the hotel. Can´t beat service like that. We wandered around the courtyard while sipping coffee looking at at least 40 different species of orchid all in flower. After that we headed on over to the Dieseldorff coffee processing plant and were given a brief history of the coffee industry in Guatemala, all given in Spanish with Michelle translating for Robin, and then a tour of the grounds which had a small plantation of its own. We were shown the entire process from growing, shucking, drying etc. The coffee here is harvested Nov, Dec, Jan and Feb then the entire plant is cut down to just a stalk. We´d not seen evidence of this in other coffee growing areas and indeed some of the plants in Lago Atitlán area were already beginning to flower so we´re not sure how widespread this practice is. We were a little confused about it but our guide insured us this is the way it´s done throughout Guatemala. We will check on the internet at some point when we get back to the boat. We got a tour of the machine the shells the beans, the huge vats where the beans are soaked, the enormous drying area which looks like half a soccer field of cement where the beans are spread out to dry. It was also interesting to note the different fruit trees they´d planted over the coffee plants for protection, and the red colored bushes planted to mark off each 25sqm of ground. They even had a cardamon tree, Michelle´s favorite spice.
Next we decided to visit an orchid sanctuary since Guatemala is world-renowned for it´s orchids. Even though we´d seen the orchids in the hotel we were totally unprepared for just how many orchids there were. The place we visited had over 400 species of orchid and apparently there are over 600 in Guatemala. A lot of the ones they showed us were very old (like 26 years for e.g.) and yet in excellent condition. We saw some of the tiniest orchids you could ever imagine. One was only half a centimeter high and was 15 years old. It´s flower is the tiniest microscopic dot and yet a complete flower. Apparently the smallest orchids were the hardest to grow and maintain. We didn´t quite catch why. A lot of these tiny orchids have the flower nestled under and attached to the leaf for protection. We toured a large portion of the plot with our guide patiently explaining and pointing out flowers we would surely have missed as until you look closely they just look like a string of dried grass or a twig. On inspection it´s a stalk of perfect little flowers. in addition to the hot house orchids and those outside there were hundreds of wild orchids growing in the towering trees and even all over the rooves of the hot houses. They were prolific. It was quite an education and we thoroughly enjoyed the time spent here.
After the orchid farm it was time to get moving again. It was 61km to our next destination but we knew we would have to travese a very winding, steep road. At the turnoff to Semuc Champey the dirt road began and a lot of the trip beyond Lanquin was on exceedingly steep, quite challenging sections of track wide enough for one car, where the wheels sat on cement tracks. You really didn´t want to fall off these as the ruts on either side were quite deep. Luckily we didn´t have to negotiate our way past too much oncoming traffic. We came upon two busy villages on the way up to Semuc which weren´t mentioned in the guides or marked on the map. It was a surprise to find ourselves crawling through the very busy one street towns. We finally made it to the hotel we had picked out for the night, El Portal, which was perched high on the side of an embankment overlooking the river Cahabón. We took one look and decided that was for us and dumped our belongings in the cabin and headed down the embankment for a swim. We put our feet in the water and nearly died of shock. The water was incredibly cold. Robin worked his way in over a 15min period and had finally become so numb he couldn´t feel anymore pain. The river was running quite strong and it was a challenge to swim in the current, and some places we just couldn´t manage against it. Michelle the brave lass decided the river bank was a much better spot and she sat dangling her feet in the water and let Robin try to beat the current. He failed. We sat watching a couple of local guys work shifting enormous bolders with a crowbar. They appear to be making a water landing or swim platform here for the lodge.
The grounds here have an extensive variety of fruit trees and we were introduced to the cacao bush which was in fruit. The pods themselves were enormous. The pineapples were bearing fruit, there were peaches on the trees, bananas, papayas, and dates. There were also achiote, cadamon and copal trees to name just a few. Cicadas were singing, the outlook down the river valley and out over the distant mountains was very peaceful. Hammocks were slung around the palapa type eating area where you could veg out while dringing an ice cold cerveza. We are truly enjoying the variety Guatemala has to offer. It´s a truly beautiful diverse country.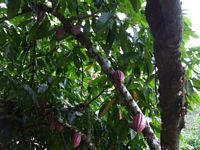 Cacao bush in fruit
Semuc Champey, Guatemala
Friday April 18, 2008
We got going fairly early this morning. Michelle washed out some clothes, Robin designed an ingenious drying frame using sticks adn we were at breakfast by 8:00am. Omlette, toast and coffee was downed while spotting the varied birdlife. We headed out to Semuc Champey around 9:00am. How does one begin to describe Semuc. It´s absolutely stunning with cascading pools, rapids, rain forest enshrouding the water´s edge, fish in crystal clear wter, a few crustaceans. We saw six different species of butterfly, a hawk, humming birds, birds we had no hope of identifying as we had no bird book with us. We swam in the coolish waters, the sun came out, hiked to the mirador, had another swim and somehow 3 1/2 hours disappeared. It was paradise. We headed back to the hostel for a snack and a quick breather before heading on out to explore some caves this afternoon.
| | |
| --- | --- |
| | |
The Kan-Ba caves are located on the opposite side of the river to the hostel. We walked over at 3:00pm and began by hiking 500m up the side of a steep mountain and then descended into the opening of the caves. 50feet inside we got to see some very tiny bats who weren´t at all perturbed that we were there shining lights and candles at them. Things only got better and we hiked down, swam, crawled up and down ladders and ropes, saw some amazing formations, played various instruments on the different calcified formations, and generally had a fantastic, if not tiring, time crawling around in the bowls of mother earth. On the way back we took a short cut which required jumping through a tight wedge down into the water below. Michelle managed to squeeze herself through and drop although it was a bit scary. We were suitably tired after that and jumped in the river to swim (actually float with the current) back to the hostel rather than walk. Robin was shivering and his legs were like jelly. Michelle washed everything and hung it out to dry on the trusty drying rack and then it was cerveza time and oh how that first one went down oh so well. All in all a fantastic day.
Sayaxché, Guatemala
Saturday April 19, 2008
We got up very early this morning mainly thanks to next door who were so loud packing up you couldn´t have slept in if you´d wanted to. We ate breakfast at 6:15am (even the birds weren´t awake) and were underway bright and early retracing our steps back to the "mainroad". We thought we would be enjoying a few kilometers of paved road once we got back to the turnoff but it turned out the dirt road north started at the turn off to Semuc Champey, a fact we´d missed on the way here. So we settled down to the next 56 kilometers of dirt road. It was still going to be far shorter than retracing our steps all the way back to Cobán just to head north again. Somewhere past Campur we came upon more serious road construction and found we´d have to wait two hours for the road to open. They shut the road only opening it between the hours of 6-7am, 12-2pm and 6-7pm at night. If we´d known, we would have stopped at the local market in Campur. It was in full swing and the one road through town was jam packed with people. Everyone comes down out of the mountains for market day. It was incredible wending our way at walking pace through the throngs of people who divided in front of you and swallowed the gap behind you. Stalls were set up all along the road and there was barely enough room to wend the car through. Shoes, clothes, fruit, tortillas, vegetables, sweets, plastic containers, chicken, grains and nuts, were all intermingled side by side. There was no such thing as a food section or clothes section. It was just grab a piece of roadside and display your wares. We were very sorry now that we had two hours to waste not to have stopped. Instead we backed up the road a little ways and found a shady spot under a massive tree and read our books.
We finally arrived at Frey Bartolomé and stopped at a roadside fruit stand. The choices were sliced mango dusted in some kind of peanut flavored powder and watermelon. We then set off for Sayaxché. The asphalt road soon ate up the miles and we only had one major upset along the way although it turned out to be a happy ending. We had been slowing down constantly when navigating through the tiny villages and cringing at the trucks and other vehicles who would barge on through often overtaking us with kids wobbling on bikes and people walking along the road or running across in front. We noticed most Guatemalanp´s never slow down and we wondered how people didn´t get killed. Then suddenly one little boy on a very wobbly bike decided to cross the road right in front of us. It was only Robin´s quick reflexes that saved him. If we´d been going 100km an hour passed him he´d be one very dead little boy. As it was we did hit his back wheel but we were going so slow by then that he didn´t even got tossed off his bike, just got turned around a little. We were seriously shaken though and he figured he must be in serious trouble so jumped off his bike and ran away. We were just thankful he was alive along with the rest of the village who had heard the squeel of tires and came out to investigate. They were more concerned about us and reassured us everything was ok.
After that we made it to Sayaxché, found a hotel which accepted the car into their courtyard and went for our usual work around town to scout out the lay of the land. The small town was centered around the Río de la Pasión. Walking along the river bank we were accosted by a guy who was trying to sell us a trip to Aguateca and at first we weren´t interested as we had already planned to visit Ceibal tomorrow, a different Mayan archaelogical site. However the more he desribed Aguateca the more we became interested. Finally Michelle got him to list the differences between Aguateca and Ceibal and we eventually opted for Aguateca even though it was going to cost us a lot more to go. We negotiated a price and agreed to meet at 6:30am in the morning. Are we crazy? Probably.
So having organized an adventure for tomorrow it was time to relax over a beer or two. We spied a café over the other side of the river and thus headed over to the car ferry that was constantly crossing back and forth. The car ferry was a piece of work, having a ramp at either end which obviously lifted and raised, a flat platform which could take a semi-trailor in the center and 6 cars (3 on either side of the truck) and two round swinging platforms hung off the left hand side, each having it´s own outboard motor and a palapa covered roof. There wasn´t much current at present so only one engine was being used. We jumped aboard and the trip across for foot traffic was free.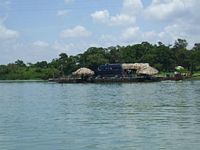 We made our way to the cafe not really paying attention as we walked in and a guy said come in, come in, would you like something to drink. And we said, sure cerveza would be good and he says, sorry no beer as he pulled up a couple of chairs for us to sit in with a view overlooking the river. We say ok coke will be fine thanks and we sit down and suddenly it dawns on us this place is seriously empty. There was a couch which the two guys were sitting in having a discussion, and us. The rest of the place was dusty floorboards. Hmmm guess there´s not too much business happening here. It turns out the guy walked across the car park to a little tienda and grabbed two cokes for us and we made ourselves at home. It was a fairly surreal experience. We drank our cokes, chatted a little in our broken spanish about Guatemala then Australia and finally said our goodbyes. We took a local canoe back across the river and then it suddenly dawned on us we´d have to actually cross this river in the car tomorrow ourselves. Car ferry access was the only means of continuing north. Yes we´re a tad slow at times.
We wandered to a cafe for dinner which advertised venison on the menu. Robin´s mouth was drooling at the thought of something different to eat that wasn´t the usual thin Central American steak. Of course most of the menu was straight out of Monty Python´s cheese shop skit and finally after attempting to order three or four things on the menu which weren´t available, he settled for the usual thin steak. He´s been dreaming of a big think T-Bone everynight in his sleep.
Aguateca, Guatemala
Sunday April 20, 2008
We woke up plenty early this morning, packed the car and headed to the river. We´d bought a hot chicken last night on the way back to the hotel and that served as breakfast since we couldn´t find a stitch of bread in the entire town last night. We washed it down with water and were good to go.
The river was entirely covered in mist and would remain misty for the first 3/4 hr of the trip. We worked our way through miles of swampy grassland alternating with patches of rain forest and huge swathes of cleared land. The trip to Aguateca was 1 1/2 hrs and varied enough not to be boring in spite of the noise of the outboard engine. We arrived in Aguateca to the sound of howler monkeys hollering at the top of their voice. We couldn´t believe how loud they were. The landing was swampy and we made our way on planks sitting precariously on top of the mud to a steep set of stairs that went straight up about 30meters.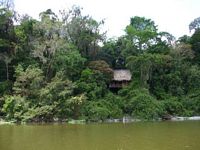 The boat pilot offered to serve as guide on a three-hour hike around the ruins. We couldn´t decide if he was bored or wanted to show us the terrain but we figured it was better than sitting there waiting for us to straggle back. We had another couple with us who were of the alternate lifestyle variety. The woman who was roughly 55ish and not very fit had been living in Penajachel around Lago Atitlán for the last 16 years, the guy 55ish and very fit had just moved there in the last few months or so. The five of us trott off through the low level rainforest, the guide pointing out various fruit and nut trees and we climbed our way to the first lookout point. Our two companions then declared it was rest time and promptly pulled out food and smoked marijuana before possible setting one more foot foreward. Robin, being of the ever patient variety of mankind, was chomping at the bit with much gnashing of teeth. We navigated down a very steep, slippery rock ravine and up the other side, examining the enormous limestone cliff/system of defensive walls which surrounded the city. We finally arrived at the beginning of the ruins after about an hour and were surprised by how extensive they were.
| | |
| --- | --- |
| | |
Aguateca has some of the best preserved buildings in the region, in addition to stalea, the records of their history. It is also unique in that the buildings housed a palapa style roof, whereas at other ruins the buildings are completely of stone blocks. Rather than type all the information out here there´s a couple of interesting websites where you can read up on Aguateca: http://www.authenticmaya.com/aguateca.htm is one.
The trip back held one more surprise for us. We finally got to see some howler monkeys in a couple of trees beside the river. Back in Sayaxché we put the car on the ferry and then began making our way to Tikkal, our next destination. We arrived at the entrance to the grounds and there was a barricade the road. A guy saunters across the raod to speak to us and we knowing nothing were told that if we wait another 20 mins we could pay to enter the park and get the remaining part of today for free, that we´d effectively just be paying for tomorrow. Ok sounds like a plan. So he says just back up to that restaurant over there and have a drink while you wait. Sure why not. So we had a couple of cool drinks then get underway, driving the last 17km to the actual lodges and entrance to Tikkal grounds. It was then that we realized we didn´t even need to wait for 3pm because you don´t even need to pay to check into the lodgings which are located outside the park. Grrr. Looks like it was a ruse to make money for the restaurant outside the National Park gates. Anyway we decided to take the cheapest room at the jungle lodge which was still more than double the normal Guatemalan prices then went for a quick swim in the hotel´s swimming pool. While there two large families of monkeys came to visit, both Spider and Howler monkeys. They weren´t exactly together, keeping to their own groups but were kind of travelling together. They hung around for about 20minutes which gave us ample time to enjoy their antics.
We decided to take in the sunset at Temple IV which we´d read, and the guy at reception confirmed, offered great views. We made it in time, running the last part of the way through rainforest and climbed the stairs. Robin was ahead of Michelle and when the guy asked him something in Spanish he answers I´m from Australia and only speak English so the guy left him alone. Michelle gets to the top a few minutes later and of course the guy says do you speak Spanish and she says a little and he says you can´t stay here unless you pay an extra 15 dollars. The park officially closes at 6pm and to stay you need to pay more. She says sorry but the 15 dollars is for a paid tour where you get the undecided joy of being jostled to death in the back of a pickup truck, we brought ourselves. Anyway he was adamant and so we looked around, realized that you could´t even see the sunset from the top of the building due to renovations being done on that side, and so we said thanks but it´s not worth it. He looked at us incredulously and said what you´re not staying? Michelle says hell no and we walked at a leisurely pace back out of the park. That was two 15 dollars he couldn´t pocket. At least we can chalk off Temple IV which we won´t have to do tomorrow. The climb to the top did provide an awesome panorama of the area with glimpses of the tops of other ruins appearing through the canopy top.
Dinner at the lodge was a set menu, no substitutions! and although the prices were in US dollars, had to be paid for in Quetzals, converted at the hotel´s special rate of course. No sir we´re very sorry but you can´t pay with your US credit card even though the prices are in US dollars. We will charge it in Quetzals and then you will have to pay your bank to convert it again into US dollars. Robin ever knowing how to win friends and influence people asked them if they were insane. Then he told them to put their prices in Quetzals like the rest of the country. We´ll pay cash thanks! Petén is the only department in the whole of Guatemala where we get the feeling of being continually ripped off. Guatemala hasn´t been like this at all. Welcome to the West´s tourism ethics.
Tikkal, Guatemala
Monday April 21, 2008
Robin wanted to fill our water bottles this morning. Every other hotel we´ve stayed in has encouraged us to refill our water bottles rather than buy new ones. They have gone out of their way to ask us. Sometimes you still pay but it cuts down on rubbish. Anyway here you couldn´t even pay. They had a huge stand of water but you had to buy new bottles of water. So after that we decided not to stay another night here. We´ve also advised all the cruisers not to stay at the Jungle Lodge. Go down the road to the other guys. Problem is they don´t need our business because huge bus loads of tourists already prepaid keep them in business so they just don´t care.
Tikkal was absolutely gorgeous in the early morning light. We wended our way under rain forest for most of the day. Everyone complained and warned us how hot it was. The guidebook said it was going to be Hell on Earth. We can only figure crazy tourists don´t know how to walk in the shade. The only hot spot was the Grande Plaza which had no shade. The rest was delightful.
| | |
| --- | --- |
| | |
Tikkal is amazing. The sheer height and steepness of the temples which rise to 44m are overwhelming. It´s situated in quite an inaccessible part of the forest compared to others which had river access. Much of the ruins has cleared of the trees and vines smothering them, the temples uncovered and partially restored. Again I couldn´t even begin to explain Tikkal, the succession of rulers and buildings. The central area alone occupied 16 sq km, and contains more than 4000 structures. We saw the majority of what Tikkal had to offer, the Great Plaza, Central Acropolis thought to have been the residential palace for Tikkal´s nobility, El Mundo Perdido which contained 38 structures surrounding an enormous pyramid. Temple VI 1.2 km southeast of the Grand Plaza sported a long inscription along the 12m-high roof comb. Apparently the inscription dates somewhere to AD766 although we have no idea how they work this out. Monkey´s swung by to say hi as Michelle sat for a few minutes in the Grand Plaza writing some notes in her log book.
We finally called it quits about 2pm and headed back to the hotel for a quick swim to cool off, then headed on out to Remate where we stopped at a restaurant overlooking the lake for lunch - fresh whole fish from the lake. 3pm and we were back on the road to Poptún. We decided to stay at Finca Ixabel this evening, an out of the way place which turned out to be an excellent choice. It´s geared to backpackers and thus was full of young people but was so quiet and tranquil. The entire place ran on an honor basis, that is you grabbed a beer out of the fridge and recorded it in a book. We´ve never seen the likes of it before. The food was plentiful, cheap, the accomodations clean and cheap and there was a ton of activities from caving, swiming, horseback riding, ruins etc very close by. We were a little sorry not to have enough time to stop here a few days.
Rio Dulce/Livingston, Guatemala
Tuesday April 22, 2008
Drove down to Rio Dolce this morning after first dealing with Robin´s missing wallet. He´d apparently left it on a table last night and one of the working girls found it and handed it into the office. Lucky Boy! That would have been ugly trying to deal with lost credit cards, ATM cards, licenses etc.
Rio Dulce´s main street was again one huge market in full swing, which again made it very difficult to negotiate but we finally made it through town and over the huge bridge, high enough for yachts to sail beneath. We found the "yacht club" which wasn´t really a yacht club but did house a chandlery and a coffee shop where we found a couple of people to gleen info from. We needed a safe place to leave the car for a day as we wanted to travel up river to Livingston on the coast. Turns out we chose the right place to come to as the couple of guys sitting outside the coffee shop knew of a hotel/restaurant/cruiser´s hangout just back on the other side of the bridge called Bruno´s and they would take care of the car. We found Bruno´s, they said yes they´d babysit the car for us, and would organize a lancha to come pick us up as well. So with an hour and half to kill, we packed a small backpack with overnight gear and sat sipping a couple of refreshing ales, gazing at various yachts anchored around the area. We can´t get Warrior here as we can´t get her over the sandbar at the entrance to the Rio Dulce so we thought we´d do this side trip to Livinston.
The lancha arrived on time, we collected a few more people from various locations then headed for a quick side trip to the fort built in 1516 and restored in 1956.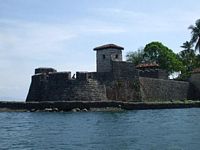 The trip to Livingston took 1 1/2 hours with a couple of stops along the way, one a cafe, the other a kind of hot spring. The terrain was verdant, with rainforest cascading down cliffs to the waters edge, and a passage through a 11km gorge. There was abundant birdlife to see, waterlilly pads supporting Jacanas which we´d not seen outside of Aus. It was a very relaxing trip. We got to Livingston where the wind was blowing around 20knots. Welcome to the Carribbean. We were met at the dock by people from the hostel we´d chosen to stay at tonight. Brad from Finca Ixobel had recommended Casa de Iguana in Livingston and since we´d had such a great time at Ixobel we decided another hostel would be perfect. It was a5min walk back up the river, the locals all greeting you with a cheerie hello and a big smile. A lost Englishman, Rusty, owns this hostel and he´s done well with it. The main building is a palapa roofed open verandah built on stilts with a kitchen built on the back and his bedroom above the kitchen on a mezzanine floor. Greenery totally surrounds it and it´s wonderfully cool. The bungalows are all done in the same style but enclosed. Crabs walk across the yard as the entire place is about 1 foot above sea level. There´s even a pet rabbit ambling around keeping the grass in check.
| | |
| --- | --- |
| | |
We decided we had to try the local specialty tonight, Tapada, a soup of seafood in a spicy coconut sauce with fresh corriander. It was surpurb and the only really different food we´ve had since Mexico. The soup contained an entire small fish, a crab, numerous mussels, conch meat, prawns, baby octopus and it was served in the biggest soup bowl we´ve ever seen. We had planned after dinner to go check out some Garífuna music but Robin piked early and Michelle sat up with some of the gang staying at the hostel and ended up playing cards till midnight. Little did she realize they´d planned to keep her there so as to give her a birthday drink before she went to bed. It was a lovely surprise. Robin had let slip earlier apparently that it was her birthday tomorrow!
Wednesday April 23, 2008
Happy Birthday Me! We had originally planned to just do an overnight in Livingston but decided to spend an extra day here. Rusty presented Michelle with a shot of tequila for breakfast for her birthday which she covertly slipped to Robin. To her way of thinking there´s no way any sane person can drink alcohol at breakfast time. We had a good hearty English brekkie then decided to do a tour of Livingston with a local guide.
Actually a couple few people at the hostel wanted to do this tour and they needed a couple more to round out the numbers so we said sure why not. The local guide was hilarious, very local, extremely colorful and definitely on carribbean time. We ambled through the streets of Livingston, visited a couple of churches, gleaned some history of the Garífuna people, rested under an enormous fig tree in the very colorful graveyard, wandered through people´s back yards to see how they lived, hiked to a lookout in the midday sun, wandered down through a seriously cleared rainforest to a fresh water creek, took a dip in the refreshing waters then all piled into a dugout canoe and were paddled downriver to a palapa overlooking the river where it exits to the sea. After a small pit stop we all hiked up along the beach a short distance to a beachfront restaurant where we had lunch and swam in the ocean for about an hour. There was a spider monkey tied to a tree with the thinest bit of string imaginable. If I was any sort of respectable monkey I´d be out of that in a flash. Guess he´s not too worried since he gets fed continually.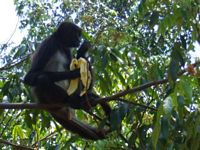 After lunch we strolled further along the beach and then inland a small distance to a place called Seven Altars, which is yet another series of cascading fresh water falls fed by a small waterfall at the top. We were all pretty tired by this point and realized it was after 5pm. A couple of cars were organized to drive us back and we were grateful we didn´t have to hike 1 1/2 hours back to town.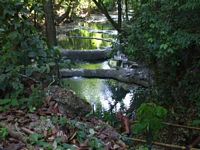 We stopped for a cocoloco, the local coconut drink, served in a green coconut with a dash of rum added. Robin thought if it had any rum in it he would eat his hat. Michelle reminded him it was a safe bet since he´d already lost his hat and therefore couldn´t eat it. Anyway we headed on back to the hostel which was serving all you could eat tostadas for dinner so we opted to dine in. They were truly yummy and you were lucky if you could eat more than three. Michelle made it through two. We were again planning on heading out to listen to some local music tonight but we were exhausted and fell into bed at 8:30pm. We didn´t stir a muscle till dawn. It turns out all the younguns who came with us yesterday didn´t last any longer so we didn´t feel so old after that.
Warrior, El Salvador
Thursday April 24, 2008
Michelle got up at the crack of dawn this morning and dutifully wrote up the last few days worth of logs. Everything has been recorded and jusst needs to be typed up when we get back to the boat. We caught the 9:30 lancha back to Rio Dulce which this time made two different pit stops, one up Estuary Tintan, which housed an Artesenian Lodge. Michelle bought a handwoven table throw for $8.00, a little bit of support for the women of the region. Their handicrafts were very high quality.
We arrived back in Rio Dulce around 11:30am, grabbed some breadrolls and tomatoes to eat on the road, filled the car with petrol and were on our way. We wanted to get to the El Salvador border today. We hit highway CA-9 and although a fast road it was the major truck route for Puerto Barias on the Carribbean coast. The road was extremely busy but we did indeed make good time compared to the dirt roads and tiny asphalt roads we´d been traversing previously. The country side was completely different. In place of the lush green verdant rainforest was quite dry sparse timberland and scrub. We crossed the border into El Salvador with no hassle and they didn´t even want to check the paperwork for the car. Suddenly a few miles from the border crossing it hit us how much rubbish was everywhere. Guatemala is so clean and tidy. We decided to check out Lake Güija, purported to be one of the prettiest lakes in El Salvador. We got there but couldn´t find any accommodation and suddenly we both said to each other at the same time, let´s just go back to the boat, we should just make it by dark. So we jumped back in the car and off we went.
We did almost make it in by dark except we got lost trying to find the last turnoff to Bahia del Sol. Turns out this neck of the woods is called Playa Puntilla. Costa del Sol is 15km back along the beach. Bahia del Sol is simply the name of the resort where the boat is moored. Not confusing at all really. We ended up in Herretaduras but some kind locals after explaining for 5 minutes and Michelle gleaning one word in ten, we finally realized our mistake and found our way home. Robin devoured an entire fish for dinner he was so hungry.
Zacatecalouca, El Salvador
Friday April 25, 2008
One of the reasons for bringing the car back to El Salvador was so we could reprovision the boat without trying to carry everything on buses. So today´s chore was doing just that. There´s never any rest for the wicked so they say. Gina, one of the other cruises, decided to come with us as she needed to hit an ATM. Zacate (as the locals call it) was a wonderful surprise. We found things there we haven´t found since arriving in Mexico. Tomato paste for example. It´s odd the things you end up missing. Vegemite just couldn´t be found though. Can´t understand that at all!
This afternoon the resort held a special thankyou reception for cruisers, providing tasty snacks and drinks. We spent the rest of the evening sitting out on the verandah overlooking the river estuary yakking with Rob and Theresa off Yohela. We have decided to take the car back tomorrow to Guatemala City as we´re not going to do any more touring of El Salvador.
Guatemala City, Guatemala
Saturday April 26, 2008
We drove the car back to Guatemala along he coast road that we´d done by bus simply because we enjoyed that route. It´s also relatively free of polution. We arrived at the border, and were cleared through in no time at all. We followed CA-1 into Guatemala City which turned out to be quite scenic. We found a car wash, cleaned up the car so that it wouldn´t be too much of a shock for the rental agency then tried to find said place. Robin did an illegal U-turn in the middle of a busy highway which netted him a chatting to by the police but when they found out he was from Australia just gave him a warning and said no can do this! Naughty boy! We found the car rental agency without too much more difficulty despite them closing a road and causing us to navigate via one way streets. They went over every inch of the car with a magnifying glass but we were finally given the all is well sign. Taberini dropped us off at our hotel of choice which was right besdie the bus station, and which turned out to be a pretty rough area of town. We were a little sceptical but the hotel was right there and very clean so we figured we´d be fine. We caught a taxi over to the posher part of town, the lady behind the desk in our hotel advising us not to walk, and hit up a bookshop, then an Italian restaurant for dinner which was served great food. Well common it´s pretty hard to get Italian wrong!
Bahia del Sol, El Salvador
Sunday April 27, 2008
We were up at 5am after one very noisy night. There was the odd mosquito, planes roaring overhead, and old men who talked all night at the top of their voices. The bus left an hour late. Passport control at the border suddenly wanted to check our passports and clear us out because we were on a bus. We´d crossed these borders back and forth the last couple of weeks and no one could have cared. But bus travel.. whoaa ... can´t figure the difference but anyway shrug. We landed in El Salvador around midday and caught a taxi into the center. Next job was to find a bus to take us towards Comalapa. The only thing we could find was the minivans which they pack to overflowing. We just missed the direct one to Playa del Sol so would need to do the jump from bus to bus trick. We missed the bridge in Comalapa and got off a little bit further down the track. We were wondering how long we´d have to wait on a Sunday afternoon to catch a bus when a lady in a little red car pulled up and asked if this was the way to Costa del Sol, she was totally lost. What luck! We piled in and got a lift to all but the last 15km. Caught the local jalopy the last part of the way to Playa Puntilla and we were home by midafternoon. Not bad for public transport.
Wednesday April 30, 2008
Bar crossing day take 2. We spent the last few days alternately vegging and doing chores around the boat in preparation for leaving. Yesterday Michelle went to the Navy to get the clearance papers and then to Immigration to get the official exit stamp in our passports. We watched the yacht "Harmony" leave yesterday morning and it didn´t seem too difficult to cross the bar so we are hopeful things will go smoothly. We sat and worked out our next cruising itinerary and decided to spend a week around the Bay of Fonseca and then we´ll head to Nicaragua.
So this morning with just the canopy left to take down, we dropped the mooring lines and headed over to the fuel dock. That was a little challenging as there was no room to turn a boat our size around so we needed to back into the dock. Against wind and swirling current this proved a tad tricky but Robin pulled it off with his usual flare. We said our final farewells to everyone then headed out to the bar around 9:30am. Bill and Jean off Mita Kulu accompanied us in the pilot panga to take photos. It turned out to be about as calm as it could get and we saw a minimum depth of 12feet right at the bar. We caught just two breaking waves otherwise it was serene. We raised the jib and headed on out 4 miles offshore to miss Lenke Shoal then turned east and cruised on down the coast at 4knots. Next stop, Isla Conchüigita, Bahia del Fonseca.