Bahia Santa Elena, Costa Rica
Sunday June 1, 2008
Robin went walking today. He was going completely stir crazy being locked up on the boat out of any sun which could further damage his burns. Finally Michelle declared him fit enough to go as long as he stayed well covered. He almost walked on water he was so anxious to get ashore. Michelle tossed him in the dinghy and dumped him ashore, skirting a group of naked fisherman taking their siesta on the sand spit.
Bahia Blanca, a beautiful bay right out at the tip of the peninsula
He arrived back with tales of footprints, sightings of deer which would tend to support his wild cats theory since they would have ready food, men with guns and gunshots, two sets of footprints running, (he figured this because they were deeper prints) and Michelle finally figured he must have sunstroke, and ordered him back in the dinghy and to behave himself! He declared himself an ace-tracker after this brief experience.
We┤ve finally decided it┤s time we left paradise and rejoin the land of the living. Fresh produce has a little to do with this decision, although we have been catching fish, what the Mexicans call Tana, a Jack Crevalle which when big aren┤t very good eating but when the size of a bread and butter plate, they make a perfect breakfast snack and are really tasty. Anyway, tomorrow morning we will head towards Playa del Coco but may stop somewhere along the way depending on the weather.
Bahia Potrero Grande
Monday June 2, 2008
It┤s actually hard to believe it┤s June already. Where have the months disappeared to. We began to upanchor around 6:15am but Bahia Santa Elena wanted to give us a farewell bit of excitement. Michelle started to haul in the first 15 feet of chain to release the snubber and suddenly there on the bow roller was a hissing and very pissed off snake. It had obviously wrapped itself around the chain and had had its rest disturbed. Michelle looks around and spying nothing she could shoo it away with and realizing she had no shoes on, figured the better part of valor was to retreat and yell for Robin. Robin of course never responds to yells and just goes what┤s wrong now! Argh get up here and get rid of this snake and she takes her eyes off it to turn around to show she means business. She turns back around as Robin heads up towards the bow and argh no snake. It appears to have fallen back in the water but for the next couple of days she was very wary about walking around the dinghy, staysail and rolled up canopy, all stored on the foredeck and all nice snug places for a snake to curl up in. Bahia Santa Elena seemed to always be teaching us a lesson - this one to always wear footwear on the bow of the boat!
We crawled slowly around Punta Blanca then Cabo Santa Elena then sailed through the Murcielago Islands (Bat Islands), noticing how clear the conditions were. We could see for at least 20 miles, something we haven┤t been able to do for eons. We would have stopped here at the islands except Robin couldn┤t snorkel at the moment. The Murcielago┤s are a group of rocks and small islands which extend about two miles paralleling the northern indent of Bahia Papagallo┤s shore line. Unfortunately in the summer the swell comes from the south and protection is not so good. The snorkeling though is supposed to be among the best in Costa Rica and one of the beaches on the eastern side of the largest island is a nesting area for the Pacific Green Turtle. We┤re kind of sorry to be missing it. Robin┤s burns however are still not healed enough to be subjected to those harsh conditions.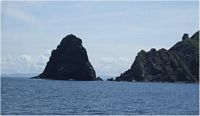 The very rocky tip of Cabo Santa Elena
So we enjoyed the sail, wending our way through the islands and headed for a small bay tucked into the extreme northeastern corner of Golfo de Papagayo. The beach here is home to one of Costa Rica┤s favorite surf spots and when the surf is truly up it would be almost impossible to anchor in here but at the moment it┤s not too bad. We anchored off Playa Penca, and just managed to tuck ourselves in out the worst of the wind and swell behind a rocky reef and outcrop. On approaching the bay we saw four waterfalls cascading down the cliffs. There is absolutely nothing here other than a well hidden turtle observatory, as this beach is the nesting ground of the Olive Ridley Turtles. Oddly enough we┤ve been seeing less and less turtles the further south we┤ve come. The hundreds of turtles a day have declined to the odd sighting. We had two small ones who lived in Bahia Santa Elena but they were very shy and didn┤t stay on the surface long. They seemed territorial though as they were only ever seen in that one spot in the bay.
Playa del Coco, Costa Rica
Tuesday June 3, 2008
We had no wind this morning so we had to motor the 15nm down to Playa del Coco. We wanted to get in early though as this beach is known to have quite rough swell at times and we wanted to leave our options open for moving to the more sheltered Playa Panama later in the day if necessary. We arrived in Playa del Coco around 10am and organized ourselves to go ashore. Stephan off Ky Mani had also arrived at the same time as us and we watched him row ashore. He has been surfing his way down the coast, stoppin in roadsteads along the way in his little 25foot Catalina to enjoy the breaks. We last saw him leaving Huatulco, Mexico in the middle of a Tuantapec blow to go catch some waves. Surfers are crazy people!
Michelle went into the Port Captain┤s office first up to check in and he wasn┤t at all interested in the fact that we┤d spent 10days in Bahia Santa Elena. He waved his hand and said no problema! I guess it┤s just the Navy that gets narky. After handing over numerous bits of paperwork, next stop was half a mile up the road to immigration, which try as we might we couldn┤t find for at least 30mins and we wandered back and forth looking for it. It was tucked in behind a pharmacy and not obvious at all. Immigration was pretty straight forward then it was back to the Port Captain and the meeting with the Aduana, Customs people and we were finally cleared in. Jeff and Josie off Stravaigh and Susie and Gene off Moody Blues had hitchhiked around from Playa Panama to welcome us to Costa Rica and we all gathered at a local pizza joint to catch up with Jeff and Josie┤s adventure and get the first hand goss on exactly how they ended up in the middle of Hurricane Alma. Just before we got to the pizza place, Stephan had come back and said his dinghy had been stolen, ALREADY! It was a light, cheap dinghy which could be easily deflated and carted off but geeze it had only been there an hour. We hadn┤t locked ours either so Robin went haring back to the beach to lock it up. This little incident certainly warned us we┤d arrived in the land of the thieves as Costa Rica is well known for. We shall have to be more prudent from now on.
Playa Panama, Costa Rica
Wednesday June 4, 2008
We went ashore early this morning and checked email, read the news and then went shopping. We discovered we can┤t refill our propane tank here either so we will have to pay attention to how much propane we use over the next few weeks or we┤ll be having no coffee for breakfast and that will be a total disaster! We got back to the beach will all our provisions and saw 3 foot breakers rolling into the beach and thought oh boy this is going to be fun! We dragged the dinghy down the beach to a slightly sheltered spot behind a boat anchored just offshore and watching the waves, went for it. Of course we got drenched and we ended up with a bucket of water over the bow of the dinghy but other than that our entry went very smoothly and we didn┤t tip or do other odd maneouvers you often see cruisers do trying to get off the beach. The conditions were quite rough by now so we decided to up anchor and head around to Panama Beach which is far more sheltered. Just as we were leaving Playa del Coco we get a call on the VHF Radio from Yohela. They were about 15 miles out and would arrive in a few hours. We told them to head on around to Playa Panama as they will get a good night┤s sleep and they did just that. We got tucked in behind the point and settled down to a relaxing drink on deck watching the sun sit behind King Kong Rock, which looks just like that giant gorilla┤s head from here.
Friday June 6, 2008
Michelle has been playing with the SSB radio and Airmail program over the last few days and finally worked out the mailing list settings. If she sent you a message recently that means you will be able to contact us directly on the boat and not wait for us to get to civilization to check our email. It also means when we cross oceans for weeks at a time starting next year we won┤t be so out of contact. So another chore done. She┤ll eventually get around to getting everyone on the mailing list but for now it┤s limited to a few people to get all the bugs ironed out.
Michelle went into town today with Rob and Theresa off Yohela and checked email, sent emails, shopped for Robin, shopped for food, and arrived back at Warrior toting numerous packages including hard to find asian food items such as kaffir lime leaves, galangal and lemon grass and beer for his nibs. That put a smile on his face. We had Yohela over for dinner tonight and caught up on their travels through Guatemala and their jump down the coast from Bahia del Sol where we last saw them, and basically talked politics and boats.. you know all that boring stuff yachties talk about. We won┤t bore you with the details :).
Saturday June 7, 2008
We did absolutely nothing today other than veg out. We layed around, sat around, lazed around, lolled around, and then did it all over again. That got rid of most of the day. Since Michelle had managed to find such interesting items at the supermarket the other day she decided to make spring rolls for Robin┤s dinner tonight. That was a huge hit and he was so impressed he ordered up another batch to be cooked for tomorrow night┤s cocktail party to be held over on Stravaigh. Now she┤s thinking she was just a bit too clever for her own good!
Sunday June8, 2008
Since we decided that yesterday was so enjoyable we virtually repeated the entire day today as an experiment to see if one could really do nothing and enjoy it. We found some puzzle books and entertained ourselves for hours doing crazy puzzles. Well the brain at least got some exercise. Michelle cooked up another giant batch of spring rolls and we headed over to Stravaigh around 5:30pm for an enjoyable evening with Jeff and Josie and Gene and Susie off Moody Blues. Yohela couldn┤t make it as Rob has had a nasty cold for a few days which is sitting down on his chest and Theresa came down with it today and was feeling terrible. We had a very fun evening. Jeff is so full of stories he kept us all entertained for five hours till we finally took our leave and fell exhausted into bed.
Thursday June 12, 2008
We haven┤t been making great strides lately, just plugging away slowly at a few chores, and mostly relaxing. We did another trip into Coco Beach the day before yesterday which although not very far by boat is amazingly far by car. It takes almost 20 minutes to drive the convoluted road which treks through valleys and skirts around headlands and hills. We shopped again for more fresh fruit and vegies, Robin paid some guy┤s wages at the local hardware store, we lunched and basically got rid of 4 hours very quickly. Yesterday Robin began work on replumbing the toilet water intake. It was down under the floor boards and we┤d have to remove the board, switch the water tap on, pump the toilet, switch tap off, replace board. This was a constant annoyance every time you went to the toilet. Now he┤s replumbed the tap to be on the wall next to the toilet and it┤s such a pleasure now to go pee. It┤s the small things in life ya know!
With that success he began work on the house water plumbing system today. Having finished replumbing the toilet water intake he figured he may as well keep going on improving things. Michelle jumped in the water and cleaned the hull, yet again. We were having cocktails over on Yohela tonight and knowing how hungry Robin gets at these events, she decided to make up some Samoosas. Her pastry skills have really improved and the little filled pastries turned out perfect. They almost totally disappeared and she┤d made over 30 of them. Not bad for a camp stove on a boat eh! And yes you would be right. All we┤ve really been doing is lazing about, doing the occasional odd chore, attending cocktail parties, basically eating, drinking and lazing around in paradise. Hey we┤ve earned it!
Friday June 13, 2008
Robin is still working on the house water plumbing system. He manages to do about 2 hours work a day so the progress is a little slow but he┤s getting there. Tonight we decided to go check out a restaurant we saw on a tourist map and which none of the yachties seems to have discovered. Teresa and Rob brought us over a bag of ice, and a plexiglass scraper for the hull, two wonderful gifts we greatly appreciated, and we invited them to join us for dinner. We all piled into their dinghy and headed over to a corner of the beach none of us had ventured into before and immediately hit a rock field which created a wee bit of excitement. We finally managed to extricate ourselves using a few prudently placed waves and parked the dinghy in our usual spot in front of the Beach Club and strolled down the beach to where we figured we could gain access to Papillon Restaurant. We entered the property and the guards stopped us and we could only understand about one word in five and just when we thought they were not allowing us to cross the premises it turns out they were trying to direct us to the restaurant. The food turned out to be surprisingly good, even Robin enjoyed a steak which in Central America is rarely good, as they never hang it long enough, and Michelle had garlic octopus. We chatted about our various prickly situations we┤ve all ended up in, from broken engines to broken sails and enjoyed our last evening with Rob and Theresa as they will be heading on out tomorrow. We should leave soon too as we┤ve been here for 10 days now but we seem to be in no hurry lately and the weather here has been so nice. We know the further south we go the more rain we┤re going to get so we┤re dragging our feet a bit.
Saturday June 14, 2008
Robin┤s arm is almost completely healed and his leg is totally healed. Damn he heals well. So at least that┤s good news. We were going to move today across the other side of the bay to another beach but we┤ve kinda been doing chores, Robin still working on the house plumbing which is giving him a few headaches as he can┤t seem to eradicate air out of the lines, and Michelle sat and worked on the web site. So we┤re staying put tonight yet again and maybe we can find some energy to move tomorrow. If we stay here long enough our friends on Tao 8 will catch up with us and there will be yet another round of frivolity. We are now the only cruising boat left in this anchorage. It┤s nice to have it all to ourselves.
We sat up on deck last night enjoying a cocktail. Robin mixed up some concoction involving rum, pernod and soda water which worked surprisingly and we tossed some ice cubes in and gave it a swirl. We finally got around to snapping a few photos. We really do love this bay.
Monday June 16, 2008
We actually moved the boat today. Wonders will never cease. We decided to first explore a small river just a little bit further up the bay but it turned out to be badly silted up. We had anchored off a resort but they were arm-band only type people so we decided to up anchor and head across the bay to a little sandy beach we┤d been looking at for days. We dropped the hook in stunningly clear water, the best we┤ve seen yet, with howler monkeys welcoming us with their unmistakeably cry. We immediately jumped in and had a swim and generally enjoyed ourselves. Robin went walking to spy out the lay of the land and found a restaurant which charges a cool $40 per person for mains. We figured we┤d eat at home tonight and wander a little further afield ma˝ana. Michelle decided to cook Robin a Greek Moussaka dish, which we enjoyed with one of our precious bottles of Warrior Red. He didn┤t feel too deprived after that.
Tuesday June 17, 2008
This morning after doing a few chores we headed ashore to do some exploring. We hiked up the hill towards the main road which runs along the ridge of the penisula and came across numerous birds, including a coupe of flycatchers with their dangling scissor tails. We got to the top and there was not a puff of wind so Robin tossed his thumb out and we scored a ride with the hotel minivan down to the resort area at the end of the penisula. Never known Robin to be too hot to walk somewhere. Anyway we immediately ordered water, beer, more water, another beer, another couple of waters and after rehydrating were finally able to contemplate some lunch. This place was also expensive, but we figured we could do it once. Just a normal hamburger was $17. Ouch. Prices in Costa Rica are definitely not what we┤ve been used to. There were swimming pools we could have used but we opted for the beach and then caught the minivan back to hole ten of the golf course where we┤d caught the first bus and hiked back down the extremely steep hill. Yestereday Robin had seen an enormous python snake but he wasn┤t to be found today. We did however spy another group of monkeys which were quite different from the Spider and Howler Monkeys we┤ve become accustomed to seeing. These had little black caps and white faces and until we find out the name of these cute little fellows, we┤ve nicknamed them Yarmulkes, in honor of the jewish skullcaps they seem to be wearing. The entire penisula is home to the Four Seasons Residence Club and they have worked in golf courses, suites, private residences and still managed to keep a large chunk of the tropical vegetation. It seems to be very well integrated and the wildlife appears to be thriving. So far, Costa Rica really does seem to have a handle on integrating tourism with ecological issues.
| | |
| --- | --- |
| | |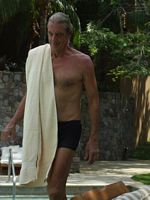 Bahia Huevos
Wednesday June 18, 2008
We decided to head out and around to the other side of Papagallo Penisula today, to a little bay called Bahia Huevos in Charlie┤s Charts, but which doesn┤t bare that name on anything else we look at. It does have some egg-looking islands along the northern arm of the bay so Huevos will do us. We had a picturesque sail along the beaches and around the King Kong Rock which all the tour yachts seem to circle constantly, and finally made our way into the little bay. There was another boat anchored there but they left within 30 minutes of us arriving so we had the place all to ourselves. We were going to go snorkelling but the water was very murky and churned up over this side of the penisula so we opted instead for a dinghy trip up a small estuary. We were pleasantly surprised. The entrance and first few hundred meters was like any other mangrove estuary but then we turned a corner to find a habitat with towering wetland trees, some over 100 feet tall. There were a few different birds but none we could catch a glimpse of, just their calls taunting us to keep cracking our necks trying to locate them in the dense canopy tops.
When we returned to the boat, Robin did an oil change, checked the oil filters and batteries, all in preparation for us leaving tomorrow for Potrero, 15nm to the south around Punta Gorda. We┤ve finally decided it┤s time to move on.
Bahia Potrero, Costa Rica
Thursday June 19, 2008
Up early this morning we moved one bay back towards the entrance to enjoy a different view while eating breakfast. We had noted it on the way in yesterday and it looked so pretty. It just didn┤t seem suitable for an overnight anchorage but for an hour or so this morning it was perfect.
We then organized ourselves to get under sail and finally got going around 10am with just enough wind to keep the sails full. We ambled back over towards Playa del Coco then along the shore out towards Punta Gorda. The depth sounder played up again just as we were nearing the point which it hasn┤t done for ages. Maybe we cleaned the bottom of the boat too well. We decided to duck between Isla Brumel and the mainland which was a spectacular serious of rugged pinnacles of rock cascading one after the other into the distance. Very picturesque piece of coastline.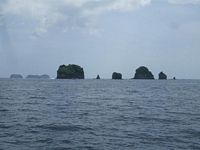 We arrived in Potrero around 2:30pm, found a niche in between moorings in which to drop the anchor and sat for a while just watching other boats sailing around. Another sailboat was heading in to the anchorage, arriving from the South and of course they had to anchor right on top of us. So our lovely spacious niche suddenly became cramped again. The joys of cruising. We tossed the dinghy overboard, went and met the crazy people who had anchored on top of us. They turned out to be South Africans on a delivery, taking a boat up to Northern California for some folks. Hurricane Alley is not our idea of fun at this time of the year. We then headed in to shore to see if we could find some dinner as our food supplies are again a little grim. We definitely need a supermarket very soon. We searched around for a place to leave the dinghy and located the old marina area which has one lonely and very rickety dock left with a few boats attached to it. Unfortunately the Coast Guard said we can┤t dock there as it┤s off limits but don┤t leave your dinghy on the beach either as it will be immediately stolen. Like ummm thanks guys for being so helpful! Anyway we finally scored permission to leave the dinghy there for a couple of hours. We found a great bar which had the added advantage of serving food, and we could see the boats in the anchorage which is always a bonus. We partook of a couple of refreshing ales, ate some typical pub fare and sat enjoying another couple of ales while waiting for a heavy rain squall to pass overhead. We got back to the anchorage and noticed the crazy South Africans had relocated to behind us. Guess they worked out that they were far too close to the other moorings. It was all of 7:30pm so we sat out on deck for another hour or so enjoying the cool of the evening before finally passing out at around 8:30. We just can┤t seem to stay up late these days.
Friday June 20, 2008
We got up nice and early this morning, Michelle downloaded all the weather reports, Robin tossed the dinghy back overboard, Michelle locked up the boat, and Robin says we┤ll be a while we┤re not going anywhere. The dinghy won┤t start. Drat. We were so looking forward to coffee ashore too. Robin worked on it for a couple of hours and finally Michelle caught a ride in with the South Africans to grab some groceries. It was about a 1.5km walk to the supermarket in the baking midday sun but not too bad a hike. Got back to the boat and just had time for a wee rest before the rain poured down yet again. The dinghy still won┤t run so this is going to curb our shore excurtions. We might just leave and head straight for Barillas in the Gulf of Nicoya to get it fixed.
Friday June 27, 2008
Wow a week has gone by already. We are still here in Potrero. We┤ve worked and worked and then worked some more on the dinghy engine and still no luck. Fortunately for us we met some wonderful people from Belgium, Mark and Isabel, who are living here in Costa Rica and who have lent us their dinghy motor, a 6hp Johnson for the remainder of the time we are in this area or until we get ours fixed. Larry and Angie off Tao 8 are headed this way and we will head back to Playa del Coco on Sunday. Larry is very good with Mercury engines and has kindly agreed to take a look at it. The guys will either fix it or we will be able to find a mechanic there who hopefully will solve the problem.
So we┤re not progressing far at the moment. Last Monday we pulled out the kayak and did some turns around the boat to get the feel for it. We haven┤t been in it since Agua Verde, Mexico, which was many moons ago. It had been raining off and on all day and finally Robin declared enough let┤s just go, we┤re going to get wet anyway. So we kayaked around the bay and then to shore to find a restaurant. Alas being a Monday, everything was shut until we finally found a bar attached to a resort who kindly let us in. They had a very posh restaurant but as we were fairly bedraggled we opted to sit at the sunken bar, attached to the swimming pool and scoffed a couple of refreshing ales and some bar food. Robin had been out of beer for days so this was a welcome pitstop for him. It was fun and although we did get wet and looked like drowned rats, it was nice to get some exercise. We will have to find a place to store it which is more accessible than the current one we have so that we can pull it out more often.
Tuesday we kayaked into shore in order to do a bit of shopping, not that you can carry much in a kayak but Robin definitely needed beer to encourage him to keep working on the engine. We had just made it to the tiny market when we ran into Claudia, a german lass and Hilda, Venezuelan/Spanish, who have their own Tourist Information and Tour Booking Office and they invited us to sit and have a drink with them and of course being the introverted and antisocial type that we are, we immediately accepted and settled down to talk about how we all had ended up in Costa Rica. They then introduced us to Mark and Isabell, the couple from Belgium. It┤s wonderful how things turn out sometimes. We also met Scotty an Aussie and his girlfriend Rosie, who was from England. An interesting group of people who have made our stay here very enjoyable.
Yesterday we had Mark and Isabel out to the boat for drinks and Mark, who has been sailing since he was five years old, climbed all over the boat and commenced dreaming of the day when he can drift off into the wide blue yonder. After they left we sat out on deck watching an amazing lightning show, put on for just our benefit of course. There was strike after strike after strike pummelling the earth and we┤re just glad we weren┤t under it. Watching it in the distance is one thing, being in the middle of it would be nasty.
Saturday June 28, 2008
Today we had a visit from Ralph, the local newspaper guru who decided since we were Aussies and he is a displaced Aussie, he┤d do a story on us for the local rag. We went ashore and collected him at 9am and he arrived complete with camera and tape recorder and set to work interviewing. It was a fun filled couple of hours and I guess he finally wriggled enough information out of us to write something although we can┤t imagine we are at all newsworthy. The article will appear in next weeks newspaper. We can┤t wait to see it! After we dropped Ralph ashore we spent the next few hours alternately relaxing before heading over to the plush resort place where we planned to stow the dinghy while we spent a few hours at Karaoke, which Claudia insisted we must attend. We figured if we bought a couple of beers at the bar they would look after our dinghy and it proved to be true as when we returned after Karaoke the night watchman was indeed guarding it and challenged us to prove we owned it before allowing us to walk off with it. Was nice to know it was being looked after. We took a swim in the pool before heading up to the fake castle place which was home to Karaoke and Claudia arrived with a group of friends. We all took turns singing, and even Robin got up to entertain the masses with an awe inspiring version of I┤m too sexy for my shirt..... You had to be there to appreciate it!
Playa del Coco, Costa Rica
Sunday June 29, 2008
Mark (The Belgian) arrived first thing this morning carrying our jerry can filled with gasoline for the dinghy engine. He┤d driven 20km to the petrol station to procure it for us. People are just too nice around here. After organizing a lift for him back to shore we upanchored and headed the 15nm back to Playa del Coco where we hoped to get the dinghy motor repaired. Just as we approached Brumel Island we saw a nasty red color in the water and saw that yes indeed it was a very crimson red tide. Yuk. The sickly sweet smell was almost overwhelming. There goes our lovely clean water for a few days. It followed us all the way into Playa del Coco. It is kind of offputting to watch browish red water swirl around in the toilet bowl. We just got back to Coco and got the anchor down when a massive thunderstorm arrived over the top of us. We didn┤t get time to even put out the buckets to collect rain water. What a waste! The storm lasted a couple of hours and then went on its merry way, leaving us to put the canopy up and sit out admiring the sunset. We managed this time to anchor behind the rocky outcrop on the western shore of the bay which was fairly protected from swell. The last time we were here this part of the anchorage was chokablock full. It┤s about a mile to shore but we feel a lot safer here and there are watchmen looking after various boats close by which will hopefully keep unwanted visitors ashore.