Isla Parida, Panama
Sunday September 1, 2008
It was a 70nm jump down the coast around Punta Burico which determines the border between Costa Rica and Panama and onto the first group of islands we wanted to visit, The Paridas. We knew we couldnīt make it in daylight hours as there just wasnīt enough wind so opted for an overnight sail rather than motor. Well the first 11 miles we motored anyway there was virtually no wind at all. Then the wind picked up and we set off at a goodly pace and around midnight Michelle mentioned that maybe we should slow the boat down Robin, weīre going to arrive at the islands in the dark and thereīs lots of hard crunchy stuff over there. Robin ever the pragmatic said no problem we can get a bit closer. Michelle says Robin itīs only 10miles to go whatīs the rush. We can sail the rest at dawn. No he had to push on then an hour later a huge squall hits and he finds himself doing 8 knots towards the islands. We actually had to tack away from the islands in the end and mess around tacking back and forth to miss some other offlying rocks. A pleasant tranquill sail turned into hard work which was all easily avoided if weīd just slowed down. Sometimes we really would like to bonk men!
We were fairly tired by dawn so decided to pull into an anchorage on the east side of the island and take a nap while waiting for the tide to change. There are numerous rocks and reefs which are easier to see at low tide. We took a nap for a few hours then around midday pulled up the anchor and motored on around the other side. We decided to drop the hook in a very picturesque little bay, completely sheltered from the swell although the wind still swings in across the sandy beach. We sat out on deck and enjoyed the feeling of finally arriving in paradise.
Playa Jurel, Isla Parida
a little bit of paradise
Tuesday September 2, 2008
We have had a continual 15 to 20knot wind through the anchorage here the last couple of days which has kept things cool but also fairly much kept us on the boat. Having no dinghy engine is not convenient. Trying to row our rubber dinghy in any sort of strong wind and current proves quite difficult, particularly with both of us aboard. We had a fisherman come by this evening and asked if weīd like lobster. The last time we were offered lobster they were so small you couldnīt justify supporting that kind of activity. So Michelle asked how big etc and it seemed like they would be of a suitable size. He will bring them tomorrow morning after his night of fishing, so weīll wait and see. He wanted milk of all things so we gave him a bag of powdered milk and he went off a happy chappy.
Wednesday September 3, 2008
The lobsters arrived bright and early this morning and they looked great. So we will be having 2 lobsters for dinner. Michelle decided to cook her famous pasta sauce, made up of just three ingredients, a can of Italian tomatoes (has to be Italian as they are the sweetest), 15 oz stick of butter and 2 whole onions, halved. Thatīs it. Toss the tomatoes in a saucepan, add the stick of butter and when itīs melted add the onion halves. Cook for 1 1/2 hours on a very slow heat. You wonīt believe the flavor from just three ingredients. Anyway we had pasta and lobster for dinner, cracked a bottle of red and Robin felt like a king. He sat there thoroughly enjoying himself, sucking every last morsel of lobster out of those legs.
Isla Gamez, Panama
Thursday September 4, 2008
We were woken early this morning to the young fisherman Carlos, who had brought us lobster the day before. Robin got up to greet him but his Spanish is so limited that finally Michelle grinned and came to his rescue. Carlos arrived with a bunch of bananas, a couple of avocados, and some cobs of corn, a thankyou gift for the milk powder. He was off back to David today to see his wife and 5 year old son. It would be a 2 1/2 hour trip up a mangrove-lined winding river estuary by very fast panga. After he left we decided to hop around the corner and hang out behind a tiny island just offshore from the main island of Parida. Isla Gamez is about the size of a 20-acre paddock but very pretty. It was lined with coconut palms and Robin suddenly decided to see if he could find a coconut "apple". Once a coconut starts to grow it uses up all the milk and then the tough white flesh and all thatīs left inside is this very tasty round soft blamange-type nut about the size of a small apple. He opened a couple but they hadnīt progressed far enough. Heīs going back for more tomorrow.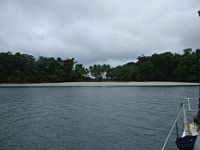 Isla Gamez
another little bit of paradise
Isla Bolaņos, Panama
Saturday September 6, 2008
We motored 3nm to the East this afternoon, with the canopy up, the washing flying in the wind hung on a line stretched between the Staysail and Inner forestays, and along the rails. We had snorkelling gear, hawaiin sling, buckets for collecting rain water, ladder, chairs and coconuts strewn on deck, a bunch of bananas strung beneath the boom ripening, and I swear we must have looked like sea gypsies. What a sight. We cleared the shelter of Isla Gamez and were surprised to see wind and white caps. We looked back at our sheltered anchorage and wondered whether we shouldnīt just turn around and go back it was so peaceful where we had been the last couple of days. However we had read in our trusty, if somewhat dated, cruising guide that said we would find protection from the swell in the anchorage on the east side of the island. So off we trot and arrive to find the anchorage not exactly free of swell but it didnīt seem too bad. Coconut palms backed the beach in addition to many other trees festooned with orchids and other interesting bromiliads. Robin couldnīt resist collecting a few more sprouting coconuts, ever in search of his "apple". We were treated to a spactacular lightening show tonight, with enormous strikes searing the earth spreading out like a river delta on their way down. Others provided a glorious pryotechnic display with one strike forming a complete cirle in the sky. These lightening strikes last a good 3 to 5 seconds which is a long time and hurts the retinas if you stare too long at them. Just as we settled in to cook dinner the wind died, the boat turned side on to the swell and there we would stay the entire night. There was no rhyme to the rhythm, with the swell bouncing back from the beach and cliffs hence we bobbed mercilessly the entire night. Not a comfortable anchorage and the price you pay for a picturesque panorma.
Isla Secas, Panama
Sunday September 7, 2008
We should have sailed the 16nm to the Secas (Dry Islands) yesterday as there was plenty of wind. Today because we have to go further we are bobbing along at 2 knots. Nevertheless we shouldnīt complain too much as it is a lovely day. We had more whale sightings today on the crossing which continues to amaze us as we canīt shake the idea that, since whales donīt visit Mexico until December-ish, they shouldnīt be here. We are obviously seriously mistaken because they are here. Today it was a pod of three humbacks and they slowly meandered their way through just 40 feet of water. We are apparently traversing their playground as they were here yesterday in the same area. There continues to be little birdlife on the islands and no monkeys at all. Itīs odd to not here them chattering away in the dense foliage as they have been a constant companion to us throughout Costa Rica. Guess itīs too far from the mainland to swim.
Isla Secas is made up of three major islands and quite a number of tiny rocks and islets. We decided to spend the first night at Isla Cavada the biggest of the islands which hopefully would provide us adequate respite from the significant southwesterly swell. We motored around the anchorage for about 40 minutes trying to find a spot which didnīt have us going from 50 feet to 15 feet in the space of two boat lenghts. The only reasonable spot for us to anchor was right where theyīd put in a private mooring. Typical. We finally anchored closer to the mooring than we would have liked to but there was nothing to be done as everywhere else would have us grounding at low tide if the wind got up from the East. The best part is that we have finally found some clear water. We are so looking forward to snorkelling and cleaning the hull. Itīs the first time since the northern end of Costa Rica, three months ago that we have had any clear visibility.
Tonight we sat out and enjoyed an amazing sunset. Storm clouds were building right before our eyes creating an amazing and everchanging panorma, the multiple cloud layers reflecting the suns rays from blood red, yellow, purple, grey, black and the ocassional white puff in amongst it all. We were kept entertained for nearly an hour. Then behind us began another lightening show although not nearly as spectacular as the night before. Maybe we will get some rain tonight.
Isla Cavada, Islas Secas
building a thunderstorm
Monday September 8, 2008
We woke to brillant sunshine this morning and looked over the side into crystal clear water, the bottom clearly visible 20 feet below. We were torn between cleaning the hull and going snorkelling but the bottom was so feral that work won out. There were thousands of barnacles just from the short time we spent in Golfito and the bottom of the keel looked like it was home to a complete eco system of crabs, sea lice, seafans, massive barnacles, oysters etc. Itīs a wonder the boat could sail at all carrying all this junk along with it. Robin hadnīt been able to do the very bottom for a while now as free diving nine feet in the gloom has been no fun. Today we finally broke out the hookah and played with it. The freedom and ease of use was liberating. It took us 3 hours but by the time we were done the hull was spic n span and weīd had a decent amount of exercise for the day.
Tuesday September 9, 2008
The day began with grey overcast skies and a shower of rain which yielded 5 gallons of fresh water for the water tanks. By 10am the skies had cleared and the sun was peaking out from behind the last of the storm clouds. We were graced this afternoon with the company of 3 whales, probably the same pod weīve seen over the last few days. They came right into the anchorage and spent over an hour about 8 boat lengths from us just lazing in the water, blowing the occasional water spout, flapping the occasional flipper. Michelle had been cleaning the last of the hull when Robin yelled whales incomming. She almost walked on water and levitated onto the boat. Swimming with whales isnīt on the todo list just yet. After we finally tired of watching them laze about we went snorkelling and Robin speared a Scrawled Filefish for tomorrowīs breakfast. We would have liked two of them but we shanīt be greedy.
Wednesday September 11, 2008
Michelle cooked bread today as there are no stores to run to buy a loaf of bread. It was so much better than the local bimbo bread weīve been eating that now sheīs afraid Robin will command this to be a permanent chore. Actually making bread is kind of fun even on a boat with limited space. Something relaxing about kneading dough. We went snorkelling again and found fish that werenīt listed in our fish book. There was a very pretty angel fish that weīre going back to check out today as we couldnīt decide if heīs was a Moorish Idol or not and these things matter you know! Robin speared a few Orangeside Triggerfish for tomorrowīs breakfast. The hunter-gatherer is excelling lately. There was a massive thunderstorm tonight with lightening barely a mile away but thatīs as close as it came then it moved off. The weather forcast says weīll have a couple more days of this heavy convection while the current tropical wave is over us.
Isla Pargo, Panama
Thursday September 11, 2008
We breakfasted on fish this morning then after the morning radio net we jumped in the water and went to identify a few more fish. We definitely identified the Moorish Idol this time along with the Blue and Gold Snapper, a Yellowtail Surgeon Fish with his spectacular golden tail, and a large school of Banded Butterfly fish and a few Barberfish. The Parrot fish are numerous and so varied in colour itīs difficult to identify which one is which. All in all a very pretty area for fish. After we were done we decided to move the boat around to Isla Pargo, the south-westernmost island of the Isla Secas group. We jumped ashore quickly to burn some rubbish and a quick scout around the area seemed to bode well for more snorkelling activity. No rain tonight and in fact out of all the storms weīve had recently there has been very little rain associated with them. Guess these Dry Islands are aptly named.
Friday September 12, 2008
This morning we got going fairly early and decided we would circumnavigate the small westernmost islet of the two we were anchored between. This was the piece de resistance of snorkelling. There were massive schools of fish, and if you stopped you were surrounded by hundreds of fish in no time. We located all the ones we had spotted yesterday, watching the antics of the Moorish Idol and the Flag Cabrillas which swim up behind you then glue themselves onto a rock and pretend you canīt see them. If you look behind you, you will see a half dozen of them all swimming after you. Then we saw a Spotted Eagle Ray which swam up and checked us out then slowly moved along. Next a 4 foot Pacific Green Mooray went by underneath us. We saw one more eel, but couldnīt positively identify it in the gloom it was hiding in. And we finally spotted the Adult Male of The Pacific Boxfish or Spotted Trunkfish. He was brillant and gaudy, with blue sides and a bright red top. The females and young are white-spotted on black and we have seen them before in the Sea of Cortez but never seen the male. Then we saw the biggest Guineafowl Puffer fish in his golden phase. He was so spectacularly golden you couldnīt miss him. There were quite a few really large Blunthead Triggerfish, about three feet and some of the largest Parrot Fish weīve yet seen, a good two feet long. The Triggerfish are so curious, they swim up quite close to check you out. It was some of the best snorkelling we have done in ages.
Saturday September 13, 2008
We decided to head over to the last of the Secas Islands, Isla Coco but it was impossible for us to anchor there. We couldnīt find a shelf wide enough to sit Warrior and if the wind changed we would have run aground so we finally gave up and headed back to Isla Cavada. We decided to try down near the reef which divides the bay but moorings make it very difficult to snug in. We tried the eastern-most side then decided to head around and attempt the main anchorage. Again a mooring is right in the middle of where youīd drop your anchor. The shelving made things very tough. You would go from 80feet to 15feet in 2 boat lengths. We probably should have gone back to our original anchorage but the mooring up there was also in the way. We had the rope wrapped around our propellor once while we were there. Finally we dropped the anchor but it would be a restless night as we would need to keep a constant eye on things.
Islas Contreras, Panama
Sunday September 14, 2008
Michelle woke up at 4am and decided enough was enough letīs get going. There was a storm building and the anchor just wasnīt set well enough to ride out any kind of blow. We pulled up the anchor and negotiated our way out in the pitch black, relying totally on our trusty radar and depth sounder to inch our way out of the bay. The next island group, the Contreras, was just 18nm southeast. Again we decided to leave the canopy up and worked our way across under jib alone. We decided to anchor at the northern end of Isla Brincanco and it turned out to be a lovely bay. We hadnīt been anchored long when the Panamanian Navy paid us a visit. We thought weīd probably get fined for having stopped on route to Panama City without having checked into the country but they werenīt perturbed at all. They took a copy of our paperwork and asked how much longer would we be before we made it to Balboa and officially checked in and off they went.
Monday September 15, 2008
Snorkelled the broken reef protruding out from the middle of the bay, a pile of rocks complete with the odd coral formation. Again lots of fish and a really interesting area but nothing different to what we had seen so I wonīt recap the fish we saw. After that Michelle made bread and we both did a couple of chores and another day disappeared.
Tuesday September 16, 2008
Snorkelled around the islet at the entrance to the westernmost point of the bay this morning. We identified two more eels, the Zebra Mooray and a Tiger Reef Eel. The center of the bay was probably more interesting in diversity but it was worth snorkelling around here just to see the eels. We have checked off over 3/4 of the fish in our fish identification book now. There are some like the deep sea fish which we will never see, otherwise we are quite chuffed at just how many weīve managed to spot. After lunch we had a booby come say hello. He went to land on the railing, missed and did an emergency crash landing on the deck. Once there he decided to take up residence and was not at all afraid of Robin, giving him a mouthful of cheek when he dared mention that maybe he should move on.
Isla Canal de Afuera, Panama
Wednesday September 17, 2008
This little gem of an island is found 10 miles to the northwest of Isla Coiba where we wonīt be going on account of the absurd park fees. They want $100 US per night just to anchor. Technically this island is part of the Coiba National park but we are hoping they will leave us alone otherwise we will have to continue on to Isla Medidor. We arrived to find small sandy beaches dotting the shoreline with views to both Coiba island and over to the mainland. It was truly a picturesque spot. We found a spot to anchor, in 40 feet of water just beside the small island attached to the westside, Isla Afuerita. We took a day off from snorkelling today and just enjoyed the view.
Puerto Escondido, Panama
Thursday September 18, 2008
Snorkelled early this morning but even though it was ok, it wasnīt anywhere near as good as the previous islands which was surprising. We did manage to catch a few nice glimpses of Spotted Snake Eels, with their pointed tails. A baby Cortez Angel Fish was guarding a clump of Braincoral and being quite territorial about it. They are stunning fish, with blue and gold curved stripes on a black background, and when adults they are very inquisitive, often coming very close, turning sideways to get a good look at you. We finally worked out one fish weīve been seeing for a while now. It is actually the Purple Surgeonfish, which isnīt really purple at all but kind of a greenish gray. Robin managed to spear two Flagged Cabrilla for breakfast tomorrow and after two and a half hours we finally called it quits and made our way back to the boat. We then decided to head over to the mainland, which would halve the trip we would have done tomorrow. 8nm to the east is Puerto Escondido (not a port at all) a tiny bay kind of sheltered out of the swell behind some islets at the entrance. It was really only messy at the top of the tide, the rest of the time we sat comfortably with our stern into what little swell managed to refract around the islets and bounce back from the shore. On our way we happened to note a Panga with about 25 people aboard and thought at first they were waving at us. Then we noticed the waving was with a white Tshirt that said COME HERE. We angled our way over to them and it turns out theyīd run out of fuel. /boggle. So we got them alongside and managed to give them some 2stroke fuel which will get them home to La Honda but will gum up their spark plugs nicely. They must have had 10kids aboard, from babies to about 10 years old. They were quite a site paddling along with one broken oar.
Isla Catalina, Panama
Friday September 19, 2008
We had a wonderful run the 10nm between Escondido and Isla Catalina, being able to cruise close inshore on account of the deep water and no obstacles. Waterfalls glistened from the cliffs, with blowholes sprouting spumes of misty water high in the air, rocky reefs and islets lining other parts of the shore, golden, orange and black sand beaches, some lined with coconuts, others just wilderness. We had almost made it to Catalina when the rain arrived and we got a wee drenching, then it let up just long enough for us to get the anchor down before the downpour arrived in earnest. We had a good inch of rain this afternoon, and all our water tanks are full with a few 5 gallon buckets to spare for washing if we get a sunny day. There is one tiny white house on the northeastern tip of Isla Catalina which looks like it houses a family as we saw them on the beach. Very quaint and quite isolated.
Isla Gobernadora, Panama
Saturday September 20, 2008
We upanchored around 9am and slowly made our way across to our next island destination, Gobernadora, just 6nm southeast. Not far but the ebb current made it harder than necessary and we probably should have waited till this afternoon. The water suddenly became very murky as one would expect from such a huge bay. Gobernadora and Isla Cébaco act as a natural giant breakwater to Bahia Montijo which cuts 15 miles back inland and even further if you throw in the river estuaries. The bay drains the highlands of Veraguas province via the River de Jesus, Rio Ponuga, Rio San Pablo, Rio Piņa, and another estuary which leads to a lagoon, Boca de la Trinidad. Itīs an extensive water catchment region and most of the rivers are mangrove lined but extermely shallow and we arenīt tempted to take Warrior up there at all. Heading towards Gobernadora we suddenly see of all things a whale taking a breath and wondered what the hell it was doing up in the murky water. No accounting for taste when thereīs crystal clear water just outside the bay. We dropped the anchor and made our way ashore, intending to buy eggs and fresh fruit. They had neither. All that anyone seemed to have was canned goods, onions and potatoes. Oh well we at least found flour so we can make bread. But our fresh supplies are at a critical all time low and this will force us towards Panama City very soon. Michelle sat and talked to the locals for a while, managing to piece together bits and pieces of Spanish. One guy had but 3 teeth in his mouth which made for a really interesting conversation. Everyone seemed really friendly.
Isla Cébaco, Panama
Sunday September 21, 2008
We hopped across to Isla Cébaco very early this morning to take advantage of the incoming tide. We were able to run quite close to the island but were a little disappointed to see how they had cleared the land only to let it lie waste again and itīs covered with weeds and scraggly regrowth including choking vines. Mostly the island is uninhabited but there are a few dotted settlements along the shore, the biggest being at the easternmost end, where we anchored off Platanal. Dolfins accompanied us in the murky water, and like the whales yesteray we canīt understand why they would choose to be in here rather than in the clear water outside the bay.
Ensenada Naranjo, Panama
Monday September 22, 2008
We upanchored fairly early and headed to a bay on the southwestern part of the Azuero Peninsula. Our old guidebook said that it was an almost swell free anchorage. They were seriously misguided. Itīs very open to the west and thatīs what direction the swell came from. Fortunately we faced into it for most of the night so it wasnīt too bad although it wouldnīt have needed to have been much rougher. The bay had two sandy beaches and the hills backing the anchorage have all been turned into pasture land. The cows wandered down to the trees on one of the beaches and stayed a while before ambling off back up the hillside. We were even serenaded by howler monkeys this evening. Tomorrow we are going to make the 40 mile jump around to Punta Juanico so the canopy is coming down for the first time since we arrived in Panama, almost three weeks ago.
Isla Pedro Gonzalez, Panama
Tuesday September 23, 2008
Well, as you are all aware, our plans are often written in the sand at low tide and just as quickly get erased. We were planning on jumping to Punta Guanico today. We started out very early, just after dawn and really only motored for about 3/4 of an hour before the wind picked up nicely and we could turn off the noise and relax. By 9am we were doing 6knots through the water and realized this would be a nice fast trip. We made it off Punta Moler and looked across to see a massive thunderstorm building right over Punta Juanico, comeplete with forked lightening and serious black thunderheads. We both looked at each other and said, you know, we have great wind, we can make it to Punta Mala before dark, and then we will have a flood tide which will be perfect for heading up into the gulf. Letīs just keep going and thatīs just what we did. Punta Mala is notorious for itīs strong current which runs into the Gulf of Panama along the eastern shore, parallelling the Darién coast and which then follow the sweep of the Bay of Panama and exit out the west end. Punta Mala is that west end. So you always have a current in your face if you are heading south and it can often be upwards of 3knots which if the wind is also in your face can make for a slow slog. So the general rule of thumb is try to head around it with the wind behind you and a flood tide which tends to slow down the current somewhatly. This makes for a nice boisterous ride and it was quite a joy ride but for the most part it was a very smooth and uneventful passage. After that it was just another 80 miles up the bay to the first of the Perlas Islands we wanted to visit, Isla Pedro Gonzalez.
The next thing we were worried about was crossing the shipping lanes. We had been told by both cruisers and the cruising guides, just how busy the shipping lanes were and the big ships never pay attention so you have to be constantly alert. We found it to be not too bad. There were a couple of groups of 5 or 6 ships comming through, otherwise it was hard to find a boat. The wind started to die about middnight and we flopped slowly along and by dawn we had just 27 miles to go, very doable in the next 12 hours and we would be able to get to the anchorage before dark. Other than a late afternoon thunderstorm which missed us, we had a pretty quiet trip into the anchorage and dropped the hook about 4pm. The setting was gorgous and could have been straight out of the mediterranean. There is a village ashore which we will check out tomorrow and hopefully they will have eggs, fruit and a few other staples to get us through to Panama City. The panty is down to beans, rice and pasta. Robin thinks his throat has been cut. He has been dreaming of roast lamb for the last week!
Thursday September 25, 2008
We got up this morning and got things organized and while filling the water tanks with our collected rain water, Robin twists the wrong way and puts his back out again. We were just about ready to go ashore and Michelle tries to convince him to stay on the boat but he insists on coming. So she rows him into shore and on the way the fishing boat anchored beside us calls out and asks if we want some fish. We say sure we will call in on the way back. We got to shore and were surprised to see it was an entirely black community. We were immediately met by a local who asked if we needed anything and we said si seņor, la tienda por favor, and he says follow me. So off we trott through the village and finally arrive at the local store. Mainly dry goods, but we told him we would like some fruit and a chicken if he has one available. The young man whoīd accompanied us to the store goes running off and comes back with a freshly plucked chicken complete with feet and head. Then off he runs again and reappears with two green papayas, a bunch of bananas and some limes. I guess they are being procured from peopleīs back yards. We stopped in to pick up some fresh fish on the way back and were given four red snapper, no charge. Would we have some books perhaps he could have. Michelle only had a couple of novels in Spanish and a few in Italian. He could read Italian so was more than pleased with the exchange of four books for four fish. As we motored out of the bay heading around the corner to another protected bay where a few cruisers were hanging out, he yelled out and waved us goodbye.
Sunday September 28, 2008
We spent the last few days taking it easy, Michelle working on some chores while Robin tried to get himself back in shape by lazing in bed all day. We went snorkelling today as Robin was feeling a little better and thought swimming wouldnīt tax his back, knee or shoulder too much. He has been in a lot of pain poor darling. The snorkelling wasnīt too bad but not as good as we experienced in the northern islands of Panama. After our morning swim we went ashore to burn some rubbish and then invited a few cruisers over for later afternoon cocktails. Michelle made a pizza which was a smash hit among the Americans. They sure do love their junk food. They were most impressed that she can cook this on the outside BBQ. Everyone is always looking for recipes to cook outside, avoiding using the galley stove on account of the heat.
Monday September 29, 2008
We were going to leave today for Isla Contadora however the weather really wasnīt favorable. Then the cruisers decided to have a pot luck on the beach at 1pm so as to avoid the sandflies which apparently carry you away at dusk. However they had forgotten to factor in the rain which ended the get together rather abruptly. We did however get to eat before the downpour. The others all scrambled back to their boats and of course the rain immediately stops. We are still laughing.
Isla Contadora, Panama
Tuesday September 30, 2008
We checke into the morning net which said effectively that there wouldnīt be much wind today. So of course we all know weather men try hard but never get it right. We sailed the entire 15 miles under jib alone at 6 knots with plenty of wind. We had to laugh. We were going to thread the needle between two islands with shoals and rocks which needed to be navigated carefully but it was far too rough so we went just to the north of Isla Chapera and skirted around to the north of Isla Contadora. It was a wee bit rough but we managed to find a spot where we wouldnīt hit anyone at anchor or any of the moorings. We didnīt however bargain for a 80 foot barge type of contraption which came in and picked up a mooring right beside us. We got back to the boat, hummed and haīd about moving or not and decided we would pull in some chain and figured we wouldnīt hit them. We checked off an on till midnight when suddenly they started up their engine and were off. Guess they were waiting for a tide change. We walked around Contadora in the afternoon, spied out the two grocery stores in town, walked down around the airport and watched a plane land, figuring we definitely wouldnīt be anchoring in the flight path as they are about 70 feet above the water on their approach to the runway. Then we found a nice spot overlooking the anchorage and grabbed a bite to eat. Sadly Michelleīs ceviche coctail was made with cook shrimp that were like little bits of dry hard cardboard. Shame! We were so looking forward to a nice meal off the boat after a month of straight cooking. Robin chickened out after that and opted for a hamburger. He figured they couldnīt get that too wrong.