Panama City, Republic of Panama
Monday December 3, 2008
This morning a number of boats all gathered on Warrior for a three-hour medical seminar. Jeff (Stravaig), a veterinary surgeon, held council, and we learned some very interesting ways to cope with various injuries, trauma, shock etc as well as going through our medical supplies and antibiotics etc. A few well spent hours.
This afternoon at 4pm we were invited to dinner on Parrot Bay to say farewell to Olga who was heading home to Honduras. As always Olgaīs cooking was supurb; we feasted on special Honduras fare, including fresh home made tortillas. Back on the boat by 7:30pm, an early night as we have to be up at the crack of dawn. We are linehandling for Jeff and Jose Stravaig īs canal transit tomorrow.
Tuesday December 2, 2008
Up with the birds this morning and raring to go. Robin made coffee, Joe off Ora arrived to ferry us over to Stravaig, then went and collected the "kids", (as weīve all nicknamed them and they donīt even mind) off Shandrika who would be the other two line handlers today and we weighed anchor by 7am. Our advisor arrived at 7:30am sharp and we began our trip up the canal to the first of the two locks at Miraflores. We were sharing the lock with a loaded cargo ship, a tug which we were sidetied to, then a 100 foot sailboat behind us which was so confident they didnīt even have a fender on. The first two locks went smoothly then as we were approaching the last of the locks on the Pacific Side, San Pedro Miguel, we were asked to tie up to a mooring bouy as another tug was having to uplock in our place. We sat around twiddling our thumbs for an hour and 50 minutes and finally made it through the last lock at 1:15pm. There goes our downlocking schedule of 3:30pm. No way we could make the 30 mile distance in two hours so we mosied along at 5knots against 25knots of wind and adverse current. We made it to the Banana Cut just on sunset and I think our advisor was reluctant to take us through but we assured him it was fine and we darted off to starboard. This shortcut saves seven miles and is well worth it. We made it though the other side just finding it hard to see the bouys lining the channel and I think he was sweating buckets. He admitted afterwards it was the first time heīd done the transit through there in the dark. We pulled up to a mooring just around the corner from the Gatun locks and settled in for the night. We would be staying on the lake tonight. Sadly it seems we wonīt be locking down tomorrow until the afternoon which will mean sitting and twiddling our thumbs for another half day.
Panama Canal Take 2
Wednesday December 3, 2008
We had a nice surprise this morning. When we checked in with the port authority to see what time the advisor would be arriving it turns out he was heading our way at 9:30am instead of midday. This was a great improvement over midday to early afternoon. We sat around in the peace and quiet of early morn on the beautiful fresh water lake of Gatun, drinking coffee and eating blueberry pancakes that Josee had whipped up. The advisor arrived and we were underway in just a few minutes. Our advisor today was an old pro who usually worked the tug boats so he had many a story to tell. We downlocked through the last three chambers without a hitch, sidetying to one of the huge tugs and were making our way up the fairlead and out to the anchorage at the flats. The wind on this side was blowing a steady 20knots through the anchorage and we were hoping Warrior was behaving herself on the otherside. A friend of Stravaigīs dinghied over and offered to drop us all ashore. We said our sad goodbyes to Jeff and Jose who we wonīt see for probably a year, grabbed a bite of lunch at the yacht club, met a few more cruisers, heard a few more stories of robberies and holdups around the Colón area and it was time to catch the bus, which was conveniently waiting for us to jump on as we arrived. Two and a half hours back across the Isthmus, this time in daylight showed us that we hadnīt really missed much last time when we crossed back over in the dark. We arrived back at Flamenco anchorage just on dark and Joe from Ora was heading in to pick the four of us up when his dinghy engine died. Luckily Phil on Sisiutl who was anchored around in La Playita kindly dinghied around and collected us all and we were finally home. Warrior hadnīt budged but Iīm sure she was happy to have us home.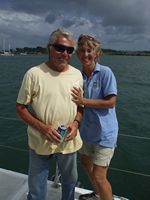 Jeff and Jose
Panama City, Republic of Panama
Thursday December 4, 2008
Thereīs no rest for the wicked. Today Robin started on the old rusty anchor chain. He has this new beaut stuff which turns rust into a hard coating in 20 minutes. Itīs called Casamar Rust Converter and after removing any oil, grease, dirt or wax residue, you just brush or dip the rusted surface and the reactive action converts the rust to a black acrylic hard protective coating. No more messy rusty spare chain laying in the bilge. Hopefully it will work.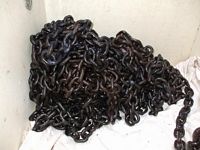 No More Rust!!
The weather is still very saultry here today. We will miss the fresh rain water in the water tanks but we really are getting sick of rain now. Keeping ahead of mildew inside the boat is becoming a thankless task, needing to be done every three weeks at a maximum and you had better believe itīs almost every square inch of the inside surface of the boat. Everyone who has been in this area for any length of time are all fedup with coping with the mildew problem. Bring on the dry season!
Tuesday December 9, 2008
Another five days have just disappeared in the haze of too many chores to do. We have most things organized to leave tomorrow morning for the Perlas where we will drop the rudder for inspection. Dayle on Parrot Bay is also going to head out to the Perlas to lend Robin a hand. We had dinner tonight with Angie and Larry over on Tao 8 and said our goodbyes to them in case they donīt make it back to Panama City before we leave for the Galapagos. They are headed home to Canada to spend the Christmas holidays with their family. There has been a mass exodus of boats heading back up the coast from Ecuador where a lot of cruisers spent the rainy season away from lightning. There are currently eight boats doing the Ecuador Passage and itīs kind of fun to follow their progress reports every morning as they check in on the Pan Pacific Net. This inspired Michelle to get Yotreps up and running which will log our position report every morning when she connects to download weather. You can follow our progress on www.pangolin.co.nz/yotreps and choose the vessel Warrior or the call sign KI6IOQ. As Iīm writing these logs away from the internet I canīt check this. She has also been trying to figure out how to use our GPS and SSB Radio to directly update Google Earth as well but that has proven a tad difficult. Anyone have any pointers?
Isla Contadora
Wednesday December 10, 2008
We got going after the morning net this morning, around 9:30am and had a pretty good sail across to Isla Contadora. We hooked a Dorado on the way over but the lucky bugger shook himself free and so lives to share that story with his grandkids. The wind filled in nicely today, allowing us to do a consistent and steady 5 knots and we dropped the hook around dusk. Although the wind is mainly from the NNE these days, there was still a considerable swell from the South West and a slop wrapping around the point of the island which made the anchorage a little rolly. The water however was crystal clear and you could clarly see the anchor snugly dug into the sand 25 feet below. What a pleasure clear water is. We canīt wait to hit the South Pacific where apparently you can see your anchor sitting on the bottom in 60 feet of crystal clear water. We sat out on deck in our deck chairs, enjoying the sunset, a light supper, a glass of wine and decided life was still good. Parrot Bay snuck silently into the anchorage a few hours later around 10pm.
Thursday December 11, 2008
We caught up with Phil and Melissa off Sisiutl first thing this morning. They swam over to say gīday before heading out to points further south. Then Michelle dove in figuring she would begin cleaning the bottom of the boat but the current was just too fierce. She couldnīt stay in place and clean so decided to give up and do it later. We figured there was no way we could drop the rudder here at Contadora so began working on alternate plans. We had been told that Canal Gibraleón was a very calm anchorage and so have decided to head there first up tomorrow and if that doesnīt work out, we will head around to Espiritu Santo on the Eastern Side of Isla del Rey. Having come up with a cunning plan, we decided to head ashore for a wee bit of shopping, ate lunch at the localīs Soda which consisted of rice beans and something that resembled chinese stirfry beef but tasted completely different. The guys had a couple of cervezas to wash it all down and it was back to the boat. It was proving difficult to get anything done due to the rock n roll. Early afternoon saw Nakia and Sarana arrive from Ecuador and we all decided to try anchoring on the east end of Isla Contadora, which has a beautiful beach but is usually not protected enough if a Northerly blows. It was bliss for a couple of hours then Hans and Gabby on September arrived and while handing over a bag of fresh fish fillets, the product of their catch on the way over, they gave us the news a northerly was on itīs way and would arrive in about three hours. Turns out it arrived in just two hours and we all bailed out and headed back around to the south side of the island, back in the rock and roll but out of the 25knot winds. Fun Fun stuff!
Canal Gibraleón, Las Perlas
Friday December 12, 2008
We got underway fairly early as we needed to be down at the entrance to Isla Gibraleón at the bottom of the tide. There are numerous rocks and reefs that disappear at high tide but which are nevertheless crunchy if you hit them. The channel lies between the island of Gibraleón and Isla Casaya and stays smooth no matter which direction the wind blows. This piece of information was quite correct as there was literally no swell even though the wind was blowing 20 knots outside. However the most important piece of information which was not forthcoming was that there was a three knot current running through there almost constantly. There was no way we could drop the rudder with that much pressure resting on it so we get to do another sail tomorrow. The area however was delightful and we enjoyed the channel. Dayle went fishing but had no joy. There is a tiny village which you can easily dinghy to on the next island to the east, Isla Casayeta and the locals sell tiny oyster pearls. Apparently the famous 31 carat Peregrina Pearl worn by the English Queen Mary Tudor came from these islands but you certainly donīt see them that size anymore.
Isla Espiritu Santo, Las Perlas
Saturday December 13, 2008
We had a lovely breakfast this morning sitting out enjoying the tranquility of the anchorage. Itīs been so long since we actually havenīt rocked and rolled, it was a real treat. Finally having no more excuses to delay we threaded our way out between the reefs and sailed along the shore of Isla Casayeta between Isla Membrillito and the rocky outcrop off Punta del Cocal and on down past various other islets and rocks along the northern shore of Isla del Rey.
Isla Membrillito & Part of the Caracoles
There was virtually no wind today, just enough to push us along at a few knots. We had again left the canopy up and were just under jib alone. Dayle decided he just had to try and beat us and thus began his epic sail change. He must have gone through about 8 different sail configurations from Drifters, Jibs, Spinakkers, under mizzen alone, staysail, etc. He really worked hard. At one point we were going backwards at .4 knot and poor Dayle still couldnīt catch us. Warrior just couldnīt be beat even in no wind. Sheīs an amazing gal! We finally arrived in Espiritu Santo and found four other boats already there. Terry on Oh Baby let off a rocket on our arrival which scared the snot out of us and we swore to get even with him somehow. Espiritu Santo was goregous and flat calm. The channel along the west side of the island of Espiritu Santo creates a perfect anchorage over a sandy bottom. There is a lovely white sand spit in the center of the island which uncovers at low tide. The entire area is an amazing maze of small coves, beaches, rocky islets, reefs, and it seems as though you would have to spend a long time in this area to explore it all. Oh well the rudder must be done. To work to work!
Friday December 19, 2008
We have been moving right along with chores. Robin has been working on a storage area under the cockpit to hold the diving tanks, spare battery for the hookah, and various other odds and ends which donīt fit in our floating garage up in the bow of the boat. It took him 2 days just to carve out a piece of wood that looked something like wood chocks youīd lock someone in. Michelle was beginning to wonder if he had some kind of ulteriour motive for locking her away when she gets out of hand. Anyway, youīd think with just two of us onboard we wouldnīt run out of room but we have managed to stuff her full. Of course 14 sails in the sail locker doesnīt leave a lot of room. Neither does the 8 shelves full of books! Anyway work is progressing, sometimes slowly but it is nevertheless getting there. Dayle left us a few days ago and headed on back to Panama City where he can get access to telephone. We will miss the fresh fish every day as he kept us well stocked.
Isla Chapera, Las Perlas
Sunday December 21, 2008
Robin: What? You want to go to Contadora to shop! Can't you just cook with what you have on board? Michelle: Robin, we had planned on going to the Perlas for a few days, we've been away from shops now for 12 days, and you are wanting to spend Christmas in the islands. I need to shop! Hence we weighed anchor around midday and headed in the direction of Isla Contadora, 17nm to the north, where there is a modicum of civilization known as two grocery stores. We had enough wind to sail, although we were having to tack slightly out of our way. We finally made it about 5nm south of Contadora around sunset and saw a clump of sailboats anchored off Isla Chapera so figured we'd just pull in there for the night and continue on to Contadora in the morning. That about summed up todays activities!
Isla Contadora
Monday December 22, 2008
Shopping bloody shopping. We need to be richer so we can hire crew so we can delegate the shopping chore, which we both detest, to crew. But then we'd need a bigger boat. Then we'd need to put up with the crew. Shopping under the circumstances doesn't seem half so bad. It never fails to surprise us the weird things you can find on a tiny island in the Republic of Panama that you can't even find in Panama City. For example Scottish Marmalade. That put a smile on Robin's face. We wandered our way back along a dirt track, up a few hills, down a few dells and back down the stairway to the dinghy. Most of the weight of course was Robin's beer. That also put a smile on his face since he'd been rather thirsty the last few days. Well that's Michelle's version and she's sticking to it. We had Hans and Gabby from September over for drinks this evening and had a wonderful few hours relaxing with them on the deck of Warrior. Hopefully we will keep in touch with them as we both cross the Pacific.
Isla de Caņa
Tuesday December 23, 2008
We left Contadora fairly early, thinking we'd make it down to Espiritu Santo around mid afternoon. Well, welcome to nowindville. We bobbed along at a couple of knots and decided well heck, I guess we do some work as nothing else is happening. So we did some chores. Are we boaties or what! I think we finally can say we are at home no matter where we are. We made it to the top of Espiritu Santo around 5pm only to have the wind immediately pick up and we both looked at each other and said, heck let's keep going down to Isla de Caņa. So off we trott, heal over to about 20 degrees, winds starts blowing at about 25knots and of course we immediately catch a fish! You never catch them when you can comfortably deal with them. We crawled into the anchorage just on dark only to find Hello World, Yohela and Shared Dreams already there. We immediately got an invite to dinner since they had caught fish, and we tried to tell them we've caught fish also but they wouldnīt take no for an answer, so we get to keep our Sierra Mackeral for dinner tomorrow. Robin of course asked why the hell we had to go shopping when we can catch fish! Somebody smack him.
Rio Cacique, Las Perlas
Wednesday December 24, 2008
Christmas Eve. The run down the rest of Isla del Rey to the almost the bottom of the island today was very scenic. We sailed past Punta Gorda making sure to note the rocky shoal half a mile on our port side. The route took us down past Playa de San Juan, a beautiful light sandy beach glinting in the sunlight and then we cut through between Isla del Rey and Isla Santelmo. This was a bit hairy as we had Isla Santelmito and an extensive rocky reef system on our starboard side, submerged rocks off shore from Isla Santelmo on our port side, and about nine spare feet of water under the keel as we crossed the shoal. The water was crystal clear and we could easily see the bottom which consisted of boulders, boulders and a few more boulders for good measure. We were glad to get through there and back into deeper water. Nevertheless a very picturesque passage indeed.
Gisla and Frank (Shared Dreams) brought around an absolutely exquisite christmas decoration. Gisla had made one for each of the boats in the anchorage. She had torn either palm or banana fronds into strips, spray painted them with gold pain, formed them into oregami stars, some of which were bigger than others, then joined them together with gold string and red plastic beads. The entire effect was stunning and a lovely gesture. We will treasure it and Michelle is determined to somehow preserve it once we take it down after the Christmas season. The other boats were all having a get together this evening in the anchorage but Michelle begged off explaining she just wanted to spend a quiet night on the boat and open our Christmas presents and just catch our breath since it's been a nonstop made house of work and people for a couple of months now.
So Robin made us a Savoy Springtime, a gorgeous drink originating at the Savoy Hotel in Paris, of which I won't divulge the contents, or you will all think we are complete alcoholics, then we decorated the boat with the blue LED lights we used at Thanksgiving, so Warrior looked quite spiffy. Michelle cooked a lovely dinner, we cracked open a bottle of red, and sat on deck in the quiet anchorage, in the cool of the evening under a very starry sky, just taking time out. We decided to open our pressies tonight also, since really it was Christmas Day in Aus and we knew we'd be busy with the other cruisers tomorrow. No I'm not telling you voyeurisitic lot what we gave each other for chrissie!
Thursday December 25, 2008
Christmas Day. Since we opened the pressies last night Michelle got up and made a special breakfast for Robin, complete with a Savoy Springtime, Bacon, Egg, Artichoke, Capsicum and Cheese quiche and hot buttered toast. He's so spoilt. Then Michelle cooked a couple of desserts and Robin ever the workaholic did some more maintenance on the boat. Michelle growled at him that he could at least take Christmas Day off but he turned his deaf ear to her and carried on! We had a lovely Christmas evening over on Hello World, a beautiful 53 foot Sunbeam, built in Austria of all places. Rob and Theresa from Yohela, Frank and Gisla on Shared Dreams, Chris and Heather from Legacy, and the hosts Alex and Britt. We had Germans, Austrians, Americans and Australians. Quite the mix. Everyone contributed something to the meal, we had roast turkey, stuffing, vegetables, Gisla cooked a German dish which we've forgotten the name of, we had pumpkin pie and numerous other desserts with custard and we were all as fat as pigs by the time we were done.
Friday December 26, 2008
Playtime. We actually took time out today to dinghy up the small river estuary of Rio Cacique. The term Cacique means native chief but we couldnīt seem to determine which native chief it was refering to. I guess itīs been lost in history. However reading another piece of history, it is known the two conquistadores, Gaspar de Morales and Francisco Pizarro seized massive quanitites of pearls (hence the name of the islands) King Toe, a native king of the Perlas Islands back in 1515 so perhaps it refers to him. Anyway I digress. The small stream began with a sandbar which you have to navigate at fairly high tide, then after a few rocks at the entrance and some very shallow sandy bottoms you hit a fairly deep channel. Once you get about a mile upstream, tall trees begin to take over as the river narrows, and there was much evidence of birdlife. Michelle managed to catch a snapper for supper as well.
Punta Pedregal, Las Perlas
Saturday December 27, 2008
Today the wind swung around from the south which made the anchorage at Punta Pedregal kind of uncomfortable. In addition the sandflies over the last couple of days have also been annoying and for once bothered Robin more than Michelle. So we decided to head around the bottom of Isla del Rey today and into a small anchorage on the western side of the island. Unfortunately we told another boat in the anchorage we were going to head on around there later today and of course as everyone always listens to everyone else's conversations, suddenly the anchorage cleaned out and when we finally lifted our heads from our chores there was only one boat left. We hadn't been paying attention so couldn't figure out what had happened to everyone but we soon found them in our anchorage on the other side of the Isla del Rey, the pratts! Anyway we had just enough room to tuck into the bay although it wasn't optimal and we were to rock and roll the entire night as we just didn't quite have enough shelter. Did I mention sandflies in the other bay. Momma, these suckers were serious over this side. Robin hid downstairs quivering in fear under the sheets while Michelle got the screens in place and sprayed the boat to get rid of the strays. What a wuss, seriously!
Isla Platania, Las Perlas
Sunday December 28, 2008
We decided to head on out early this morning and head up the west side of Isla del Rey to Isla Viveros, located off the northwestern point. The route was dotted with islets, rocks, islands and rocky reefs which made for a very pretty sail. We arrived at the two small islets just prior to Isla Viveros, looked around and decided heck, let's stop here. We circled around and found some water both deep enough and rock free enough to anchor in, and sat very comfortably in the middle of absolutely nowhere, a 360 degree panama of islands and rocks. So what did we do in this piece of paradise? Why we worked of course! You wonder that getting a boat ready to cross the Pacific could take so much effort but the list of chores seems endless at times. Still if we had to work anywhere at least we could look up, out and enjoy the view.
Isla Bayoneta
Monday December 29, 2008
We took some time out early this morning to do a circumnavigation of the island and rocks of La Platania. It was a little rougher than we bargained for and the water clarity wasn't anywhere near good enough to snorkel but we had some fun nevertheless. Then since the weather looked like it was deteriorating we decided to lift the hook and head for a bit more shelter. The plan was to head over to Isla Bayoneta but the recommended anchorage adjacent to the tiny Isla Malaga wasn't doable for us as it was far too shallow. So we wandered a bit further along and just managed to tuck into the next indent which was basically straight opposite Canal Gibraleon where we had anchored a couple of weeks ago. We found a spot just deep enough to drop the hook and which was out of most of the annoying swell. All we had left to deal with now was current and we are becomming pros at that.
Panama City, Republic of Panama
Tuesday December 30, 2008
High tide was 5am this morning and we were determined to be out of here by no later than 6 in order to clear the sand bar which protrudes from the bottom of Isla Gibraleon. We checked, double checked, triple checked everything, hoped like hell that the sand bar hadn't shifted too much and saw a least depth of 17 feet on the way out. The plan - back to Panama City. Pat from Chetak who cruised with us what seems like eons ago, will be joining us in the first week of January for two weeks so we need to get ourselves organised. We have been in the islands way longer than we planned but then again it's been wonderful combining work with exploring the Perlas Islands.
We ended up having a great sail. We had the anchor down in Panama City at 1pm. We had the perfect wind and Warrior responded by giving us an average of 8.5 knots. You could just sense she wanted to go faster but we reigned her in and said whoaa there filly, you don't need to be killing yaself old girl. Will be interesting to see how many miles we can cover in a day when crossing the puddle and where the winds are reportedly far more consistent. We are ready. Coastal cruising with its fickle winds is wearing thin.
Wednesday December 31, 2008
The last day of 2008. We were trying to work out just where this last year disappeared to. It seemed to get completely gobbled up. We have decided to spend New Yearīs Eve with Joe and Adrienne from Bluebottle, just a quiet evening on the boat. Of course Adrienne made a wonderful chicken soup, and dessert and we munched into it around 11-ish while downing a nice bottle of red. We were wondering if us old fogies would make it to midnight and surprisingly the evening flew by and midnight arrived in what seemed like just a few short minutes. The fireworks began and it was quite a show up and down the causeway and then we did the only thing left for old fogies to do. We happily went to bed.