Panama City, Republic of Panama
Monday February 2, 2009
Michelle had organized a propane run this morning for cruisers. The way it works here in Panama is that one needs to take a 30 dollar taxi ride towards Colón to the supply plant, walk the tank inside, they fill it, you pay for it, and you head back to the City. Because it costs so much we usually organzie a few cruisers to go together and take roughly 10 or so gas bottles and divide the cost of the taxi accordingly amongst us all. Weīve had other cruisers do this for us while we have been here and Michelle felt it was our turn to reciprocate. So armed with a list of 14 people who wanted their tanks filled she heads ashore only to find that she suddenly had a flood of tanks and by the time she picked up the last of them at Balboa Yacht Club the final count was 28 gas bottles. Tony the taxi driver was almost having an apoplectic fit, heīd never seen so many. That was the beginning of the story. We arrived at the gas plant only to have some new bureaucrat standing on the gate who was furious that we had brought gas bottles in an enclosed vehicle, and he flatly refused to fill them. Then the guy pulls out four gas bottles with odd fittings and says, itīs impossible to fill these anyway. There ensued an hourīs long argument back and forth between Tony and the guy and finally Michelle managed to explain that all these gas bottles come off sailing boats and you canīt just swap a tank out for another one. Firstly all the different sizes are because sailboats come in all different sizes and the lockers are built around the gas bottles. Secondly, you are out here in the middle of nowhere because everyone knows propane is dangerous. We need to know absolutely that no tanks are leaking. Propane settling in our bilges is completely out of the question. You canīt take responsibility for a leaking tank when we are in the middle of the Pacific Ocean. Amazingly the group of guys all stood around listening to this and finally one guy comes forwards and says, donīt worry, I have a permit to carry propane tanks in my truck, I will take them all back to La Playita anchorage for you. For 40 dollars of course. However by the time it was divided between all the cruisers, the entire cost for Tony and the truck driver still turned out to be only $3.50 each. Thus the filling began and the four tanks they flatly refused to fill were piled back in Tonyīs Van. We headed down the road a half mile to Panagas the rival gas company, and walked them inside and they filled them without a hitch. Moral to the story, if you have a strange fitting go to Panagas and donīt drive up to the gate with your tanks in your car. Walk them in.
We took time out on Monday evening to head over to the Balboa Yacht Club, mainly because of the internet, but also it was book exchange evening, hamburger night and we got to meet up with some friends who had just arrived back from the States, Jim and Kaye off Grace. Robin didnīt realize just what good timing he had, as when he called home to his mum, she was delighted that heīd called for her birthday. Hopefully we will be home for next yearīs birthday Ali.
Tuesday February 3, 2009
Happy Birthday Ali
Wednesday February 4, 2009
We caught a taxi at 9:30am. We arrived back home at 3:30pm. Many chores were accomplished while out. The usual road block on Trasithmica due to demonstrations was in occurence. The traffic jams everywhere we abominable. The road rage was significant. These demonstrations, which are of course all about more money, need to be banned. Some other way needs to be found to get the message across as bringing an entire city to itīs knees every day, day after day, just isnīt working. Neither side is giving in. Arriving back at the boat, the seas were about 4 feet high. Getting everything onboard without getting tossed out of the dinghy was a feat in itself, jerry cans of deisel becoming like flying missiles.
The nice part about today was we got invited over to dinner on Tao 8, who have also arrived back from the Canada. They had also invited the Swiss couple, André and Claire off Niaouli who we met eons ago up in the Sea of Cortez. Angie had cooked one of her famous curries, we cracked open a few bottles of red and had a wonderful evening, even if the anchorage was tossing us around wildly.
Thursday February 5, 2009
We hope to be out of here either tomorrow or Saturday depending on the last few things we have to do. Robin needs to find a notary republic to sign some documents and there are only 15 in the whole of the Republic of Panama. Then we still need to buy wine and get it all stowed. The provisioning other than wine is at least finished. The anchorage here over the last few days has been abysmal. There has been a constant 20-25knot wind through the anchorage and if it swings slightly to the east of north we get the swell wrapping around Isla Flamenco and straight into the anchorage. On top of that the canal traffic and work boats churn up the water sending you tossing all over the place. Some of the smaller boats are constantly burying their prows under the water. Itīs no fun.
Isla Espiritu Santo, Las Perlas
Saturday February 7, 2009
We finally got underway this morning around 8:00 am. We said goodbye to the morning local net, said goodbye to Panama City which we wonīt miss just as we were leaving a guy comes on the net from the dinghy dock and says heīs closing the dock and noone is allowed to land there anymore. This is the only access to shore on the La Playita side of the causeway and thereīs currently a 20 knot wind coursing through the anchorage which will make for a very wet and quite dangerous ride around the end of Flamenco and into the marina on the other side. Itīs against the law to land on the rocks along the causeway and if you are caught you are subjected to a 400 dollar fine. So crazy stuff and we managed to escape all this latest craziness. We really do feel for the other 60 boats in the anchorage, most who are trying to provision for the South Pacific. That is not going to be an easy task.
When we said our goodbyes this morning we had a few people say, but you know there is 20 to 30 knots of wind out there and oh my gosh, 5 foot seas. We both look at each other and go, sheesh we get to sail for once. In preparation we decided to put our 65% jib back on the roller furler to see how it would perform in those conditions. Well we got just 20 knots of wind if you donīt count the two higher gusts, and the seas were almost flat calm. Warrior didnīt even look like heeling and we did a comfortable 7 knots. We were as happy as pigs in mud and were in Espiritu Santo by early afternoon. We do wonder how some of these people make it across oceans if they are worried about 25 knots of wind. We are continually amazed at how many sit in port till thereīs no wind and then they motor to their destination. It completely boggles the mind. Anyway we were happily out of Panama City, we had a great sail and we are now sitting in a calm anchorage, albeit the wind is still blowing at 15 knots, and we think we will actually take tomorrow off and have a wee rest.
Robin made us a Warrior, our signature cocktail drink which we had first devised in La Paz and which Richard off Chessie renamed, and we sat on deck enjoying the idea that we have finally begun our circumnavigation for real as this is the mostly likely place we are to cross our path again if we ever are successful in wandering our way round the globe. We then cracked open one of our precious bottles of Warrior Red and saluted Tom in Sunny California for having the forthought and kindness to provide us with our very own red wine. We caught a Sierra Mackeral on the way and Michelle baked it in the oven and we were truly counting our blessings. We sat and reminisced about everything weīd achieved so far, from just starting out, not knowing really how to sail, then recalling each accomplishment, each triumph over a challenge or difficulty and here we are about to embark on the next challenge with hopefully very few difficulties!
Monday February 9, 2009
True to our word we did take yesterday off for the mostpart, read books and relaxed. Well we did do some research on the Galapagos but that doesnīt count as real work. Somehow the rest didnīt work out however. Michelle woke up with a roaring sore throat and the beginnings of a head cold. Drat! Robin says, to work! and so Michelle did some more sewing today, and has nearly finished all the stowage bags. Just two more to go! Robin patched the dinghy, yet again, and he seems to have found all the leaks as it stayed inflated all day. Then he started on installing the towing generator, a device you drag through the water which generates electricity and will cover our instrumentation, espcecially during the night hours when the solar panels arenīt functioning. The wind generator has really been helping lately as well, giving us nearly 40 amp hours of electricity overnight.
Passages arrived yesterday and Pam and John invited us over for a sunset drink this evening. Michelle tried to beg off saying she had a cold but they didnīt seem deterred at all by the lurgy gremlins so we dropped the newly patched dinghy in the water and rowed on over. We last saw them in the top end of Costa Rica when we were having dinghy engine problems. They have since been to Ecuador and back and liked it so much they are going to spend another season exploring South America instead of heading across the Pacific. We are feeling a little bit jealous as we would still love to explore that region ourselves. We will just have to save it for later.
Tuesday February 10, 2009
Michelleīs head cold hit full force today so she was basically a waste of space. She did managed to clean around Robinīs tool box and bleach it all so as to prevent any mould and then Robin had such a mess everywhere that she shut down and went to bed. A headcold in the heat is just no fun at all. Robin almost completed installing the towing generator today, getting all the wiring installed and connected. That got rid of Tuesday
Friday February 13, 2009
Michelle has bounced back from her head cold which is a bonus. She finally volunteered her services to be a net control whilst on the pacific passage so every Wednesday evening at 13:00 UTC time, she does the roll call for vessels underway. Thereīs not all that many at the moment but there will be an exodus of boats very shortly. We need to get going. We have more things organized over the last few days, Robin finished stowing underneath the back cockpit area and everything is tied down including the spare starter battery which can be charged in an auxiliary fashion from the solar panels. Very clever this boy. He also finished the aluminium frame around the leaking front hatch window. Itīs a bit of a shoddy job but it is very functional. We tested it with a whole bucket of water and no more drips. It will be nice to have a dry bathroom area for a change. Then he took all the water buckets over to the small stream hidden away behind an islet and came back with 5 x 5 gallon buckets of fresh water. Thatīs all for Michelle to do the washing and wipe over the rails. Michelle finished making the wall bags for stowing stuff so it doesnīt go flying around and made two storage pouches for outside in the cockpit to put suncream, books, the remote control for the Radar/Radar Plotter, a torch, the camera and other odds and ends that always end up in the cockpit floating around getting in the way. Organization plus.
Saturday February 14, 2009
Well we are almost there. Michelle just has the raincatcher left to make which should be done today, Robin has to replace the radar reflector and go up the mast one more time to cover an exposed wire in plastic tubing. Southern Bell and Hooligan arrive today finally, so we are planning a farewell BBQ on the beach for tomorrow, the same one Dayle had Parrot Bay hauled out on, and we should be out of here on Monday.
Sunday February 15, 2009
Well of course we couldnīt get by with just one farewell party we had to start last night. We all coalesced on Southern Bell, about 6 different boats, and generally had boisterous evening of chitchat. Robin wore a red heart in his hair in honor of Saint Valentine which of course created a good amount of ribbing. Naturally we were the last ones left standing although while the women were still gossiping at midnight, Robin and George were into the catnap stage. We finally decide to take pity on the guys and call it a night.
First thing this morning George came over and they winched Robin back up the mast one last time. Up top he managed to snap some neat photos of Southern Bell and the anchorage.
The party continued today with a BBQ and rubbish burn on the beach. Of course we had to have someone bring cans and bottles to the fire, the bottle of course immediately exploded and we remained behind after the party waiting for the incomming tide to hit the fire so we could gather up all the glass shards. They would have been left right where someone walks. Overall we had a very fun day, Michelle broke out the guitar and sang crazy aussie songs in the vain of John Williams Bill the Cat etc and then we kept Joshua with us for an hour or so while waiting for the tide to come in. He immediately began digging an enormous hole in the sand, well what else do little boys do? and buried himself. It was fun to watch his enthusiasm and we wondered where ours had disappeared to.
Possy under the trees, George, Jim & Kaye (Grace) John & Pam (Passages)
George (think he managed to get into every picture) Axel & Britt (Hello World), Melinda who evaded every picture, Geroge and Michelle in corner
Joshua with way too much energy
Galapagos Passage
Monday February 16, 2009
We finally got underway around 6pm after a lovely afternoon spent with Joe and Adrienne on Bluebottle who sailed into Espiritu Santo to farewell us. The northerly winds filled in during the afternoon and we decided to take advantage of them while we could. 9:00pm saw us wending our way between Islas Galera and Trollope and once clear we altered course to 180 degrees, a course we will follow for at least 24 hours to take advantage of the current. The wind was a constant 18 knots and seas 5 to 8 feet. Only excitement of the evening was having to dodge a fishing net.
Tuesday February 17, 2009
By 6pm this evening, our first 24 hours, we had covered 140nm which was a nice chunk of distance. At 5am this morning the wind was still 18 knots from the NNE and it accompanied 4-5 foot lumpy seas. We woke to a sky that was 50% overcast but it burned off during the day and became beautifully clear and sunny. Around 2:00 pm the wind started to abate and by 5:00pm the wind had dropped to around 10knots although the seas continued to provide us with quite a rollercoaster ride. The current is sitting us slightly to the west at about 15 degrees which is a bonus.
Wednesday February 18, 2009
Current position as at 6pm Wednesday evening Panama time or 2300 UTC - 5 hours was 03.53N 081.08W. The wind picked up again around 8:00 pm last night. We had a pretty good overnight averaging about 7 knots. Sadly around 2:00 am we came off three rough waves in a row and bent our whisker pole with the force. Thatīs a bit of a bummer as we really need it in light air especially downwind work. Doubt it can be fixed in the Galapagos as they wonīt have the materials for sure.
The wind died down to below 8 knots around 5:00pm this afternoon, but we averaged around 6 knots. The swell and slop is still with us. It will be a slow overnight tonight for sure. There has been a moderate amount of shipping which we have needed to keep an eye on. Other than that the only danger has been enormous trees and branches which you really do not want to hit at 8 knots in the dark. 26NM to Isla Malpelo which we should see in a few hours.
Have seen our first green turtle. He lifted his head, looked at us and figured we werenīt worth bothering with so there he floated with nary a care in the world. Other than that not much life about. We managed to deploy the towing generator and itīs working and itīs making us some much needed power, around 3 amps per hour which covers running the radar at night.
Thursday February 19, 2009
We followed Isla Malpelo on the radar for what seemed like hours last night and it was. The radar is set to scan an area of 24 miles so for 48 miles we stared at the radar blip and kept thinking are we really getting anywhere? There was so little wind overnight that we caved in and decided to motor a little ways. Our course is roughly 240 degrees now and motoring at 1500rpm we are still managing 5 knots as we have a strong 2 knot current with us.
Our position at 6pm and the end of our 3rd day, was 03.06N 082.41W. The wind has died to less than 5 knots but we are still ghosting along at just over 2.5knots due to current. We have the drifter up but itīs not doing much. Itīs been a beautiful day, the sun shining, almost flat calm seas. Weīve seen more turtles, some dolphins and some white birds tipped with black way in the distance which we couldnīt recognise. Too far and too much sunlight. We are trying to keep more south than west at the moment to stay with the current. Distance to destination - 383nm.
Friday February 20, 2009
7:00pm last night saw us turning the engine back on and it didnīt get turned off till 8:15am. We were warned that everyone motors to the Galapagos but we wanted to be an exception to the rule. Guess itīs not happening. Moonrise last night was at 3:35am and it came over the horizon looking like devilīs horns. The sea was so glassy you could see the stars reflection, the only distortion coming from Warriorīs wake.
The engine went back on at 11:30am and weīve altered course to 209 degrees, trying to make some more southing in search of wind. Robin would like an order of wind to go! Looking out across the ocean it was hard to discern where the sea ended and the sky began in the calm haze. A seagull dropped by to say hello and immediately left his deposit on deck. Another turtle too lazy to shift out of the way opened an eyeball and harumphed at us but otherwise didnīt twitch a muscle. That was it for the wildlife today.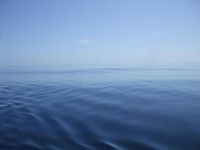 Motoring right along
We finally turned the engine off and we going to keep it off even if we are only doing 2 knots. We canīt bear the sound of it any longer. 6pm tonight saw us at 02.15N 084.11W with just 372nm to our destination. Travelling at around 3knots under drifter in flat calm seas.
Saturday February 21, 2009
Last night just as the sun was setting we were privileged to watch a dolphin show. There were about 20 dolphins and they were all doing somersaults, tail walking, and taking massive leaps in the air. We were trying to figure if it was some kind of sun worship ritual where they were putting the sun to bed or if they had worms. They were certainly full of energy. The show lasted a good 15 minutes.
It was a blessedly calm night. We had all the sails up and managed thanks again to the current to do 4 knots in less than 5 knots of wind. By 8:00 am we had noticed that a long low period swell had started to fill in and we realized we were finally away from any influence of the shore. The sea was calm other than the gentle rise and fall of the small swell every 16 seconds. There was not a cloud in the sky this morning and we have marvelled that we have had beautiful sunny days every day. Usually people get overcast drizzle at this time of year.
6:00pm and the end of day 5 saw us at 01.22N 085.32W on a heading of 230 degrees averaging 3.5 knots. 274nm to the Galapagos.
Sunday February 22, 2009
Day 6 began with a short stint of motoring as the wind completely died on us to absolutely nothing. You could see the stars in the water again tonight it was so calm. Then by 11:15pm last night the wind filled in and stayed with us until 5:00pm this afternoon and we have had an amazing sail. Our position is 00.31N 087.14W and we are trying to head more west than south at the moment so as to cross the equator in the morning light tomorrow. We will stop the boat and celebrate becoming shellbacks, and of course offer the requisite offering to Neptune. We have 161nm to go to the Galapagos but we wonīt make it before dark tomorrow night so we are going to waste a day tomorrow playing and probably drift Monday night to slow down which will allow a day time entry into Isla San Cristobal. We saw a shark today which I think we startled. He saw the boat and did a figure 8 trying to dodge out of the way. We caught a baby skipjack for Robinīs breakfast (Michelle doesnīt like this fish, itīs very dark bloody meat), and saw a Nazca Booby, a Tropic Bird and a Swallow-tailed Gull. We must be getting closer to land as the wild life is starting to picking up a notch.
Monday February 23, 2009
We timed crossing the equator perfectly. Michelle wanted to cross at exactly 00:00S 88:00W and also have it at 9am in time for the morning SSB Net. Like the spoiled brat that she is she got all her wishes. We dropped the sails and drifted for a few hours and generally frolicked like a pair of kids. We inflated our floating chair and tied it to the boat. We celebrated with a Savoy Springtime and of course tossed a wee dram to Neptune, the lad himself. Weīre not totally conviced he appreciated the good whiskey we gave him since there was absolutely zero wind when we finally figured it was time to get moving again. Or maybe the wind gods were put out that we didnīt give them a wee dram as well. We motored for the next 12 hours in glassy seas and not a puff of breeze. And here we thought we would have to drift to waste time. Ha! Our position at the end of Day 7 was 00.13S 088.19W with just 84nm to our destination. We should arrive in Wreck Bay, Isla San Cristobal at dusk tomorrow if all goes well.
Oh yes we are shellbacks!
Equatorial Hijinks
Tuesday February 24, 2009
It was an odd night with absolutely zero wind but an annoying swell picking up from the south and an annoying 15 degree cross current from the north which was helping to lump the seas up a bit. By dawn we were staring at San Cristobal in the distance and had just 25 nm to go. We still had the luck of the Irish with us though as the sunny days prevailed. We finally arrived around 4:00 pm. We did a quick turn around the anchorage saying hello to the various boats we knew and we seem to know everyone, and not 20 seconds after we had dropped the hook we had the checkin agent on our boat. Before he left we had the Port Captain on the boat and while he was there going through the paperwork that the agent doesnīt handle, our friends on Camelot dropped over. It was a busy afternoon. Anyway we are here, safe and sound and ready for a good nightīs sleep.
Wreck Bay, Isla San Cristóbal, Galapagos
Wednesday February 25, 2009
We were wondering this morning why on earth you need a agent to check in when you still have to go to immigration yourself. Bureaucracy always makes you shake your head. We had an appointment with our agent to go with him to immigration at 10am and were promptly ashore only to realize that we were an hour early as there has been a time zone change. Immigration out of the way we strolled around the small town of Baquerizo Moreno which the locals nickname Cristobal, and sussed out the eating places, the grocery stores, the fruit and vege shop etc. You donīt take your dinghy ashore here as there isnīt the room on the loading dock for too many boats at once so there is a water taxi that comes and picks you up for 50cents each trip. We located an internet cafe and sat down to a 3 hour marathon of the slowest internet connection of all time. It took all that time just to get our email downloaded and to check bank accounts. After that we gave up not even having looked at whatīs happening in the world and headed for a late lunch early supper at a small restaurant overlooking the water. Youīd think by now we could be prised away from the water front wouldnīt you! We spent the rest of the evening relaxing and turned in for another early night of much needed sleep.
Friday February 27, 2009
We had arranged with Fernando, our agent, to do a tour of Isla San Cristobal today and although we are usually wary of such undertakings it was surprisingly a good tour. There were just four of us, the other couple were Danish from the yacht Mizlar. They are on a mission to sail around the world in just two years and have made it all this way from Denmark since July last year. We piled into a dual cabin ute type taxi with Carlos our guide for the day and off we headed to the east side of the island. Isla San Cristobal is the fifth largest island in size, 558 sq kilometers and is situated at the far east end of the Archipelago. We were just going to explore half the island today as there are no roads to the northern end of the island. First stop was the Galapaguera de Cerro Colorado, a place for the reproduction of rearing of the San Cristobal giant tortoise (Geochelone Chathamensis). Each of the islands of the Galapagos had itīs own subspecies of tortoise, and there are apparently 11 different species, and another 3 which have become extinct. Isabella had a different species inhabit each of its 4 volanoes.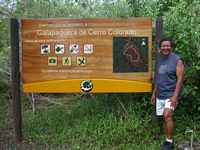 Carlos our Guide
The visiting trail of the Galapaguera is 900m long and in addition to the reproduction center, also houses many endemic plants and bird species in a semi-natural environment. We arrived through the gate and immediately were met by a tortoise. Very cool up close and personal welcoming committee.
The arid grounds and our welcoming committee
We wandered around the prepared path, stopping to read the plaques, checking out the various plant life and finally arrived at the Rearing Center. We learned that the eggs are carefully collected from the tortoise nests and are transferred to the incubators, being placed in the same position they were found in so as not to damage the embryo. Here they are incubated between 90 and 120 days kept under strict temperature and humidity control. In nature the tortoise digs a hole in the earth, lays her egss and seals this with a mixture of the dirt, urine and excrement. The babies have to dig through this hard earth with much effort to survive. It will usually take a baby tortoise between 20 to 30 days to dig themselves out of this mess and this entire time they havenīt eaten to drunk a thing. In order to survive they depend on the reserves of the egg yolk sac which they carry attached to their stomachs. To imitate this process the young are kept for the first month of their life in a dark room. Mmmmk guess itīs working. Once this time has passed they are transferred to the enclosures where they are measured and weighed each month. They spend the first five years in this environment and then are released into their natural habitat.
1 year old 5" long and 4 years old 10" long
The flora was interesting, the most notable being the manzanillo (apple) tree which is poisonous to humans but an essential food to the tortoises, the Matazarno tree which only grows in the dry regions on Isla San Cristobal and Isla Santa Cruz and is reported to be extremely tough (legend has it that the first dock in San Cristobal was made of this wood while the metal parts completely corroded away the wood hadnīt taken a dent), the Galapagos Croton which is an essential food group for the finches, the Scalesia Tree only found here on Cristobal and quite rare, and a variety of cacti and a flowering plant Carlos called Agodon (Cotton) which had a pretty yellow flower. Sorry but Michelle is really interested in plants so you get to put up with her obsession.
Manzanillo, Matazarno, Galapagos Croton, Scalesia Tree
Cactus, Algodon and unknown
Halfway around the complex we arrived at the big guys. They were an impressive sight. We even spied a couple doing what animals do and as soon as the male finished the female raced (can you use that verb with tortoises?) off. We hung out with these guys for about 20 minutes watching them head butt and hiss at each other just like cantankerous old men. They began the breeding progam here by relocating 45 tortoises from the northern Galapaguera program. Until this area was opened, the giant tortoise of San Cristobal was only found in the 26 square kilometers at the very north end of the island. Any major change in the environment would probably see the extinction of this species. These giants will live up to 180 years. They donīt know their sex until theyīre at least 12 years of age and they finally begin breeding around 30 years. At least I think I remembered all those facts right.
The big guys, Michelle, Copulation in Broad Daylight!
A regular sight along the trails - tortoise poop! Man they have a serious dose of constipation. We canīt imagine baby tortoises having to dig their way through a nest of that stuff. It must be like cement.
After the Galapaguera we headed back towards the volacano, and climbed the hill to view El Junco Lagoon. It is the biggest freshwater reservoire of the archipelago and our guide tried to explain to us that the water rises up through the ground and is continually replenished like a spring. Robin the ever sceptic scientist highly doubts this but we have no way of researching it right now so Michelle is taking the word of the guide. To the southwest of the lake along the mountain ridge are 3 wind generators which provide up to 50% of the electiricty for the island. There was a great view of both sides of the island up here as well. And climbing the stairs to the top we finally got to observe another endemic plant to the island, the Miconia, a low scrubby flowering shrub.
Next stop was another lookout point, then we dropped in to view the remains of a sugar factory established in 1891, by one Manuel J Cobos. He apparently recruited jailed mainlanders as workers, and printed his own money called the Cobo. He managed to keep this working until 1916 where his luck ran out. His workers up and killed him. His son then took over but he was pretty unsuccessful at running his daddyīs business so the sight fell into ruin. The area is now the sight of a small village, population 100.
Progessing right along we took a detour to take in a crazy tree house. Itīs an enormous old tree which subjected to the indignity of having a house shoved in it complete with hanging bridge, had been dug out between itīs roots to form a secret cave underneath and turned into a climbing gym on the side. All in all it wasnīt really too bad a spot and weīve seen worse tourist gimmicks.
Last stop and the piece de resistance of the day was a stop at La Loberia, a rocky beach home to numerous sunbaking iguanas. They allowed you to come quite close to them so we sat around for about 30mins watching these lizards that look like theyīre from another time completely laze around tanning themselves. They almost completely blend into their environment.
By now we were all famished and the tour included a cooked lunch back at Fernandoīs house and after that we headed back to the boat and collapsed. All in all money well spent and we hope this writeup gives you some idea of what we saw.
Saturday February 28, 2009
This morning early we took the whisker pole ashore as Fernando thought they may be able to repair it here. They do have some good mechanics here but sadly after a few hours of discussion with a couple of them it came down to not having the materials available. We figured as much so itīs a no go on the whisker pole for now which is a bummer as crossing oceas with light wind without one is painful. We invited Han and Carla (Esperanza) over for drinks tonight, a couple from Holland who we had only really met on the radio but never face to face. It was nice to finally meet up with them and Han had many stories to tell. After they left we decided we would crack open the box of jigsaw puzzles that we have had since Christmas. There were 10 to choose from and we picked a 700 piece puzzle and got stuck in. We had it completed by 2am. Yes we are that crazy!