Rikitea, Iles Gambier
Thursday May 7, 2009
We have been here over a week and hardly stepped foot ashore. The weather has been wet, dismal, blowing 25 knots, gusting from every quadrant, wet, overcast, you get the picture. So the first few days we took advantage of the weather and curled up with some good books, and some very bad books, napped and generally caught up on the sleep deficit weīd accumulated over the last few weeks. Then we had two days of sunshine where Michelle managed to do the washing dry and get the entire boat free of mould again and Robin fixed the water pump which had emptied our entire contents of drinking water into the bilge. There was a wee bit of excitement when the supply ship arrived bringing fresh fruit and vegetables and other goodies which cost you an arm, a leg and your left kidney. We arenīt sure why they donīt grow more here since there seems to be good soil and enough water. Instead the entire island functions around pearl farming and everything else is imported from Tahiti.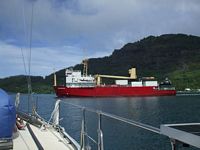 The supply ship from Tahiti
Anyway having completed our chores we decided to go hiking yesterday. That was obviously a very silly idea because no sooner had we thought of this plan the rain reappeared and weīve been snug and cozy in our boat looking out of a very grey wet world again. There is a low pressure system just south of us which will be with us another couple of days.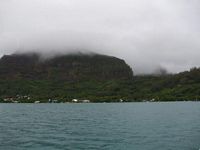 Who can complain with a view like this out your back door?
So what does one do on rainy days? We decided to break out a jigsaw puzzle. Sadly it only took a day to complete which means today we decided weīd best do some chores. No. 1 on the list was to finish the rain catcher since all this fresh water is going to waste. Itīs weird how when you are foced to relax you donīt want to. We really would like to get ashore for some exercise.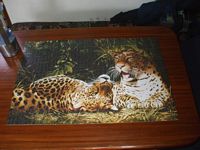 Rainy day entertainment
We have the cutest sharks under the boat. They are about one foot long and have what seems to be an armour-plated hat on their head. We have no clue as to what species they are.
Saturday May 9, 2009
In amongst the rain squalls today we decided we definitely needed to hike Mt. Duff. Then Michelle looks out and goes, uh I donīt think so we are going to get very wet. So Robin decides to head off anyway. He got very wet. But he did manage to get all the way to the top of Mt. Duff before the rain squall came and he ran and slid all the way back down trying to beat it but of course it caught up with him. The other side of the island was dotted with pearl farms and the view from the top spectacular.
Pearl Farms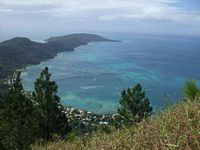 Our anchorage in front of Rikitea Village
Western Pass, Incoming Rain Storm, Looking towards Taravai Island
We also discovered that the cute little sharks under the boat arenīt sharks at all but shark suckers, a type of Ramora. We finally discovered them in our fish identity book. Another puzzle solved.
Monday May 11, 2009
Today we have decided to head on out to the Marquesas so headed ashore at first light this morning to hit the Bread shop for wonderful crusty french bread at $4.50 a loaf, and a few groceries which cost us another arm. We said our farewells to the gendarmerie and headed back to the boat to get everything organized. Itīs roughly 700nm to the Marquesas and we are really hoping we get the opportunity to stop at Reao and PukaPuka atolls on the way. There are no sheltered anchorages so it will be totally dependant on the weather conditions.
Tuesday May 12, 2009
We must have really annoyed the wind gods somewhere somehow because they sure arenīt favoring us. We have had zero wind for the last 12 hours and are just sitting here bobbing. Occasionally we get 5 mins from a rain squall but mostly itīs just flat calm. The weather reports state we should definitely be getting 12 knots. They definitely got it wrong.
We havenīt covered much ground but Michelle managed to do a lot of cooking today since there wasnīt much else to do. At least we have a few days of prepared meals. Also in the works is a guava cake. We will let you know how it turns out since itīs a kind of experiment. No wildlife sightings today other than Robin who really does look like a mad professor at the moment.
We had another sail slide break last night but Michelle is a pro at fixing them now and had a new one sewn on in about 15 minutes. John from North Sails in San Diego is sending us a large kit of repair slides etc. Hopefully weīll receive it when we get to Papeete in Tahiti.
Position at 00:00UTC was 22°15S 135°13W COG trying to do 340° to miss Marutea Sud but we are all over the place. Still 45nm away from the crunchy stuff so not too worried at this point. SOG 1.08 knots. Wind 2knots from pick a direction. Swell 1.0 meter from the south west.
Wednesday May 13, 2009
Well we had a very busy night last night dodging rain squalls full of lightening. The rain squalls we didnīt mind. The lightening was a wee bit scary so we did our utmost to stay away from it. Around 12:00 UTC this morning the wind finally kicked in nicely and we have had 15 to 18 knots ever since covering some nice ground. We finally made it past Marutea Sud in the wee dark hours and are currently on track for Reao although we think the seas are going to be too high to allow us to stop. If we canīt drop in we have decided to head to Tatakoto instead and see if the seas will have abated by the time we get there. This will leave a direct northerly course past Pukapuka and on up to Fatu Hiva which will also probably mean tacking but ah well we may as well make it hard on ourselves.
Lots of birdlife this morning at dawn. Guess Marutea Sud had something to do with that. Nothing different just the normal terns and boobies but great flocks of them which was nice to see.
Very wet in the cockpit at the moment with the occasional wave breaking over the boat. Itīs lovely and cosy inside though.
Position 20°13S 136°04W COG 314° SOG 8.5 Wind WSW 15 Waves SW 2.2 Cloud cover 50% Barometer 1013 and steady. Distance to Reao 93.59nm. Sounds much better than 450nm to Fatu Hiva!
Thursday May 14, 2009
We have at least covered some ground the last 24 hours. The forecast for this area said we were supposed to see 11 to 18 foot seas. We are glad we were right on the edge of that as we only saw the 11 foot seas and not the 18. Today they have calmed right down to about 8 feet. Weīre running dead down wind, wing on wing which requires a bit of fiddling as the swell is just big enough and the wind just not quite strong enough to keep things from flapping if you donīt pay attention. Not sure a spinnaker would be any less work at the moment.
Michelle is trying to figure out how Robin keeps getting so skinny. This morning at 5am we ate breakfast of cereal and fresh Pitcairn banana. Then a 2nd breakfast of toast and vegemite, the latter courtesy of the crew from Reality who had some spare jars. Morning tea he got crackers with tuna, onion and jalapeno. Lunch he got curried egg sandwiches. Afternoon tea he got half a pampalmouse (grapefruit kinda thing). Afternoon tea take 2 he got a huge slice of guava cake. For dinner we are having rissoles and lots of mashed taters. Now how can a man lose weight eating all that /boggle. Guess itīs the lack of the ales thatīs doing it!
We had a lovely sunny day today and itīs warmed up nicely. Position 18°01S 136°18W COG 340° True SOG 5 knots Wind S 10 knots Barometer 1016 and steady. Cloud cover 10%. Distance to Fatu Hiva 462nm. If we can keep sailing and not do a drift kinda thing we will be there in just 4 days. Now that Iīve said that I bet weīre jinxed!
Friday May 15, 2009
Dang. Half way through May already. Time is whipping right on by. We have had a pretty good 48 hour run and this afternoon were averaging a good 8 knots. Sadly we have had another sail slide breakage. They are all definitely on their last legs. We now at least know that 7,000nm is the utmost limit of the A118 sail slide. Will be good to get to Papeete and get the new ones installed. We have reefed the main to the first reef and are using the bottom batten slide on the one above. Hopefully it will hold till we get to the Marquises where we will have to effect another repair.
Other than that, the sun is shining. Itīs warm. The seas are a little bit big but not too rough. The sunset last night was absolutely spectacular and we actually ended up with two sunsets. Somehow. 10minutes after the first we were treated to a repeat show. Guess there was a gap in the clouds over westward way.
Position Report 15°19S 136°52W SOG 8.0 knots Wind ESE 16 Knots COG 340° True Swell 2.3 Meters. DTD 297nm plus a bit after we arrive because we set the waypoint aways offshore so we donīt find land in the middle of the night. 1 1/2 days to go if the wind holds.
Saturday May 16, 2009
Have had very solid 17 knot winds which has had us moving at a constant 8 plus knots which is moving us along pretty fast. Currently doing 9 knots around a rain squall but should be out the other side of it soon. Otherwise a pretty no news day as we are just hunkered down keeping movement around the boat to a minumum and thus avoiding the bruises.
Position 12°19S 137°51W Course 335° True Speed over 8 knots Wind has been from the ENE to ESE 18 knots but currently a squall so itīs from everywhere. Swell 2.5 meters. DTD 119 nm. Should arrive tomorrow at Fatu Hiva.
Oh we received an email from Philip and Leslie on Carina which had some fantastic advice on how to get a delivery to Nuku Hiva. Takes only 10 days from California so it looks like we can have our sail slides earlier than expected. This was very good news so we are looking into that as soon as we get into Hiva Oa.
Bay of Virgins, Fatu Hiva, Iles Marquises
Sunday May 17, 2009
We arrived in Fatu Hiva around 2pm after a whole night of rain squalls which totally wore us out. The strong gusting winds continued all the way to Fatu Hiva and were augmented by the sheer cliffs towering hundreds of meters in the air. Last night on the evening Ham Net, we took advantage of a service the maritime net guys provide which is a phone patch via radio to a shore based relay station who then uses some fancy equipment to connect, probably via the internet, to anywhere in the world that allows it. (The French Government does not hence we needed to get this call through while still offshore). In an emergency it is a great service although it does depend on propagation and the ability of the other party on the end of the phone line to be able to hear you. Anyway our call home to Gail and John went not too bad for a first attempt although understanding Robin at any given time is difficult, let alone over the radio!
The weather was inclement all the way to the island. As we drew closer to Fatu Hiva the wind seemed to increase and Warrior was doing a good job heeling in the weather. The island was shrouded in misty cloud. As we drew closer we had to laugh. There was yet another huge red ship crossing our path. It looked to us very much like the supply ship we saw in the Gambiers but we are not sure if itīs the same one. If it is it covers an enormous area.
Approaching Fatu Hiva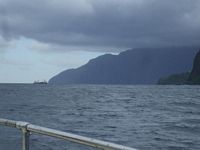 Supply ship
Cruising along the shoreline of Fatu Hiva and then entering the bay here at Hanavave was awe inspiring. The anchorage itself is deep and rocky with poor holding but soaring mountains rise above it on all sides. All our cruising guidebooks of Polynesia have this photo on the front cover and no wonder. Itīs a gorgeous garden of bulbous aggregate rock peaks that ring the valley and are topped by sharply spiked volcanic peaks. This evening at sunset, we sat and watched the view evolve as the colors and contours of the peaks continuously changed before our eyes in the light of the setting sun. There were 13 boats in the anchorage already so we anchored way out and off to the side in 91 feet of water, one of our deepest anchorages since Cabo San Lucas in Mexico where we didnīt know any better. Pulling up the anchor is going to be fun.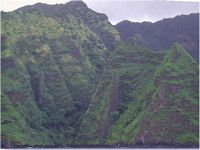 Western shoreline just outside Hanavava Bay, Fatu Hiva
Monday May 18, 2009
There is no Internet ashore here and the ham radio is iffy as well. We managed to check emails late yesterday afternoon but have been unable to connect since. The problem is the high mountains around the Bay interrupting our signal.
We set out this morning to see if we could find the waterfall which is purported to be spectacular. We arrived in the village and found it to be small and the people amazingly friendly. They speak a melodic form of Marquesan for the mostpart but you also hear the occasional French word tossed into their conversation. They converse mainly in French with visitors and a few also have limited English. The women are elegantly dressed in sarongs which cannot be classified as beachwear by any sense of the word. They're definitely a smart everyday dress for women living in paradise. Some of the women also wore a umuhei in their hair, a beautiful sachet of dill, mint, basil, and other local plants we really didnīt get the name of. These are all dipped in sandalwood powder then fastened in the hair. The locals work at fishing, growing and selling copra, noni (a medicinal fruit) and fine artisan crafts. The crafts Iīll come back to. Everywhere we went people asked us if we had any stylos, pens. "Pens" we said, like writing implements?, thinking weīd heard wrong. They said yes we are in desperate need of pens. It just so happens that we have a few thousand pens on the boat left over from conferences so we decided to take some ashore later this evening for all the children.
The walk to the waterfall began along the wildflower-rimmed road to Omoa, the next town to the south but then veered off onto a dirt track which lead past properties with pigs and chickens, across a stream and then became a tropical rainforest rough goat track up to the waterfall.
The road which winds its way to Omoa with stunning views
Everywhere you looked there was a spectacular vista
On the way we stopped to say gīday to some pigs wallowing in the mud. A little further along we untangled a horse who had wrapped himself up in a barb-wire fence. Next thing we turn around and here we have two pigs and a horse all following us up to the waterfall. We felt like the pied piper of animals.
Robin you should shower more often!
The water fall did indeed live up to its reputation. It was over 200 feet high and fell into pool that looked so inviting we just couldnīt resist and jumped right in for a swim. We sat out on the rocks in the sun to dry off and marvelled that we had really arrived in paradise.
The falls were so high we had to take two shots to get it all
On our descent Robin kept veering off into the bush to raid the wild mango trees and coconuts fallen on the ground. Michelle had walked a fair way in front of him at one stage and stopped to wait for him when a family of women emerged from one of the houses. There were three generations, grandma, mum and baby daughter and grandma stayed and chatted for ages. She showed Michelle the Noni tree and said they use it locally for medicine for easing coughs and sore throats but itīs exported and used in commerically produced fruit juices as a filler. When Robin finally caught up we gave him a taste and the look on his face entertained the old grandmother for a good 10 minutes. She couldnīt stop laughing. Robin declared it tasted like vomit. Michelle couldnīt see the connection and figured Robin just hasnīt vomited anywhere near enough in his lifetime!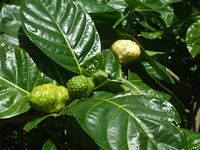 The infamous Noni
Passing through town on the way to the waterfall we saw a group of people chopping coconuts and burning husks. Well on the way back we passed them again and the husks had completely burned away and the coconut was being layed out to dry. Copra production is still alive and well in the islands.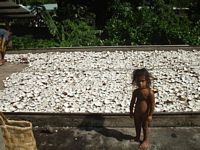 Drying Copra
On the way through the town earlier we met the daughter of a local lady who cooks authentic polynesian dinners and she asked if weīd be interested. We said yes and she then asked if Robin would take her by dinghy to visit the other 13 yachts in the anchorage to see if anyone else was interested. So off he dashed to ferry her around the anchorage but sadly there were no other takers. The yachties are all still too much in shock at the prices after living on 50 cent beers and two dollar tacos in Mexico, Central America or the Caribbean. We keep trying to tell them wait till you get to Aus and have to pay $6.00 for a pint but they donīt believe us!
Some of the local flora and fauna
We headed back ashore at around 6pm and headed up to Cathyīs place for dinner. The meal was delightful, with a local version of poisson cru, another raw fish dish with a very distinct wasabe type dressing, a deep fried spicey crab cake, green papaya salad, pickled banana, chicken in coconut, rice and pampelmousse for desert. There was so much food we were totally defeated. After dinner we were invited down to the town hall where the locals are preparing for a festival and practising their traditional dances. Before we entered to watch the action, Michelle grabbed the bag of pens she had brought ashore and began handing them out. OMG what a spectacle. Kids appeared from everywhere all yelling. Parents appeared all yelling. Everyone wanted pens. It was all she could do, surrounded by a crazed mob, to give out pens as fast as she could to grasping hands without getting pummelled to death. Robin stood off to the side laughing out loud! After the last pens were handed out we went inside and sat mesmerzied by the swaying of hips and bellies of women, some quite substantial in size but could they move. The men were lined up on the outside of the rows of women and had their own choreography to follow, all depicting various actions of times gone by like fishing for turtles etc. There was one young polynesian boy around 13 years of age on the drums who looked like heīd been reincarnated from a couple of centuries back. He played with an intensity and ferocity that was way beyond his years and his hand actions were remarkable. It was definitely in his gene pool.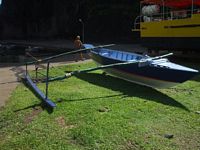 Fatu Hiva is famous for its outriggers
On the way back to the boat earlier this afternoon we had walked by a lady who invited us in to inspect her Tapa cloth, which is made of various kinds of bark pounded to a thin paper-like consistency. The results are of varying shades of warm brown to cream with traditional designs executed in black. They are all done by hand and are stunning and we finally chose one which was made from the bark of the breadfruit tree. We usually arenīt into souvenirs but these were just too good to pass up. At dinner Cathyīs husband also showed us the Tiki he carves and usually takes to Papeete to sell. They were supurb and we wish we had room on the boat for things like that but we really donīt. Plus getting wooden itmes back through customs in Australia is just painful. So we drooled over them and left them their for some other potential owner to enjoy.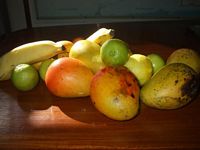 Robinīs fruit harvest from earlier in the day
Hiva Oa
Tuesday May 19, 2009
We motored out of Hanavave Bay in the misty dawn and immediately got a connection via SSB only to receive the news that Robinīs mum had passed away. We felt so sad and useless being so far away.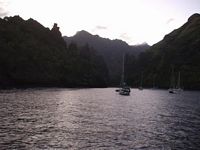 Heading out of Hanavave Bay in the early morning dawn
We headed for Atuona, the main anchorage at Hiva Oa. The wind was fickle and as we didnīt want to do a night time entry, we decided to just motor all the time with sails helping whenever there was a gust or two to make the 40 miles well before dark. We sail 5,000 miles from Panama and finally turn on the iron sails. On arrival we had to bow-and-stern anchor amongst 20 other yachts in a tight space. As we approached Atuona we had noticed 10 boats leave. How on earth 10 other boats were anchored in this tight spot we will never know.
Tonight in memory of Robinīs mum who always cooked us a roast leg of lamb whenever we went home, Robin conjured up a last spurt of energy around dusk to roast a leg of lamb in her honour. Heīd gotten a NZ frozen leg in the Gambiers at aound $20 or less (about half the price they wanted, and we wouldnīt pay, in Panama). He did a supurb job with roasted NZ spuds ($2 a kg), and a mustard white sauce on top of a fresh cauli (only $5), and we managed to score a bottle of Yalumba Red out of the bilge. The lamb was almost "done to a turn". We are sure we heard someone mutter that it "could have done with another 10 minutes", since it was still a bit pink against the bone. We toasted her long life, 91 years and held a wee wake although sheīd roast us alive if she knew.
Wednesday May 20, 2009
We are almost in a state of shock with about 5 yachts arriving and leaving here each day via the "easy" route. We havenīt seen so many boats in weeks. So far we are the only yacht we know that did the Galapogos, Easter Is., Pitcairn Is., Gambiers, Marquesas this year. There is almost certianly no-one else before us, and the good sailing season has only a month or so to go. Actually the 3-4 week direct trip from Galapogos to here is not really "easy", its just popular.
Today we hiked into town early to greet the local Gendarme, but the paperwork was minimal and they didnīt want any money. We are not sure if this was an error since the guys before us also arrived from the Gambiers and had a bond exemption. Anyway we are happy not to have to deal with it yet as itīs a couple of thousand dollars which is better in our bank account than theirs.
On the walk round the bay/harbour to the village we saw a small ketch being towed in by another yacht. Returning, after 2*2 beers at US $7 each, which exhausted our beer allowance for the next month, we found the towed yacht, Inheret the Wind, anchored right beside us, so we went over and said gidday. They mentioned they had had a tiring trip and the captain asked if he could buy some beer off us (we still have several dozen 70c beers from Panama due to zero rate of consumption while sailing and its far from clear whether Robinīs liver is happy or not) and Robin said no but if they came over we could open some with the likely prospect of imbibing several.
He fetched them over a few hours later - the slack buggers had not got round to inflating their dinghy. Turns out they had a reasonable excuse as their story unfolded. It took 3 slow much-savoured beers and several more hours in the telling. Apparently the skipper, a French Canadian, name Sylvain, had set out from San Diego three years ago within a week of us and knew many of the same boats and people as us. So we had to relate some of the sad tidings we had had since leaving the Galapogos, re: Dayle on Parrot Bay, while also catching him up on news re: Serge on Kolea, Angie and Larry on Tao 8 and he also knew Akio-san, the one-armed single-handed Japanese sailor, whom we had shared some meals with sailing down Baja California. Sylvain and Akio had gone together to the port authorities in Cabo San Lucas where Sylvain helped Akio (not much Engrish!) check in, shared meals etc. So we had had to tell Sylvain that 3 days ago we had met a Japanese couple on the Island of Fatu Hiva who also met Akio somewhere (maybe West Africa) and that he had recently been reported lost to pirates off the Seychelles, East Africa. Well hopefully that might not be true as I just found the following web story,yachtpals.com/pirates-seychelles-4169. . He could just as easily be anchored in the 1000 mile long Maldives. At least we are praying so.
Anyway, after the first beer Sylvain, and Brian, his Irish crew member, with no previous sailing experience got into telling their tale of recent events. They set out from Costa Rica to sail here direct, arriving 61 days later, maybe a record longest time. They had various patches of untoward weather, storms and calms. Sylvain, was a tad weary at one point, forgot he had the prop brake on and ran the engine, bending a push-rod. No engine. After one serious 12-day storm the hull which already had a slight leak, suddenly sprang a serious leak and they ended up hand-pumping 2 minutes every 8 minutes continuously for weeks. Their electricals failed because they had no engine to charge batteries and there was not enough sun for their one solar panel to meet the electrical demands of a boat. This meant also that they could not use their auto pilot and thus were also hand steering. Their steering has a hydraulic component that leaks, so hand steering also meant correcting that every two minutes as the hydraulic pressure decreased. They figured they were going to check out twice and were reprieved. They ran out of food a couple of weeks ago. Finally after figuring they had most things under control Sylvain who has no Ham license contacted the Pacific Seafarerīs Net and asked Randy if he could call his daughter and just tell her they were ok after weeks of silence. The Marine Ham net guys decided they could be more helpful than that and organised a large cargo vessel to detour and drop some food. There was alot more to their story which unfolded over some dinner we rustled up for them. We even managed to find a Guiness for Irish Brian who said it would be OK in a glass - and we located our only glass/mug for him to enjoy his guiness in. They laughed alot and some of their tale made no sense at all but they enjoyed getting it all off their chest. It was probably the best therapy session around. After a total of a modest 3 beers each, they were done, and Robin took them back, also supplying Sylvain with ibuprofin for his bad back. Yes it took us a while to realise that these guys had not had a proper sleep for 60 days and really needed one!
Friday May 22, 2009
Woke up to find Nick and Marls on Content entering the harbor. Had them over for breakfast of fresh baguettes, cheese, vegemite (the best taste ever), pampelmousse and coffee. Then another cruiser stopped by and informed us all that the gendarme is shut till Monday so they wonīt be checking in for a few days by the looks of it. The day seemed to disappear with a few chores and this evening we had dinner on Content. Nick had cooked up a couple of very decent curries, Marls made a very good cocktail and we had a very relaxing evening.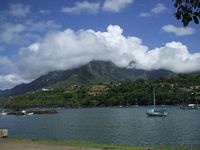 Atuona Harbor
Saturday May 23, 2009
First thing this morning we did a hike up the Faakua Valley behind the anchorage to find some petroglyphs. Michelle checked the large guide map that was posted on the wall of the small office ashore and pointed out the route to all the others who dutifully nodded. Off we trot and after five minutes all bar Michelle said, no this canīt be right we are going the wrong way. Michelle never missed a step and while they hummed and hehawed she kept climbing the steep incline to the path. Come on guys and gal itīs this way. Can you say she was very pleased when we finally stumbled upon the muddy path and the sign that said petroglyphs this way! They all admitted afterwards they had paid no attention to the map on the wall! We hiked along a very muddy trail taking in yet another exquisite vista.
The carvings we were looking for are known as the Tehueto petroglyphs, carved into an enormous basalt rock and according to our trusty guidebook, are sposed to represent stylised human figures. We couldnīt seem to get past the resemblance to a mosquito.
The Tehueto Petroglyphs - ok they really do look humanlike
Of course Robin, Nick and Marls could all but dream about mangoes and spent most of the time spying every fruit tree in the vicinity. We actually did end up with quite a harvest of papaya, coconuts, oranges, chilies, breadfruit but no mangoes. Since Michelle hates mangoes this was really a blessing in disguise!
The fruit harvesting brigade
We all decided then that weīd head across to Tahuata Island and hit the local store to grab some french baguettes but horror of all horrors they were totally out already at 10:00am. Michelle now has to cook bread. Ugh! We decided of course since it was a total of seven miles around to the western side of Tahuata Island and our anchorage that we wouldnīt take down the canopy and just sail via the jib. Content left after us and gradually caught and overtook us since they were flying all their sails. Robin decided to sit out on deck in his deckchair and give them the royal wave as they went by. Only he could pull something like that off!
Content over taking us and Robin dear Robin
IvaIva Nui Bay, Tahuata Island
Tahuata Island lies across 2 1/2 miles across the Bordelais Channel to the south of Hiva Oa. The center of the island is a high mountain chain (1,200 feet) which radiates out into steep ridges and valleys to the coasts. We decided to head around to the Western side of the island, sheltered from the prevailing seas. Philip and Leslie on Carina saw us coming around the northwest corner and hailed us on the radio and said we are here come visit so we dropped the anchor in IvaIva Nui Bay. They immediately came over for a visit which gave Robin an excuse to relax over a beer instead of going diving this afternoon which he was quite thankful for. The youngsters on Content had worn him out this morning! Philip and Leslie invited us back to their boat for supper and Philip cooked up an excellent dish of Putanesca. Who says sea gypsies donīt eat like kings!
Sunday May 24, 2009
The collective crews of Carina, Content and Warrior went ashore to raid yet more fruit trees. This time we harvested limes, a couple more coconuts and pampelmousse. Our fruit larder is quite well stocked at no cost. This more than makes up for buying an expensive piece of meat. Leslie built a fire on the beach and we burned our rubbish.
Robin, Nick and Marls decided to do a practice dive this afternoon to check out gear and take a quick gander at what was around. They arrived back at Warrior totally bamboozled by all the new varieties of fish. Nothing seemed familiar at first glance. The next few days will be spent getting a handle on our fishy friends.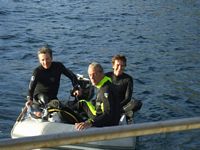 Intrepid divers
Monday May 25, 2009
We decided to stay in IvaIva Nui Bay today. Michelle cleaned half the hull and Robin went pig rescuing. Yesterday when we were ashore Robin spied a pig which was tied up and had wrapped itself around a small coconut palm but at the time he couldnīt tell if it had been tied there or not. He worried about the pig all night and first thing this morning he jumped in the dinghy and headed ashore. This time he took his glasses and between better eyesight and sunlight he quickly saw that the pig had indeed wrapped itself up with just a few feet to sway back and forth in. He chopped the line and retied it to the long tether and the pig immediately ran to the water trough which had skum on it and was covered in black flies. So Robin found a hose and filled up the water trough and then he noticed the pig was trying to butt the trough over. Finally he figured out the pig needed to wallow so he wet a patch of mud and down goes the pig on its side as well as happy as a pig in muc. He watered one side of the pig then she jumped up and turned over and layed their in bliss as he watered her other side. Twenty minutes later she decided she was hungry to waddled over to half a coconut and started rasping out the white meat with her tusks. Robin noticed the coconuts had been chopped in half so figured there was an axe laying around somewhere and sure enough he finds one and begins chopping coconuts in half for her. This echoed around the bay and suddenly he has a swarm of small pigs who upon hearing the dinner gong appeared out of nowhere and proceeded to munch away happily on his efforts. He got back to the boat quite chuffed with his story.
We were planning on heading south to Hanatefau Bay but Content decided they needed to run back to Atuona to check in. Sadly it was a waste of time since the gendarme refused to open today and told everyone to come back Wednesday. So they wasted their fuel and time. However they did pick up some fresh baguettes. We figured they wouldnīt make it back till late and we were right. They crawled on right on dusk. Robin decided he would cook dinner for us all so he pops a duck on the BBQ. Yes he managed to find a frozen duck in Atuona. You donīt want to know the price! He served it with a rich apple and onion gravy and Nick and Marls made a breadfruit salad (breadfruit can be used exactly like potatoes in every way) which complemented the duck to perfection.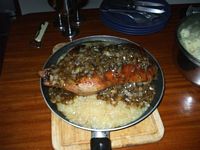 Robinīs been showing off again!
North end of Tahuata Island
Tuesday May 26, 2009
Swimming with Manta Rays. This will have to be one of the highlights of the trip. We received an email from Britt and Axel on Hello World who mentioned that their best diving on Tahuata was in an uncharted unnamed bay at the very north end of the island, back in the bordelais channel. So we upanchored this morning and headed back around to the small bay in the middle of the north end of the island. We found a spot to anchor amongst the coral which wouldnīt serve us for an overnight anchorage but would be ok for a few hours. Michelle decided to immediately jump in the water and start working on the other side of the hull which was still filthy. She wasnīt in the water five minutes when Robin yelled out that there were Manta Rays. He pointed out where they were and suddenly Michelle was swimming with them. What an amazing sight. She jumped out and grabbed the camera as they swam around the boat. Later on the trio went diving and Michelle went snorkelling off the rocky islet and promintory on the east side of the anchorage. There was an abundance of fish and the boys immediately took off to circumnavigate the islet. Marls pulled out her survey gear and immediately got to work doing a survey. And Michelle spent the next hour engrossed in identifying fish. In the midst of her snorkel the family of manta rays appeared frightening her to death at first as this big black gloom appeared from behind but soon she was swimming with the family of manta rays who kept coming back and forth past her checking her out. It was a surreal experience.
It was about an hour before dusk when we decided to lift anchor and head back to the bay next to where we had left from, Hanamoena Bay. There had been no boats there when we came past this morning, which was amazing since there had been 10 in there just a couple of days ago. Maybe this group of yachts is starting to move on. We dropped the hook but very soon after had another two boats join us. Still we were much happier being here than around on the north end of the island where our anchor chain was catching on coral heads. It had wrapped itself around two pieces of coral in the short time we had been there and we didnīt want to be damaging the environment.
We sat around for a couple of hours last night with the fish books we have trying to identify what we had seen. It was a difficult task as everything is different but we finally began to organize ourselves. We had seen Raccoon Butterflyfish, Ornate Butterflyfish, Big Longnose Butterflyfish, Mimic Surgeonfish juvenile, Whitecheek Surgeonfish, Whitetail Surgeonfish, Brown Surgeonfish, Bluestriped snapper, Peacock Grouper, Saddle Grouper, and a Bluestreaked Cleaner Wrasse. The guys saw two different eels as well.
Hanamoena Bay, Tahuata Island
Wednesday May 27, 2009
We got a call from Marls on Content early this morning saying they were on their way round to commandeer the sewing machine. They had torn the leach line out of their cruising chute. Not a difficult task to repair and Michelle showed her a few tricks using the basting tape and luff tape. She felt quite proud of herself. It was all over and done with in about 3/4 of an hour thus we declared it was time to go snorkelling. We chose a spot over on the northern side of the cove along the rocky cliff and it was a very good choice. The variety of fish was stunning and we got out of the water completely overwhelmed again, our heads filled with bars, stripes, bands, colors, tail shapes etc and we all fought over the various fish books trying to identify what we had seen. Amonth the treasures discovered were the Goldsaddle Goatfish with his feelers working overtime on the rock surface, the Lemonpeel Angelfish, Achilles Tang, White-spotted Surgeonfish, Mimic Surgeonfish, Striped Surgeonfish, Convict Surgeonfish, Longnose Tang, Bluespotted Bristletooth, Moorish Idol, Banded Sargeants, Bluestreaked Fusiliers, Greasy Grouper, Violet-Lined Parrotfish, Yellowtail Coris, Sunset Wrasse and so many others we still couldnīt identify. Marls decided the area was so rich with marine life that she did two more surveys. Nick cooked a wonderful coconut curry which we all enjoyed and then we said our adios as they were doing an overnight sail across to Ua Pou.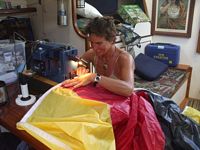 Marls at work
Hanatefau Bay, Tahuata Island
Thursday May 28, 2009
Relocated down to Hanatefau Bay, the uninhabited northern lobe separated from Hapatoni Bay and Village by rocky Point Matautu. We arrived to find two other boats already anchored on the sandy patch so Michelle jumped over board and snorkelled around until she found an area which looked like it wouldnīt foul the anchor chain. Just as she was about to climb back aboard it poured with rain. Never a dull moment. Robin was frantically running around trying to toss cushions down below and shut hatches. Anyway we finally got the hook down in 55 feet of water hoping that we still had the right spot.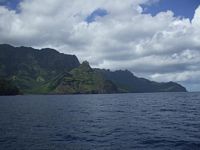 Coastline down to Hanatefau Bay
We did another spot of snorkelling this afternoon and managed to identify three more fish, and one other we couldnīt determine from the fish book. The snorkelling this afternoon was along a wall dropping straight down from the vertical cliffs above and continuing on into the water to depths of 30 to 50 feet and beyond. Some rock columns looked like old church butresses. There was numerous rocky ledges, caves, nooks and crannies, in addition to quite a few coral formations, all in all a perfect fish habitat and one of the more interesting sites topographically speaking. Today we managed to tick off the Speckled Butterflyfish, Tahiti Butterflyfish, and the Golden Gregory.
Friday May 29, 2009
We jumped ashore fairly early this am to check out the tiny village of Hapatoni. It was immaculately clean. There are only a dozen households which extend along the beach, overhung by sheer cliffs. The only curiosities are a magnificent elevated stone pathway more than a kilometer long which parallels the shoreline, a roadside shrine polynesian style, and a wonderful old church built in 1850 and restored recently to its original grandeur. We walked to the end of the pathway, wandered back and bought a dozen eggs, butter, crab sticks and cheese and then stopped by one of the locals working on a traditional carving, drawing each tiny segment by hand and then carving the design by hand. Supurb workmanship.
Snapshots of Hapatoni Village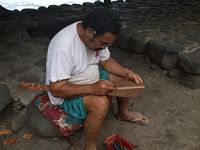 Local Woodcarver
Hanamenu Bay, Hiva Oa
We decided to take the boat up to the north-west end of Hiva Oa this afternoon in preparation for the jump across to Ua Huka in the wee hours of the morning. It took a bit to clear the wind shadow of Tahuata, the wind oscillating between north and south as it fought its way around both ends of the island. We cruised across the Bordelais Channel and along the very steep south-western slope of Hiva Oa. The geography was stunning as we rounded the north end and headed into Tanaeka and then Hanamenu Bays. The swell was kicking in at 2.0 meters and we were wondering if the bay would be tenable but once inside Hanamenu Bay it was quite comfortable. We decided we needed a rest this afternoon then Michelle cooked chinese stirfry for dinner and we prepared the boat for a nighttime departure. Well it will be morelike 3am or something most likely. We have had rain off and on the last few days but nothing consistent. Five minutes of squally wind and rain then the tap is abruptly turned off.
Sheer cliffs of the West coast of Hiva Oa and approaching Hanamenu Bay
Taiohae Bay, Nuku Hiva
Saturday May 30, 2009
It was almost day break when we finally upanchored this morning. We sailed out of the bay and immediately realized how rough it was. The seas were very big and would be on the beam. At one point a wave hit us so hard all the books on the shelf above our bed when flying off the shelf. We made good time across to Ua Huka but then began a series of disappointments. Even though the wind was coming from the east, none of the bays were tenable. The swell inundated the first two bays facing south but we figured that the bay on the western end would be sheltered. When we got there the wind was being drawn around the point and pulled straight into the bay and up the valley behind. The 20 knot winds were now augmented 25 knot winds straight onto a lee shore. We aborted our entry and headed for Nuku Hiva very disappointed as we so wanted to explore Ua Huka and not many yachts stop there. Our trip across to Nuku Hiva was a downwind run and under double reefed alone we were doing a steady 6.5 knots. We arrived at the head of Taiohae Bay on dusk and immediately caught a fish! Our first fish in ages and we were determined not to throw it back. It was a big tuna so in the midst of rough seas and 25 knots of wind we bled the fish and tied him upside down into a bucket to drain while we sailed into the bay. Its amazing how many people want to help you when they see you doing a night time entry. So many boats called us on the radio with a string of helpful instructions, often contradictory to each other. In the end you just have to ignore everyone and concentrate on trying to see everything in the dark, check the radar and find a spot to drop the hook.
Robin cleaned and gutted the tuna and Michelle set to work carving it up. An hour later she had two gorgeous plates of sashimi set on the table which Robin demolished in record time! He really does love his sashimi.
Sunday May 31, 2009
The Bay of Taiohae is the administrative capital and largest town of the Marquesas Islands. It has a population of around 1600 people. It is situated on the south coast of Nuku Hiva, and the entrance to the bay is guarded by two rocks known as the sentinels. The city itself is a natural ampitheatre formed from the remains of a volcano crater. The walls of the caldera rise to somewhere around 2,200 feet all around the city.
The beautiful seafront promenade is lined with tropical plants such as oceanic rosewood, beach hibiscus, plumeria and crotons. There is a 165 foot strip of land which runs the entire shoreline and this belongs to the community. The city pier marks the right hand side of the bay. Right beside this was the fare mama, an open-sided building used for the sale of handicrafts and on the odd occasion, dance performances.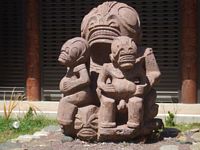 Modern Tiki outside the Fare Mama
We wandered further along the road to find a stone cross pointing the way to the Notre Dame Cathedral. It was built between 1973 to 1977 on the site of the ancient tohua Mauia. The stone pavement of this tohua has been preserved. Tohuas were the tribal assembly sites for feasts, dance celebrations, and other public ceremonies.
The church was actually quite interesting. It showcases carvings from prominant Marqueasan artists. The massive doors at the entrance are hewn from temanu Wood. These doors are guarded by St Peter and Paul. The neat thing is they are potrayed as Polynesians wearing their traditional auti costumes. Auti is a varied colored plant, the long leaves of which were used to adorn the body, in the forms such as leis and head pieces. Paulīs sword of Damascus has become a Marquesas Spear and Peter holds a basket of fish.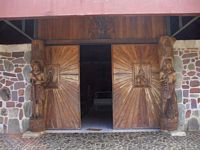 Beautiful doors of the Notre Dame Church
By this stage we were intrigued so poked our head inside. Everywhere throughout the church carvings dominated. The pulpit was a simple tree trunk with images of an angel, eagle, bull and lion. According to our trusty guide book these are sposed to represent the four evangelists, Matthew, Mark, Luke and John. We didnīt have our guide book with us and so only discovered this info on returning to the boat. All the stations of the cross were also carved from Tamanu. And each incorporated its own Marqueasan concept. The first station shows Mount Olivet covered in breadfruit trees, while one further along depicted Christ being harangued by a drunkard brandishing a bottle. Very neat indeed. There are other wood carvings like David wearing a whale tooth pendant playing a ukulele, and we are not sure who it was playing a pahu drum.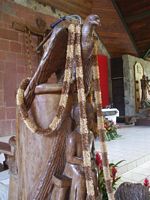 The pulpit
A little further along the shoreline was a Tiki Garden which was apparently assembled for the Second Marquesan Art Festival held in 1989. My camera battery died at this point so we will have to make another trip back and weīll explain what tikis we saw when we have some backup photos.
By now it was after midday and we were fairly hot and bothered so we stopped for some cool drinks and Robin decided he wanted a hamburger and chips. Michelle tried to warn him greasy fries wonīt sit well with him but he wouldnīt listen. Of course a few hours later he was one uncomfortably bloated little lad!
Two boats were anchored in Taioae Bay which we had shared Christmas with and it was fun fun to catch up with them tonight. We all decided we would have a BBQ over on Hello World, a beautiful 52 foot Sunbeam. It was a lot of fun to catch up with Rob and Theresa Yohela, Britt and Axel Hello World and we also had Philip and Leslie from Carina join us. We recounted all our adventures of Easter Island, Pitcairn and the Gambiers. After dinner Michelle even broke out the guitar and sang a few songs.
Well we are not sure where May disappeared to but itīs gone.
We had a couple of rather large visitors in the bay today