Nuku Hiva, Iles Marquises
Monday June 1, 2009
We collected the sail slides today and met Rose Corser who wanted a whopping three dollars for all she did to help us. It was almost embarrassing to pay so little. It would have cost us an arm and a leg through an import agent. At least we will be able to use the full mainsail again once the new slides are sewn on. Michelle checked out the supermarkets which have no fruit or vegetables but you can find a little gem such as Kikkomanīs soy sauce. There is an enormous variety of tinned food which sadly seems to form the basis of the Polynesian diet. Understandable since you canīt eat the local inshore fish due to Ciguaterra poisoning. The fisherman have to go out and catch Tuna, Mahi Mahi, Wahoo or Barracuda and there arenīt all that many fisherman. We miss seeing the Central American Pangas heading out to fish.
Tonight we had Rob and Theresa (Yohela) over for drinks. The weather has been nasty the last few days blowing 25 to 30 knots but with big rough 4 meter seas. They are chomping at the bit to get going to the Tuamotus but are stuck here. Hello World left today but radioed back and said it was very uncomfortable out there and they were pulling in to Ua Pou and waiting it out. It was good news for us because we were able to enjoy another evening of their company before they went scampering off.
Tuesday June 2, 2009
We were debating what to do today when Michelle remembered we had to get a propane tank filled. Robin took it over to Polynesian Yacht Services and they said it wonīt be ready till tomorrow so we have another day to fiddle around. Yesterday when we picked up the sail slides, Rose had mentioned that there was a French lady on the island, Jocelyn, who does tours and if we are interested to let her know. We asked another Aussie couple on a boat called Honey Moon if they would be interested and they said yes. We wandered back around to confirm with Rose that we would do the tour tomorrow and then we checked out her little museum full of Marquesan artifacts, a very interesting display of old tools, beautiful carvings, history etc.
We wandered back over to the other side of the bay, a 20 minute walk and stopped to check how Philip and Leslie (Carina) were doing repairing their dinghy. Philip had a nasty accident the other day with a local boat T-Boning Philip while he was dinghying ashore. The local boat hadnīt even noticed heīd hit anyone and it was all the people standing on the dock who started yelling and screaming which brought him to a hault. Philip emerged shaken, but otherwise unscathed, however their dinghy, a wooden affair, didnīt fair so well. They also lost all the things inside the dinghy like their anchor and chain, and an oar was broken. Their little engine was also completely swamped and isnīt running. So one small accident, results in major repairs and at least a week of time spent in repairs.
We stopped by a van on the dock which sells crepes and decided we would have one each for lunch. They were absolutely delicious. Then we indulged in a softserve icecream. What a treat. We headed back to the boat and Robin decided he couldnīt put up with the rock n roll one more hour so deployed the stern anchors. It was certainly a relief facing into the swell which was rolling into the bay.
Wednesday May 3, 2009
We were all on the dock at 8:30am this morning and were promptly bundled into Jocelynīs waiting van for a day of sightseeing. She began in earnest pointing out various buildings and their uses while heading out of town and this set the tone for the day. She was so full of information it is hard to recall it all but we will try to convey the little we remember. The first thing she mentioned was the town jail, a smallish building currently being renovated. You can often see the prisoners outside playing petanque with the prison guards, and in fact when we returned late this afternoon they were doing just that. They are let out at day break and locked up again at night. Afterall there is nowhere for them to go.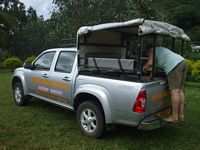 Your transport ladies and gents
We made a pitstop at a lookout overlooking Taiohae Bay where we are anchored and of course took the necessary photos of Warrior behaving herself on the hook. Following a rough winding mountain road along razor-backed ridges, we made a few more scenic stops overlooking Controlleur Bay (apparently one of the sites where they filmed Survivor, a TV show weīve never seen) and then we drove down into the small village of Taipivai, crossing a low bridge with no safety rails. Apparently when it floods you just have to guess where the edges are and sometimes the locals get it wrong! Taipivai is the valley immortalized in the novel Typee written by Herman Melville. The story is a very melodramatic embellished account of his adventures jumping ship and hiding out with the locals. It does however possess keen observations of local culture, woodcarving, burial practices, marriage customs and natural history of the time. A good read.
Overlooking Taiohae Bay and Controller Bay
We took in the new local church which again showcased local carvings depicting Marquesan interpretations of biblical scenes. We particularly enjoyed a very polynesian baby Jesus holding a breadfruit and Josephīs woodcarving Marquesan tool. The red volanic stone, keetu, used in the plaque was originally used to carve tiki and often reserved only for village chiefs and dignitaries as it was considered very precious.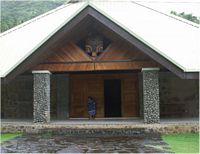 Sweeping is still done with a local made switch. Cheap and practical.
Jocelyn sharing a thousand tidbits of information
On the church grounds was also an endemic palm, the Ehi ootahi, which has been on the endangered species list for the island although it is in no danger of being lost as it lives in thousands of Palmetiums around the globe. They have however been replanting it all over the island after a disease started to ravish it.
At least there are a lot of seeds per palm
Jocelyn also pointed out a stone standing near the palm tree. This used to lay flat and was a work table. The round holes were used to grind various things from spices to ink for tatoos, the two long slits used for sharpening or making their tools and the half bowl shape you can see held water. These work benches were used into the 19th century.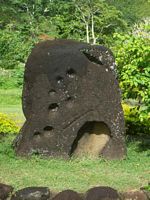 Work Bench
We climbed out of the Taipavai Valley to the Teavaitapuhiva Pass at 1,608 feet (490 meters) and stopped for a stunning view of the Teuakueenui Waterfall which is home to the new electricity plant. We canīt remember how high it was. On the opposite side you could see Hatiheu Bay where we would be heading for lunch and further over you could just catch a glimpse of Anaho Bay which we may visit by yacht. We havenīt decided yet. The only way to get to Anaho Bay is via a hiking trail or by sea which makes it very tempting indeed.
Teuakueenui Waterfall and Hatiheu Bay
Next stop was the archeological site of the Kamuihei Ceremonial Center. The ancient village was situated near a small stream amid a forest of giant banyans, mape and candlenut trees. This was apparently normal and the existence of these giant trees have allowed archeologists to find a large number of these ancient villages with a tremendous degree of accuracy in the dense tropical overgrowth. The village center of Kamuihei consisted of two tohua, the ancient areas reserved for festivities, the meae Iipoka reserved for sacrifices and sacred doings, a large storage silo for breadfruit paste and some petroglyphs. Most villages were built around the banyan trees, and pits were carved in amongst the roots which held the tabu items that could not be touched again by mortal hands and bones of sacrificed victims. Cup like depressions that were seen in the rock back at the church are clearly evident and may have held offerings for the gods. There were pits that held victims ready to be sacrificed, and Jocelyn says they were kept in a dazed state from some barbituate substance. She went on to fill our heads with various facts and figures none of which we can recall with any sort of accuracy which would allow us to repeat it on a public domain website.
The petroglyphs were quite readable
We stopped for lunch in the beautiful bay of Hatiheu at the restaurant of Yvonne Katupa, who also happens to be the mayor of the village. Lunch consisted of goat in cocount milk, poisson cru, deep fried breadfruit balls, taro and sweet potato, rice, and bread. Thankfully the protein portions were massive as the carbs would have sunk a ship. The food was delicious. Looking up at the three basalt mountain spires overlooking the bay we noticed a white statue. Jocelyn told us the tale of how in 1872, a catholic priest, Frere Michel Blanc wanted to build a catholic church but the villagers were at war with neighboring tribes and had no time to make limestone to construct the church. So inspired by the tall mountain peaks he decided on constructing the madonna to overlook the bay and bring peace to the people. Within the course of the following year he carted up a large log from a breadfruit tree and then limestone to fashion the statue. Finally he brought up pieces of coral to decorate the pedestal and fashion a crown for her. It was an arduous climb and every year some courageous citizen of Hatiheu climbs the peak and tends to her, keeping her clean and tidy. Apparently the story ends happily as the madonna did indeed bring peace to the area and Father Blanc got his church.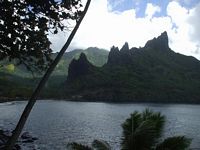 She really is up there
We drove out along a track to the end of the bay where we took in the view and made peace with the cousins of the goat we ate for lunch then headed off to one more archeological site, Hikokua.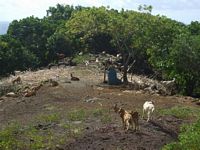 But your cousin was so tasty!
Hikokua consists of a huge central rectangular dance floor surrounded by low split-level terraces and stone platforms and tiki. Ancient Marquesans dug the entire site out of the hillside and piled up the earth behind high stone retaining walls. Artifacts discovered in various pits showed a continuous time line of use dating from around 1250AD through to the 19th century. Near the entrance were deep earth ovens. The low split-level terraces were apparently used for spectators to watch the public festivities. A large flat boulder supported by smaller rocks was used for solo dancers, and to display young chiefs and women who had received their first tatoos, indicating the entry into manhood or in the case of girls, puberty rites. At the north end of the dance floor is a large platform faced with cut slabs of the precious red tuff.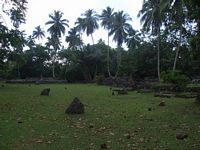 Hikokua
Hikokua was restored in 1987 and Marquesan artist Uki Haiti carved three modern tiki for the site. One has a turtle shell for a head and human couples in coital passion carved on its sides.
Modern Tiki which fit right in
We took a slightly different route on the way back taking in yet another spectacular vista and then headed back to Taiohae Bay. It was a wonderful day packed full of so much information we really needed to cart a tape recorder with us. We highly recommend anyone wanting to tour Nuku Hiva to seek out Jocelyn. And in fact Iīm going to give her some advertisement we appreciated her so much. You can find her at Jocelyn Henua Enana Tours, her website is www.marquisesvoyages.com.pf and email address is jocelyn@mail.pf.
We arrived back on the dock to discover Nick and Marls had arrived. We asked them if they were the sail boat we spied anchored in Controller Bay earlier today and it was indeed the wayward rascals.
Thursday June 4, 2009
Michelle worked on the website all morning for you all to read. However Robin refused to give her time to proof read her work so you get it warts and all. We are heading on out today to Danielīs Bay, three or so miles to the west and then on to Ua Pou our final stop in the Marquesas before heading to the Tuamotus. We will probably have no internet access, other than ship email, once we leave here until we arrive in Papeete.
The guidebooks said the entrance to Danielīs Bay, also known as Anse Hakatea, was often rough and rough it was. We bounced, bobbled, wobbled, yawed, and swayed and finally rounded the corner into pristine calm. What a ride. Nick and Marls on Content joined us later this afternoon for sundowners and we dined on bits and pieces. Actually Nick had made a great chicken dish which went down very well indeed.
Friday June 5, 2009
Bright and early this morning we were off to hike to beautiful Ahuei Waterfall, officially named Vaipo Cascade. Often throughout French Polynesia there will two names, one in the local polynesian dialect and the other in French. Occasionally there will be a third in English. Makes for some nice confusion and very cluttered maps. We tethered the dinghy and made our way through the small, extremely tidy village of Hakaui, situated around a brackish lagoon. There was an overwhelming abundance of guava, mango, banana, pampalmousse, breadfruit and lime trees. Oh and mega coconuts. Every garden was carefully tended, not a leaf out of place, and there was even a small chapel.
The western arm of Hakatea Bay, the lagoon and the wee chapel.
The hike to the falls takes roughly two hours, the trail is marked with small stone cairns, and it wends its way across rivers, underneath towering cliffs, through dense hau forest, which cleared occasionally to allow incredible vistas of the soaring mountains around the valley. We passed by a forest of mape whose buttressed roots hid ancient paepae, once the happy metropolis of the Taioa tribe who occupied the valley. Finally we arrived at the base of the falls, where we stripped down to our swim gear and jumped on in. The pool was full of fresh water shrimp which pecked away at you as you made your way across to the other side, over some bolders and into the main cavern at the base of the falls. You actually couldnīt see the entire water fall, just the remnants trickling into a pool at the bottom. On the return journey close to the village of Hakaui, Robin and Nick stumbled upon an old paepae and then a tiki hidden in the undergrowth.
Tiki Marls, Various vistas, the hidden tiki
This evening Nick and Marls tried their hand at fishing off the back of the boat and ended up with five good size Black Tipped Reef sharks circling around the boat. One was around six feet in length. We decided not to go swimming after all.
Sunday June 7, 2009
Yesterday we spent relaxing for the most part. Nick and Robin pulled apart the windlass on Content to see if it they could jerry rig a fix but it was beyond repair. Guess theyīll be hand-winching their chain and anchor until they can get a repair shipped to Papeete. Today we decided to head further north to see if we could find a spot to do some snorkelling which weīve been missing. The bay of Hakatea was definitely not snorkeller friendly, clarity being almost zero and lots of sharks, although Black Tipped Reef sharks arenīt usually considered dangerous. Haahopu Bay on the northwest corner of Nuku Hiva is actually the boat terminus for the Nuku-Ataha airport, the only airport on Nuku Hiva. The boat trip back to Tahiohae takes over an hour by speedboat, but it is far longer by road. Air Tahiti apparently operates three flights per week between Tahiti and Nuku Hiva. Anyway we approached the bay and saw that it did indeed provide quite good protection from the ever-present, annoying, easterly swell that has plagued us for over a week now. The waves were consistently 15 feet for quite a few days which was creating uncomfortable conditions in the anchorages and stirring up the water, hence the lack of snorkelling.
We took two attempts at anchoring as the first time round we managed to find an enormous patch of hard coral. When we did find sand it seemed to be just a thin layer over solid hardpack but the anchor held so we left it to settle and to see how we would ride. We would end up reanchoring yet again later this afternoon as we just werenīt happy with it. Content arrived just after we were done anchoring for the second time. The water clarity was excellent and it was almost impossible to keep us out of the water. Within half an hour we were over the side and checking out the seascape. We saw some of the by now familiar faces of surgeon fish, seargents, damsels and wrasses but there were a few new surprises. Robin, called out shark, Nick climbed out on a rock with his blue flippers still on and looked for all the world like a blue footed booby. Marls went chasing the shark, and Michelle pretended it wasnīt there. This turned out to be the wise move as she completely missed seeing it (them as it would turn out) altogether.
Ua Pou, Marquesas
Monday June 8, 2009
Ua Pou lies about 25nm to the south of Nuku Hiva but weīd sailed 11nm up the coast yesterday so we would have a 36nm jump south. It was a pretty decent sail and we arrived well before dark. We were however not prepared for the stunning steeple-shaped peaks dominating the skyline. Oave, the tallest, rises 4,042 feet (1,203 m) above sea level and all of the towers are actually volcanic plugs. The island itself is quite dry compared to the rest of the Marquesan islands and all the villages are situated along the few freshwater streams. We headed for the town of Hakahau on the northeastern end of the island and noticed that the entire hillside was covered by a dry scrappy acacia which was quite brown. It gave a scrappy appearance to the hillsides.
Lava plugs of Ua Pou
Tuesday June 9, 2009
There are a surprising number of shops in Hakahau and one wonders how the all make a living. There must have been seven grocery stores alone. Hakahau is the business center of the island, and all the islanders come to this tranquil town to transact business, visit the post office, banks, doctors, etc. The town is also the location of Ua Pouīs secondary school. As in all the other islands, children go to their local village school till age nine then head to a secondary school either on their own island or to a neighbouring island, leaving their remote villages and their families for boarding school. If they go on to college they need to go to Papeete.
We discovered that we were a day too late for the fresh veggies. They only appear in the shops Mondays and Fridays. We are truly missing vegetables. We stumbled into one shop that had an Ex pat Aussie, married to a local Ua Pou woman and they had set up a fabric shop. Keith regaled us with many a yarn, his entire personal history, some yarns about the villagers and the island and finally we managed to extract ourselves and wander further afield. After purchasing more than was comfortable to carry back to the boat we met up with Xavier who was swimming around the anchorage. He advised us that there was a guy in the village we could buy fruit from and he was more than happy to take us by car to organize a fruit delivery. Xavier had been hit by a drunken driver a number of years ago and it took him a long time to recover, having a shattered leg in numerous places which has left him with a permanent limp. He walks and swims two or three times every day as physical therapy to keep moving, and part of his routine is to park his car about five blocks back from the beach. So around 2pm we headed to his parked car, and stopped by the local church before piling into his car.
The Eglise Saint-Etienne is a modern church, built in 1981 over the site of the oldest church in the Marquesas. The architect was Frere Gerard, the same guy responsible for designing the churches weīd seen in Taiohae and Vaitahu. He had the church built from beach boulders and ornamented it with local woods. He had one feature built in to the design, a large triangular opening near the roof which framed the classic view of Oave lava plug. Itīs a wonder anyone can concentrate on the sermon with a vista like that in front of the eyes. The carvings on the main entry door are carvings by Garrick Yrondi, one panel depicting the stoning of St. Stephen. We are not sure what the others are. The pulpit inside was from a single piece of Tou and portrays the prow of Godīs ship cutting through the stormy waves of purgatory, the net of souls being gathered up. Between the fish net and the prow is an upside-down tiki head which is supposed to symbolize the denial of paganism. The base has tiki faces, tatoo designs and hellish animals scrambling in the tree roots. Altogether an amazing piece of artwork. There was one other carving which stood out, that of a wooden tabernacle with the images of Christ and the Apostles at the Last Supper carved into the base. Itīs interesting to see so much local craftmanship displayed in the churches.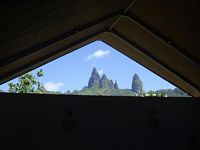 What a view!
Wood carvings in the Eglise Saint-Etienne
Xavier was a wealth of information about Ua Pou and at the end of his final swim of the day, just before dusk, we invited him back to the boat for a sundowner. Afterwards he invited us to join him for a BBQ tomorrow and wants to take us to see Anahoa, a bay on the eastern side of the island. We accepted with pleasure.
Wednesday June 10, 2009
After Xavierīs morning lap around the anchorage this morning we piled into his tiny car and headed up out of the village of Hakahua. Not far outside the village the road become a rutted dirt track which required patience to negotiate. Our destination today was Hakamoui, not Anahoa as we previously thought. According to Xavier, Hakamoui was known as the valley of the Kings when Chief Heato and his tribe occupied this area during the last century. His Paepae Menaha was here which became a meae after his death. Unfortunately it hasnīt been restored and is buried deep in the overgrowth. The beach is a favorite hangout with the locals and a good surf beach. Definitely not an anchorage for Warrior. On a calm day such as it was the beach was breaking heavily. Not many people live in the valley now and it looks a bit forsaken with only a few horses grazing near the stoney beach along the bay. We gathered wood for the BBQ and Xavier took charge, preparing lamb chops and sausages with secret french herbs and spices.
After lunch we wandered around the rocky shoreline investigating the marine life of the tidal pools, which was quite extensive. Definitely one of the more interesting tidal pools weīve seen. After lunch we headed back to Xavierīs house where he prepared us ice cream and fresh fruit and the necessary cup of black expresso of which no meal would be complete without. The view from his verandah was stunning. Leaning against the side of his house he had a stack of carved wooden poles which he was going to use for a leanto but has decided against building it so these are for sale. What a pity we donīt have room on Warrior to carry one away.
View from Xavierīs Verandah overlooking Hakahau anchorage, and local carved wooden poles
Message to Chetak Pat: We hope youīre enjoying these pictures Pat as they are a lot of work. Iīm going to start charging you per picture!! lol.
Thursday June 11, 2009
Time to keep moving. We wanted to do one more spot of snorkelling before leaving the Marquesas so decided on the west side of Ua Pou. We figured if we went about half way down the island there would be enough protection out of the swell and wind waves to find a calm spot to snorkel. We were quite wrong. We decided on the anchorage just around from the western most point Punahu which should have provided substantial protection but there was a wrap around swell coming from the south and it definitely made the shoreline rough. The visibility was about two feet and we quickly gave up. Needless to say we were quite disappointed. We organized the boat for a dawn departure tomorrow as we are heading out to the Tuamotus. We sat out on deck at dusk and read the Marquesan creation myth, a fitting closure of our journey through these amazing islands. It goes as follows:
A long long time ago
When the sun was shining on the sea
The first man Atea and the first woman Atanua had no house.
Atanua told Atea, "We do not live well without a house."
Atea did not answer.
"I do not know how to build a house," he reflected,
"But I will use my divine power of mana and ask the gods."

That night Atea said to Atanua,
"The gods have shown the way. Tonight I will build you a home."
It was dark and Atanua sang a spell into the silent nothingness.
"Aka oa e, aka pota e, aka nui e, aka iti e, e, e.
Aka pito e, aka hana e, haka to te hae."

When the chant finished, the work began.
A site was chosen, Tuaka, in the middle of the sea.
Two sturdy posts called Ua Pou supported a long beam, Hiva Oa.
The front posts and rafters were Nuku Hiva.
Woven coconut fronds laid end to end as thatch were Fatuiva.
Atea worked and worked without stopping
Until Atanua called out,
"O tea e! the light of dawn is turning the sky to red.
It is Tahuata.
O Atea e! Moho, the morning bird just sang. It is Mohotani."
Atea dug a pit for the fronds, sennet and fau bark.
When he finished he said, "It is Ua Huka."
Atanua sang, "Ei. Ei. Ei. Ua ao, ua ao. It is Eiao."

The the sun lit up the sky,
Illuminating the ocean and the new dwelling place.
Te Fenua Enata, Te Henua Enana,
The House of Men was born.
We bid a fond farewell to the Marquesas and its warm welcoming people, stunning vistas and abundant sealife.
Passage to Tuamotus
Friday June 12, 2009
A Friday departure. Amazing how many cruisers will not depart on a Friday because they think itīs bad luck. We had a slow start, being in the wind shadow of Ua Pou for the first eight miles but after finally clearing the island the wind picked up and we sailed gently along. The seas were slight to moderate, the winds enough to keep us steady, overall very pleasant. As we left the anchorage this morning we were accompanied by a school of dolphins but they soon lost interest in us. We wondered if they were the electric dolphins which frequent this area. If you touch them you can apparently get a shock off them. We have heard about them but never seen any and they didnīt look any different to any other dolphin so we will never know. This afternoon we caught a very decent sized yellow fin tuna so it was fresh sashimi for dinner tonight. What a treat after so long without fish. This dang Ciguaterra is a real problem throughout French Polynesia and is preventing us from fishing from the anchorages.
Saturday June 13, 2009
Yesterday and today have been great sailing conditions, with almost calm seas, and a fairly constant 8 to 9 knots of wind from the north, giving us a relaxing downwind sail. We are currently running wing on wing, the jib out one side, the mainsail out the other and Warrior is looking like a giant butterfly ready to take flight.
We have had large flocks of Sooty terns, white terns and a few boobies following us until this afternoon. I guess we have moved beyond their range for returning to roost ashore of an evening. We even caught our first glimpse of a Bulwerīs Petrel.
We have 332nm left to our waypoint near Kauehi Atoll which is our planned destination. It will all depend on the timing of our arrival as we have to enter the lagoon pass at low water slack. If we miss it we will either try and anchor outside the atoll or revise our plans and head elsewhere, probably Toau.
Our current position especially for Emma and Melissa who like to plot these positions themselves is 11°28S 141°41W.
Sunday June 14, 2009
We are putzing along out here having a very pleasant sail for the most part. According to the weather files there is rain activity all around us but we are managing to cleave right through it like Moses parting the Red Sea. It looks as though this will continue for the next two days which will definitely put smiles on our faces. We have been thoroughly enjoying the use of the cockpit for a change, as itīs not cold nor raining nor too rough and the wind isnīt howling a gale, and there are no massive waves swabbing everything in salt water. We are still marvelling at how nice it has been. I guess you have to get lucky sometimes.
We are back to seeing no birdlife and have caught no more fish. We ate the last of the yellow fin tuna today so are praying another one commits hari kari on our fishing lines.
We have 224nm to go to our waypoint near Kauehi Atoll. Our current position is 12°46S 143°00W.
Monday June 15, 2009
We had a beautiful 24 hours for the most part with nice easy sailing. This morning we were entertained by a 25 foot Minke whale which kept us company for about 40 minutes, swimming along side the boat, turning sideways to get a good gander at us and circling in front of the boat a few times. He went behind and seemed to be checking out the towing generator and we were praying he wouldnīt take a chomp at it... well not likely for a plankton eater. It was the closest we have ever had a whale approach the boat.
We also saw a flock of Polynesian Storm Petrels which were taking advantage of a school of fish which had advertised their whereabouts by jumping excitedly out of the water. Last night Michelle saw a rather large tuna jump out of the water right beside the boat but no amount of coaxing would convince him to chomp on the lures we were dragging. Obviously there were too many other tasty snacks about.
We are just 123nm out of Kauehi but we need to stretch those miles out over the next 36 hours to arrive at low tide on the 17th.. well our 17th. Hence we are doing 3.78 knots and rolling slightly from side to side since we are under jib alone. Itīs not an uncomfortable roll until you try to cook then you wonder what the hell youīre doing in the galley.
Anyway our position tonight is 14°22S 143°40W. We just have to dodge a couple of minor coral reefs and atolls during the next couple of nights and weīll be there. Certainly not a time for drifting off to sleep on oneīs watch!
Tuesday June 16, 2009
We are on our last 12 hours before making landfall early tomorrow morning. Not much wind today so weīve been motoring. The not much wind was definitely not forecast. We have to motor or we miss the low tide and the next low tide of the day is in the dark. We are not comfortable with entiring on high slack as it is harder to judge, often arriving well before the top of the tide.
We got a wee bit of a rain squall last night but nothing much to it. Otherwise there has been only enough wind to drive the boat along at 2.5 knots or thereabouts. The water is so clear and blue. It will be interesting to see just how clear it is in the lagoons. We have been told you can see your anchor at 60 feet and that has been a very rare occurrence so we are definitely looking forward to that kind of clarity.
Yesterday we saw the most glorious sunrise. The high cirrus cloud cover underwent a series of color changes from dusky pink to burnt copper to magenta while the cumulus clouds underneath were very dark. As the cirrus began to lighten to a buttercup yellow the cumulus took on an incredible silver lining along the bottom edge of each cloud cluster. Then finally, as the sun came up on the horizon it was hidden behind a small patch of cloud which suddenly appeared to be encased in flowing lava. We usually go on about the sunsets but this was spectacular enough to write about. We hope we kinda managed to give you the picture.
Lots of yellow footed brown boobies today to keep us company. Itīs nice to have wildlife sightings.
We have 43nm to go to our waypoint at the midpoint between Atoll Kauehi and Raraka, then another 13nm after that around to Arikitamiro Pass, the entrance into the lagoon. Having read every guide book we have and having whatever wits we have scared out of us with stories of overfalls and strong currents etc etc we think we are ready.
Current position 15°27S 144°31W.
Tearavero Village, Kauehi Atoll, Tuamotus
Wednesday June 17, 2009
We had a fairly easy night last night all considered. We were apprehensive as this was our first atoll and arriving in the dark is daunting. There wasnīt enough wind to sail and maintain 3.6 knots so we motored the entire night and arrived at our first way point just outside the midway point of Kauehi and Raraka Atolls around 11:45 UTC or almost 2am our time. We had a good reading on the radar and the chart plotter seemed dead accurate with the radar so we continued on following the southern contour of Kauehi atoll and arrived just outside the pass as dawn approached.
We traversed back and forth across the lagoon entrance judging the current and finally at 16:45 UTC we entered the lagoon. It was actually anticlimatic really as there was about 2 knots of wind and maybe a foot of swell which is being generous. So it was not difficult other than the sun was right in our eyes. We were thankful that this lagoon has no coral heads to negotiate if you stick to the main channel, and very few even if you wander outside it. We changed course once inside the lagoon and headed the 8 miles back to the north and anchored off the tiny village of Tearavero. So here we are definitely in paradise, swaying palm trees, white sand beaches, safe and snug for now.
Kauehi Atoll in the dawn light, Arikitamiro Pass and anchored off Tearavero Village
Thursday June 18, 2009
There is a large colony of shark suckers under our boat again. Michelle had tossed a bit of left over breakfast overboard and suddenly there was a feeding frenzy. So she grabbed the camera and a bit more bread and tormented the poor creatures until she got a few good photos. The suction cup on their heads really stood out this morning in the clear water.
Shark suckers
We headed ashore around 9am expecting to have to check in with the gendarme and there was no gendarme here so the official checkin to the Tuamotus waits till we arrive at another atoll. We took the dinghy ashore just opposite the church and of course couldnīt resist taking a peak inside. It was constructed of blocks of coral sealed with coral limestone. The ornamentation was very colorful with pennants and chandeliers made of coral and shells, very different from the Marquesan churches filled with wood carvings.
Inside the Village Church
The village of Tearavero is situated on a tiny penisula inside the lagoon. The entire east side of the atoll forms a continuous motu covered with vegetation and this provides the shelter from the prevailing easterly winds. Kauehi Atoll itself is famous for the quality of the naissin, the baby mother of pearl oysters. These oysters are used in the culture of Black Pearls and many other atolls get their stock of oysters from here. We wandered through the village, many a smile and a bonjour greeting us and stopped by the local store to see what they had. There were two women inside and we chatted for a while and they told Michelle how to determine if a fish has ciguaterra. We highly doubt itīs an effect means of detection so shanīt repeat it here. We then wandered along an immaculately clean track, lined with coconut trees and copra stacks, over to the east side of the atoll and checked out the limestone slabs that had been pushed up to form part of the shoreline. We scanned the tidal pools closely but none were anywhere near as interesting as the one we saw in Ua Pou.
Thereīs a track leading back...
The rugged eastern shoreline of Kauehi Atoll
We wandered back around to the lagoon side and were spied by one of the locals who immediately chopped three coconuts down and sat waiting for us to wander up. She invited us to sit with her in the shade of a cocount palm and hacked open some fresh green coconuts for us to drink. Truly refreshing. We chatted for about 45 minutes then finally took our leave and headed back to Warrior.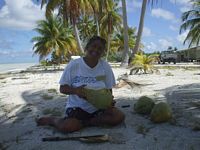 The thirst quenching drink of green coconut water
This afternoon we decided to snorkel some of the what Robin calls bommies, huge coral heads scattered across the sandy bottom. We got so excited to see such a different variety of fish from the Marquesas. Almost every fish bar a few were different. Identifying fish has become a game we both play and we are always trying to outdo one another.
Motu Mahuehue, Kauehi Atoll, Tuamotus
Frday June 19, 2009
Snorkelled this morning back at the coral spit that extends out from the village. We had fish we needed to reconfirm the identify of although we didnīt find them. Instead we found plenty of others. We really need an underwater camera to help us remember what we really did see. This afternoon we relocated the boat 10 miles down to the very south-eastern end of the atoll. Kauehi Atoll is very easy to navigate with only a couple of obstacles which are well marked on our chart. Robin dived overboard as soon as we arrived while Michelle was downloading the weather and emails and he returned ooohing and aaaahing over what he had seen. Michelle was too cold by then to get in the water so she was pouting a wee bit that sheīd have to wait till tomorrow.
Saturday June 20, 2009
What an awesome day in paradise. There was hardly a breath of air, the lagoon shimmered in the hazy sunshine and we spent over half the day in the water meeting the acquamarine inhabitants of the south-eastern end of Kauehi. The coral formations down here are extensive, forming a continuous underwater mazelike garden. We were in the water by 9am this morning as soon as the sun was high enough to see clearly, and we did the area around where weīve anchored Warrior. Then we came back to the boat, grabbed some water and sustenance, checked the fish reference for those fish we needed to identify, then we were off by dinghy to check out further afield. We were not to be disappointed and ended up seeing numerous new varieties as well as a huge moray eel. We expended so much energy we had to take a nap late this afternoon to garner enough energy to crack open a coldie for sundowners. That exhausted us so we were in bed by 7pm. Are we getting old or something?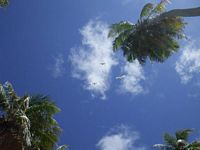 Beautiful white fairy terns hovering above us yesterday
Sunday June 21, 2009
A bit of a slow day today. Michelle made bread and worked on the webpage, Robin cooked breakfast and read a book until 2pm whereby Michelle poked him and said "hey mister, one chore per day yanno!", so he grumbled something about a day of rest then got up to work on changing the oil. Late this afternoon we headed ashore to to have a wee bbq and then to burn our rubbish. We discovered that dried out coconut husks burn extremely well. That about concludes the sabbath a semi day of rest.
Monday June 22, 2009
We figured it was time to head on out and so after establishing when low tide slack would be we leisurely got ourselves moving and were through the pass around 11am. We only have 60 nm to travel but as we canīt make it before dusk we need to do an overnight sail. This means keeping the boat sailing around 3knots, a difficult task in the 18knots of wind which we currently have. We are moving along with just a piece of jib the size of a large handkerchief. As we cleared the pass we were surrounded by hundreds of fish, some jumping clear out of the water. Not one took our lures!! Maybe itīs time to swap them out for something more appetizing.
Tuesday June 23, 2009
We did a very rolly overnight sail last night. The swell was arriving from the north and as soon as we cleared Kauehi Atoll we were directly open to it. We had no stability as we hadnīt raised the mainsail. Anyway we arrived at dawn this morning pretty tired so we have slept away most of the day. There are 10 moorings here at Anse Amyot so no one anchors. This saves the coral and everyoneīs nerves as a pretty decent 3knot current runs through here at times and there is little swinging room. We will be in the water first thing tomorrow to check out the marine life. Robin went ashore late this afternoon to check out what Gaston had collected from the fish pen. They have two pens set up and the catch every week is quite substantial. They empty it only once per week, sorting through what became trapped, letting some go and feeding some to the numerous rays which gather for a feeding frenzy. Fresh fish for dinner tonight!
Wednesday June 24, 2009
Hello World arrived this afternoon after experiencing a very rough exit through the Otugi Pass at the south end of Toau Atoll. We had previously decided not to attempt any entrances facing east as if the weather detiorates it becomes very difficult, if not dangerous, to navigate some of the passes. Well they hadnīt thought of that rule and together with Yohela had a very easy entrance in. Coming out was a very different story and they had huge breaking waves over the bow and very insane conditions. Hello World is a 53 foot Sunbeam and so managed to get out. Yohela is only a 35 foot and had to turn back so they are spending the night at the south end of Toau and will attempt to exit on tomorrow mornings high slack. We spent a very relaxing evening with Britt and Axel on their beautiful boat which is like a floating condo.
Thursday June 25, 2009
Yohela made it out of the pass this morning and declared they never want to do that again. We donīt blame them. Conditions were very rough and in order to clear the pass they had to navigate along the side in roughly 20 feet of water with coral heads all around them, staying out of the main force of the current. They had three massive waves break over their entire boat, totally drenching Therisa who was on the helm. Rob was clever, he ran for cover. They arrived around midday and Hello World saw them safely moored. It is still blowing fairly hard through here each day. We are praying these moorings are strong enough as the wind is increasing over the next few days to 20 to 25 knots. Added to the current that rips through here and thatīs quite constant strain on a mooring.
Friday June 26, 2009
Dinner ashore
Saturday June 27, 2009
Bread Making and OMG the size of those Giant Travally!
Sunday June 28, 2009
snorkelling and Jewelry Making
Monday June 29, 2009
Did absolutely nothing yesterday other than read books, play guitar. A little bit of rearranging of lights on boat since we have lost our anchor light.
Tuesday June 30, 2009
We will either leave tonight or tomorrow night for Papeete. Wind is still blowing over 20knots and seas still quite large but we canīt sit here forever. Probably be a rough ride. The guys built a new oven today and we are having pizza tonight.